World Congress on Cardiology and Cardiac Surgery (cse)
Wednesday 16 May 2018 9:00 AM Thursday 17 May 2018 6:00 PM
Save
Saved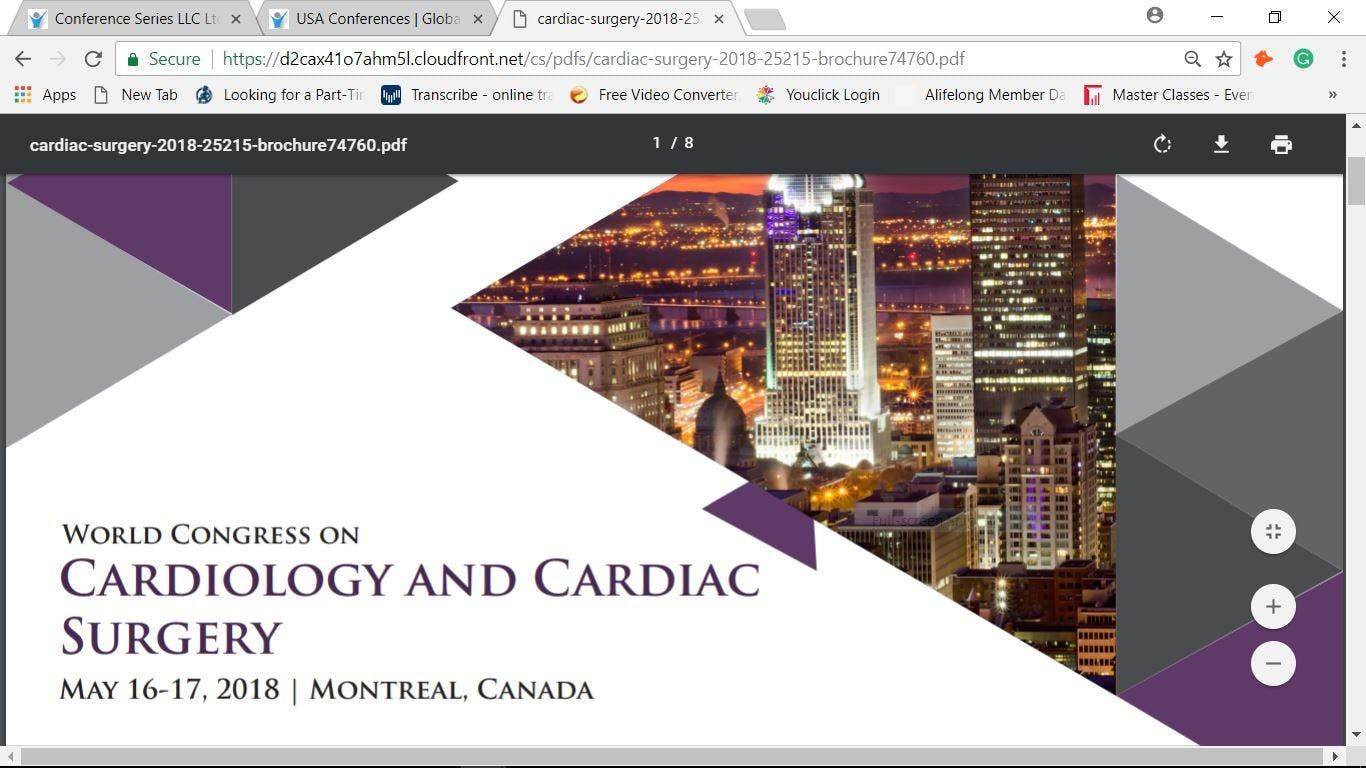 Last update 18/05/2018
773
World Congress on Cardiology and Cardiac Surgery
About Conference
World Congress on Interventional Cardiology and Cardiac Surgery 2018 welcomes attendees, Speakers, Delegates and exhibitors from all over the world to Montreal, Canada which is going to be held during May 16-17, 2018 at Montreal, Canada.
Cardiology Conferences regards each one of the individuals to go to the "Cardiac Surgery 2018" amidst May 16-17, 2018 at Montreal, Canada where the organizing committee is gearing up for an exciting and informative cardiology conference program including plenary lectures, symposia, workshops on a variety of topics, poster presentations and various programs for participants from all over the world. We invite you to join us at the Cardiac Surgery 2018, where you will be sure to have a meaningful experience with scholars from around the world. All members of the Cardiac Surgery 2018 organizing committee look forward to meeting you in Montreal, Canada. We have dealt with various compelling Surgery events and cardiology gatherings and develop incredible relations bringing the researchers and associations together.
About Hosting Organization:
Conference Series is into organizing 1000+ Global events graced by presence of inspiring speakers and experts. Every year events are organized across USA, Europe & Asia with support from 1000+ scientific alliances and publishes 700+ Open Access which contains over 100000 noteworthy personalities, reputed scientists as editorial board members.10 million readers, more than 130000 Face book likes and still counting. Conference Series came into existence in 2007 with aim of taking science and technology to door steps is successfully heading towards it. Conference Series is also into organizing live streaming, B2B and Scientific Meetings.
Conference Opportunities
For Researchers and Faculty Members:
Speaker Presentations
Poster Display
Symposium hosting (4-5 member team)
Workshop organizing
For Universities, Associations & Societies:
Association Partnering
Collaboration proposals
Academic Partnering
Group Participation
For Students and Research Scholars:
Poster Competition (Winner will get Best Poster Award)
Young Researcher Forum (YRF Award to the best presenter)
Student Attendee
Group registrations
For Business Delegates:
Speaker Presentations
Symposium hosting
Book Launch event
Networking opportunities
Audience participation
For Product Manufacturers:
Exhibitor and Vendor booths
Sponsorships opportunities
Product launch
Workshop organizing
Scientific Partnering
Marketing and Networking with client
Tentative Prorgram
Speaker Presentation Speaker Presentation
Day 02 May 17, 2018
Day 01 May 16, 2018
Hall 01
Cardiac Surgery 2018
Postlunch
Session
14:00-16:00
Speaker Presentation Speaker Presentation
Evening
Session
16:00-18:00
Poster Presentation
For Speaker Slot Availability!!!!
cardiacsurgery@surgerymeetings.com
Keynote sessions
Keynote sessions
Noted: The Agenda above is tentative & subject to change
Morning
Session
09:00-13:00
Hall 01
Postlunch
Session
14:00-16:00
Workshop Group Photo Speaker Presentation
Morning
Session
09:00-13:00
Evening
Session
16:00-18:00
Networking & Panel
Discussion
Award Cermony
Exhibition
Networking & Panel
Discussion
"Please contact the event manager Marilyn (marilyn.b.turner(at)nyeventslist.com ) below for:
- Multiple participant discounts
- Price quotations or visa invitation letters
- Payment by alternate channels (PayPal, check, Western Union, wire transfers etc)
- Event sponsorship
NO REFUNDS ALLOWED ON REGISTRATIONS
Prices may go up any time. Service fees included in pricing.
-----------------------------------------------------------------
This event is brought to you by:
Conference Series - NewYorkEventsList
http://www.NyEventsList.com
http://www.BostonEventsList.com
http://www.SFBayEventsList.com
-----------------------------------------------------------------
VIO180413CRE
culture
business
conventions
workshop
streaming
Nearby hotels and apartments
Holiday Inn Express &Suites Montreal Airport
10888 Chemin de la Côte-de-Liesse Lachine, Quebec, Canada, Canada
Holiday Inn Express &Suites Montreal Airport
10888 Chemin de la Côte-de-Liesse Lachine, Quebec, Canada, Canada