VOICES OF CONSCIOUSNESS: 4 Powerful Speakers & A Musical Performance
COVID-19: many events have been canceled or postponed, please check with the organizer the event status.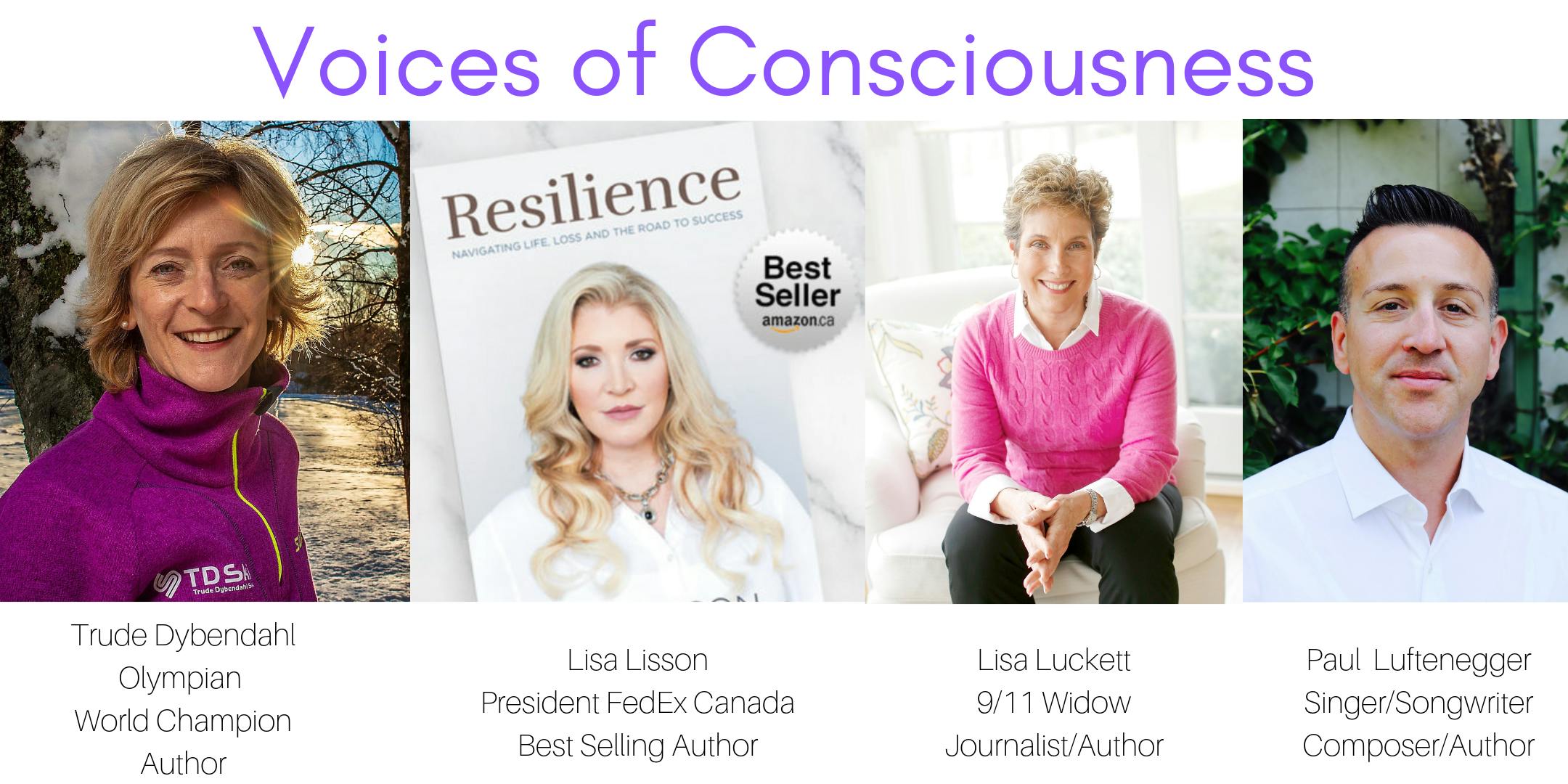 Image from eventbrite.ca
---
"VOICES OF CONSCIOUSNESS"
Event Hosted By Paul Luftenegger
Saturday, November 9th, 2019 From 1pm to 5pm
Are You Ready For A Totally Unique Emotional Positive Loving Kind Experience of Synchronicity?
Here Is an AMAZING EMPOWERMENT OPPORTUNITY: Four EMPOWERED Speakers That The Universe Aligned Who Will Share Their Successes Including The Hard Obstacles Each Faced and Had To Overcome and The Helpful Tools on How To RISE UP and OVERCOME Challenges and Forge Ahead With Success!
If You Are Looking For Some Inspiration and Encouragement on How To Follow Your Dreams and Visions, This Is The Event For You! Or If You Are Looking For A WONDERFUL Experience Where Citizens of The World Unite Together For The Common Good of Humanity – This Is The Event For You!
4 Empowered Successful International Speakers Joining Together In Toronto Ontario Canada To Talk About Healing, Health, and Wellness Through Positivity Sharing Real Life Stories & Events!
An Empowered Olympian, An Empowered President, An Empowered Survivor of Terrorism, and Me, An Empowered Young Man Who Lost My Father to Suicide in 2011 And Made It My Life Goal and Purpose To Make Sure People Know That They Matter and That Dreams and Visions Totally Come True When We Empower Ourselves with One Thing....Self Worth and Love and Kindness From Within!
In Addition To The Powerful Speaking Event on Empowerment, I Will Be Sharing A Very Special Musical Performance of Conscious Music That Has Been Requested By a Division of The United Nations Headquarters 3 Times Where I Have Shared My Conscious Work To Help The World With Self Love and Self Kindness Through Positive, Kind, Supportive Music For The Heart & Soul To Feel and Know Its Worth From Deep Within.
---
MORE ABOUT US...
A 3 Time Olympic Medalist & World Champion Skier From Norway Who Helps People All Over The World!
The President of One of The Best Companies To Work For In Canada Who Believes In The "Golden Rule" Being Simply Good For Business; Leading 7000 Employees Strong Who Is Also a Best Selling Canadian Author of Her Book "Resilience" Which Is All About Navigating Life, Loss and The Road to Success.
A Widow Who Lost Her Precious Husband Teddy In The North Tower of The World Trade Center on September 11th, 2001 – Who's Been Shocked By Kindness & Healed By The Love of Complete Strangers and Who's Written a Book All About It Titled "The Light In 9/11: Shocked By Kindness, Healed By Love"
And Me, A Canadian Conscious Singer/Songwriter/Composer Who's Been Invited to Speak & Sing at Some Incredible Global Humanitarian Events Meeting Extraordinary People Doing Extraordinary Things Helping The World By Helping People To Thrive With Love, Kindness and Most Importantly, The Truth!
Having Lost My Own Father To Suicide in 2011 – I Wanted To Help People Understand The Importance and Value Each and Every Single Heart & Soul Has – Ultimately To Inspire Love & Kindness Through Health & Wellness From The Inside Out... To Let People Know That They Matter By Promoting Self Love and Self Worth From Deep Within and How Our Choices When Made With Loving Intention Can Chart a Course of Truly Incredible Awesome Positive Experiences! And What I Love Most Is Bringing Good People, Doing Good Things Together and Here We Are!
On Saturday, November 9th, 2019 All 4 of Us, and Hopefully You... Lisa Lisson, Trude Dybendahl, Lisa Luckett, and Myself Are Coming Together For You In Toronto, Ontario Canada TO HAVE AN EXPERINCE: Inspiring and Promoting Global Love & Kindness Through Consciousness By Celebrating Humanity and The Pure Power Each and Every Single One of Us Has Individually and Collectively To Thrive and to Succeed at Life By Being EXACTLY Who We Are!
VOICES OF CONSCIOUSNESS – IS ALL ABOUT HAVING A POWERFUL POSITIVE COMMUNITY EXPERIENCE TOGETHER SHARING LOVE, KINDNESS & TRUTH ALL IN ONE ROOM WITH RESPECT FOR ONE ANOTHER CELEBRATING LIFE AND LIVING IT WITH PASSION!
These Successful International Speakers Will Be Sharing Wisdom From Their Hearts Who Have Not Surrendered To Fear or Life Challenges – Each Will Share Exactly What They Have Learned and How They Have Succeeded In Their Pursuit of Happiness By Focusing on The Heart-Centred Real Life Healing Stories With The Intention To Inspire and Promote Global Love In Action For a Better World and Life For All!
---
Ticket Includes:
Speaking Event With 4 Master Speakers / Social Gathering / Book & CD Signing Which Includes Tea/Coffee/Sweets and a Performance By Paul Luftenegger With a "Songversation" about Conscious Music and the Role of Cause & Effect and Synchronicity – The Power of Taking Responsibility For The Energy We Create and What Happens When We Meet The Point of Preparation and Opportunity Together!
THIS IS A LIVE EVENT Organized and Hosted by The Founder of VOICES OF CONSCIOUSNESS
International Multi Award Winning Singer/Songwriter/Composer/Author Paul Luftenegger to Bring Together a Heart Coherent Community of Real Life Experiences Shared With Compassion, Grace, and Humility to Help Love and Kindness Expand and Thrive For a Better Tomorrow For All Life on Planet Earth!
For More Information Please Visit Paul Luftenegger's Website www.beekindness.com
Please Do Take Time To Learn More About The Incredible Speakers In Their Biographies Below and Please Do Feel Free To Bring Your Books and CD's With You To The Event To Have Them Signed and To Meet The Speakers In The Social Tea/Coffee/Sweet Social Gathering!
---
Lisa Lisson
Author of "Resilience"
President of FedEx Express Canada
Lisa Lisson as the current President of FedEx Express Canada leads a team of 7,000 employees at more than 68 locations coast-to-coast, delivering customer-focused international and domestic shipping solutions.
Lisa joined FedEx Express as an associate marketing specialist in 1992. She quickly progressed and, in 2003, was appointed vice president of sales, marketing and corporate communications. She was appointed to her current role in October 2010. Lisa is the first Canadian and first female to hold the post of president.
Central to Lisson's managerial focus is her belief in the FedEx People-Service-Profit (P-S-P) philosophy. This approach requires the commitment of creating positive people practices, which leads to delivering a superior customer experience, while enabling robust profitability. Further, Lisson has led the largest era of infrastructure investment in FedEx Express Canada history, which includes the modernization of a domestic air fleet, the development of new service centres across Canada, introduction of new, innovative shipping solutions, and an expanded national retail network.
Lisson is leading an era of unprecedented acclaim for the FedEx brand in Canada. This includes pacing Canada's transportation industry with regards to best brand reputation (Leger/Marketing Magazine), most trusted courier company (University of Victoria Brand Trust Index), best employer (AON Hewitt/MacLean's/La Presse), and achieving Contact Centre Employer of Choice for the past 10 years.
Lisa was named on the Women's Executive Network's Canada's Top 100 Most Powerful Women Hall of Fame after appearing on the list four years in a row. In 2012, she was awarded the Queen Elizabeth II Diamond Jubilee Medal in recognition of her achievements and work in the community. She is passionate about access to quality healthcare for all children. In 2013, she joined the SickKids Foundation Board and in January 2015, became Chair of Human Resource & Compensation Committee. Lisa is also a board member of the Business Council of Canada (formerly the Canadian Council of Chief Executives).
****** From Lisa's Website ******
Lisa balanced a fulfilling life as a wife and mother until unexpectedly one evening, her husband Patrick was paralyzed with a life-altering heart attack. While looking after him, Lisa maintained her executive position at FedEx, continued volunteering as a director at the Business Council of Canada, as a director on the SickKids Foundation, and cared for their four children, all of which at the time were under the age of 10 at the time. Sadly, Patrick passed away two years later.
In her spare time, Lisa shares her personal story and life lessons to help inspire others, to let them know they are not alone and to find fulfillment living with gratitude and embracing family and career.
About Lisa's AMAZING Book "Resilience" Navigating Life, Loss and the Road to Success is the memoir and personal empowerment primer by Lisa Lisson, the first female and first Canadian president of FedEx Express Canada.
At the age of 41, the career-minded mom of four balanced a fulfilling work life with motherhood, as well as filling the role of committed wife to high school sweetheart, Patrick. But all that changed very quickly when tragedy struck her family.
Having overcome devastation and now seven years as president of one of the 20 most respected brands in Canada, Lisa shares her story to inspire others to find fulfillment, achieve goals, and navigate what curve balls life may throw. Her story proves that living each day with purpose and gratitude in the face of adversity is possible.
Book Reviews:
"Lisa Lisson's powerful memoir, Resilience, is proof positive that while we're all subject to life's hardships, the choices we make in response not only have the power to strengthen and renew us, but define who we are as human beings. Resilience is an inspiration."
— Arlene Dickinson
"Lisa tells a courageous and powerful story of combining love, pragmatism, determination and passion to create a life in which, despite tragic adversity, she grows to become her best self — both at work and at home — and a role model for us all."
— Kathleen Taylor, Former President and Chief Executive Officer, Four Seasons Hotels and Resorts
"Genuine, authentic and raw. Lisa's story of resilience, triumph and intense love is a profound affirmation that life's richness lies not in the type of events one inevitably faces in life but rather in how one decides to react and interpret those events. With Lisa, her glass isn't always half full, it is always completely full and then some!"
— Jordan Banks, Facebook's former Global Head of Vertical Strategy and Managing Director of Facebook and Instagram Canada
"Lisson's inspiring memoir shares her hard-won insights on surviving devastating personal loss as well as on how to succeed as a woman in the corporate world . . . Her story of breaking through the glass ceiling will inspire other women to aim higher, strategize more carefully and reach their full potential, too."
— Publishers Weekly
To Purchase Lisa Lisson's Book "Resilience" Online Please Click Here: Amazon

To Learn More About Lisa Lisson Please Click Here: www.lisalisson.ca
---
Trude Dybendahl
Co-Author "Magic & Miracles"
Olympian / World Champion Skier
Trude Dybendahl. Co-Author Magic & Miracles, Olympian & World Champion cross-country skier.
Trude is a World Champion who won nine international medals in the Olympics and World Championships, in addition to many World Cup-victories. She has been involved in several humanitarian projects through the Norwegian Red Cross, Olympic Aid, Amnesty International and the Norwegian Church Aid. She is currently a board member in the Norwegian NGO; Dream Big Women Academy, Zanzibar.
Trude is a transformational life coach, an Emotion Code-practitioner®, author and speaker. She works with clients in Europe and USA and runs different personal development programs.
A passion of Trude is to inspire and guide people to transform their lives and practise the skills needed to be resilient in changing times. They experience a movement into faith, trust and conscious co-creation by learning the Conscious Self Leadership-method, thus becoming their own, authentic changemaker.
Trude's overall vision is to help bring balance into the feminine & masculine energies by inspiring, guiding and teaching others expansion of who and what we truly are as human beings by exercising that we are all divine co-creators and that we are co-creating our lives.
To Learn More About "Magic and Miracles" The Book Please Click Here: magicandmiraclesbook.com
To Purchase Trude Dybendahl's Co-Authored Book "Magic and Miracles" Please Click Here: Amazon

To Learn More About Trude Dybendahl Please Click Here: www.trudedybendahl.no
---
Lisa Luckett
Author "The Light In 9/11: Shocked by Kindness, Healed by Love"
Founder of Cozmeena / Breast Cancer Survivor
Lisa Luckett is an entrepreneur, speaker, author, and mother of three young adults. As a 9/11 widow, single mother, and breast cancer survivor, she knows the value of life's struggles and sees the light or silver lining in every situation. She recognizes that life's lessons and grace lie within the struggle.
Born and raised in New Jersey, Lisa attended Colorado State University graduating in 1982 with B.A in Technical Journalism. She enjoyed a 15-year sales career in print and radio advertising in Denver and New York. She settled in Monmouth County, New Jersey in 1997 with her husband, Ted, where they raised their three children until his death in the North Tower of the World Trade Center on September 11, 2001.
Lisa is a social visionary, an activist for kindness, and an advocate of gaining wisdom by experiencing life head-on. Her mantra "Choose Courage" is the foundation of her social vision reminding us that we are strong, resilient, and have a choice in how we live our lives.
An expert in emotional preparedness, Lisa Luckett is a voice of reason amidst the chaos. For the past 17+ years, she has extensively studied and analyzed the human condition from macro to micro, local to global, personal to cultural.
Her first book, The Light in 9/11: Shocked by Kindness, Healed by Love, is the story of her inspiring journey that came from having an open mind, perseverance, and a different perspective. What she discovered is how the power of kindness can make the world a better place.
The Light in 9/11: Shocked by Kindness, Healed by Love is part of a 30-year campaign to bring her vision, Cozmeena Enlightened Living, a brand of kindness, to the world. The vast and intricate story of how the Cozmeena concept came to be and where it is going will be presented in three books.
The Light in 9/11 is the first of the three. It is the micro story— my personal memoir of life and family and how the events surrounding 9/11 became the catalyst for my dramatic positive personal growth with the hopes of building trust with my readers because I have much more to share. Book Two will be the macro story is the original theory and philosophy of our world today and how we got here. Book Three will be about our beautiful future is we can shift our perspective to see it.
It is my sincerest wish to help people heal from 9/11 and other tragedies, both personal and societal, to see what they have instead of what they don't, and to live lives of joy and grace instead of fear and suffering.
She brings her vast life experience and the wisdom gained from delving in and dissecting personal traumas, events, and life-situations to better understand her world and the people in it.
This study has led to a deep and exponential understanding of our American culture, our global neighbors, and the possible trajectories for our future. With a decade-by-decade analysis of social trends and behaviors we can better understand our current social environment and project our potential future options.
Lisa is the Founder of Cozmeena Enlightened Living. Cozmeena is a brand of kindness.
Cozmeena is a lifestyle brand and social movement based on the foundational elements of warmth, comfort care, consideration, grace and decency. It is about finding comfort through your five senses, using your sixth sense to navigate life, and connecting with like-minded, purpose-driven people.
Cozmeena Enlightened Living is a heart-centered, purpose- driven business where open-mindedness, unconditional love, compassion, and truth are the primary focus. It is where intuitive knowledge, life experience, and the wisdom from our 'knowing' heart help to guide us toward a happier, more balanced, and satisfying life.
Cozmeena Enlightened Living offers tactical ways to help people live calmer, more peaceful, and meaningful lives. Whether its knitting a Cozmeena Shawl, utilizing the vetted list of internet resources when dealing with a cancer diagnosis, reading the stories of life-experience and inspiration that became the foundation of the Cozmeena philosophy, receiving or giving a Pocket Heart for luck and love, or making recipes for yummy, healthy comfort food that will warm and sooth you from the inside out, Cozmeena Enlightened Living is a light-hearted, pragmatic port in the storm.
Lisa's first book of the three, The Light in 9/11: Shocked by Kindness, Healed by Love, was released in honor of the seventeenth anniversary of 9/11, in August 2018.
To Purchase Lisa Luckett's Book "The Light in 9/11" Please Click Here: Amazon
To Learn More About Lisa Luckett
Please Click Here: www.lisaluckett.com or www.cozmeena.com
---
Paul Luftenegger
International Multi Award Winning Conscious Singer/Songwriter/Composer
Co-Author "Magic and Miracles"
Co-Author "Life After Trauma"
Founder Voices of Consciousness - Host / Moderator
Paul is an International (Canadian) Multi Award Winning Singer/Songwriter/Composer/Author Inspiring and Promoting Global Love & Kindness Through a Complex Portfolio of Positive Conscious Songs. He is Proudly an Unsigned Independent Professionally Trained Musician Owning 100% of His Catalogue of Masterworks.
Paul sadly lost his father to suicide in 2011 which is when he had a call from the divine to help the world with positive kind conscious music to help the heart and soul feel and know its worth from within.
Paul's masterworks and musical talents have been selected and shared at lifetime milestones for leaders in the wellness and spirituality industries for iconic souls like Louise Hay - where Paul's music was used to honour Ms. Hay at her 90th Birthday Celebration in front of a live-audience of 2000 people live-streamed around the world. Paul's work is limitless in its reach promoting and inspiring loving peaceful space with a strong emphasis on self love and self worth.
Paul has been invited to the United Nations Headquarters in New York City on Three separate occasions to be a featured musician and speaker at the following events:
The UN International Day of Yoga (June 2017)
The UN International Day of Women (March 2018)
The UN International Day of Peace (September 2018)
​Paul's most recent album is his 7th body of work titled, "Seeds of Peace" and was funded by Paul's fans from all around the world - recorded in December 2018 in Toronto, Ontario Canada produced by award winning producer - Arun Chaturvedi - released worldwide on May 12th, 2019 in over 200 countries
​Paul is often asked to keynote - speaking at events such as spiritual centres, worldwide online radio shows, as well as sharing his music and message of "Love Expanding Love" with students in schools as young as 6 years old. Paul's music has been requested for contract by FOX TV, Dick Clark Productions, 19 Entertainment, So You Think You Can Dance as well as shared through worldwide radio platforms like, "Hay House Radio" etc.
Paul Luftenegger Has Recorded Seven (7) Conscious Albums - To help the heart & soul feel its worth.
Titles Include the Following:
"Seeds of Peace" - Funded by Paul's Fans Worldwide Through Kickstarter - Releasing Globally May 12th, 2019
​"Faith" - Funded By Paul's Fans Worldwide Through Kickstarter (2017)
"The Miracle of You" - In Partnership with NY Times Best Selling Author, Anita Moorjani (2015)
"Love Expanding Love" - Funded By Paul's Fans Worldwide Through Kickstarter (2014)
"Diamond Light" - Debut Album With Award Winning Producer Arun Chaturvedi (2013)
"Worthy" - Live Piano / Vocal Recording (2012)
"Beautiful World / Blessings From Above" - Vignette Album of Short Songs (2011)
Singles Include the Following:
"North Star"
"I Believe In You"
"Silent Night"
"Imagine"
Quotes about Paul's Music and Work:
Dr. Christiane Northrup MD
"Paul Luftnegger's music and voice go straight to the heart. He is a combination of soulful innocence and extraordinary musical ability with a great sense of humor. Paul appeared live on my internet radio show Flourish www.hayhouseradio.com to lift the hearts of people all over the planet."
Esther Hicks
"Sitting Here With Happy Tears Flowing as I Listen to Your Beautiful Music."
Anita Moorjani
"I Love Your Music! I Bought All The Albums and Listen To Them Over and Over Again! Thank You For Sharing Your Music With The World!"

"Years of lecturing around this beautiful planet has provided an opportunity to meet wonderful "creative" Cultural Creative, musicians, artists, and writers helping to bring harmony to the planet! Each month, I want to honour one of these individuals by sharing with you the gifts they shard with me.
This month I want to introduce you to Paul Luftenegger, a musician acclaimed worldwide for writing and singing conscious music to inspire and promote global love and kindness. Paul's work promotes and inspires loving peaceful space with a strong emphasis on self-love and self-worth. His most recent album Faith, funded via the Internet by his fans from all around the world, consist of 13 positive tracks to inspire global love and kindness from within."
Actor/Philanthropic Glenn Close Uses Paul's 'Beautiful World PSA/Music For Her Charity
'Bring Change 2 Mind' to Promote Mental Health, Suicide Awareness and Prevention
"Love Expanding Love" © 2014 - Dedicated to Oprah Winfrey and The OWN Television Network as a way of saying "Thank You" for helping Paul to heal after his Father's tragic suicide in 2011.
Song Placements: Beautiful World - Okanagan Suicide Awareness Campaign

Paul Luftenegger Awards:
"DIAMOND LIGHT" Wins 2013 Top 10 Album in London & 2013 USA Songwriting Competition Honorary Mention Award
Honoured By Former Premier Kathleen Wynne of Ontario, Canada For Suicide Awareness Work
Featured Video on S.A.C. for "Beautiful World" Suicide Awareness Campaign - Honoured by S.A.C. "Songwriters Association of Canada" for Social Change Songwriting.
To Purchase Any of Paul Luftenegger's Conscious Music Please Click Here: PURCHASE PAUL'S MUSIC
To Learn More About Paul Luftenegger Please Click Here: www.BeeKindness.com
To Purchase Paul Luftenegger's Co-Authored Book "Magic and Miracles" Please Click Here: Amazon

To Purchase Paul Luftenegger's Co-Authored Book "Life after Trauma" Please Click Here: Amazon
To Write Paul Luftenegger Please email: info@paulluftenegger.com
6398 Views - 10/11/2019 Last update
Rosedale United Church
159 Roxborough Drive, Toronto, M4W 1X7, Ontario, Canada
---
Are you an event organizer?
Create events for free. They will be immediately recommended to interested users.
Create event
Nearby hotels and apartments
159 Roxborough Drive, Toronto, M4W 1X7, Ontario, Canada
---
---
Rosedale United Church
159 Roxborough Drive, Toronto, M4W 1X7, Ontario, Canada
Event from
eventbrite.ca
---
---
Are you an event organizer?
Create events for free. They will be immediately recommended to interested users.
Create event
Toronto

›