[Virtual] Tableau Bootcamp: Level 3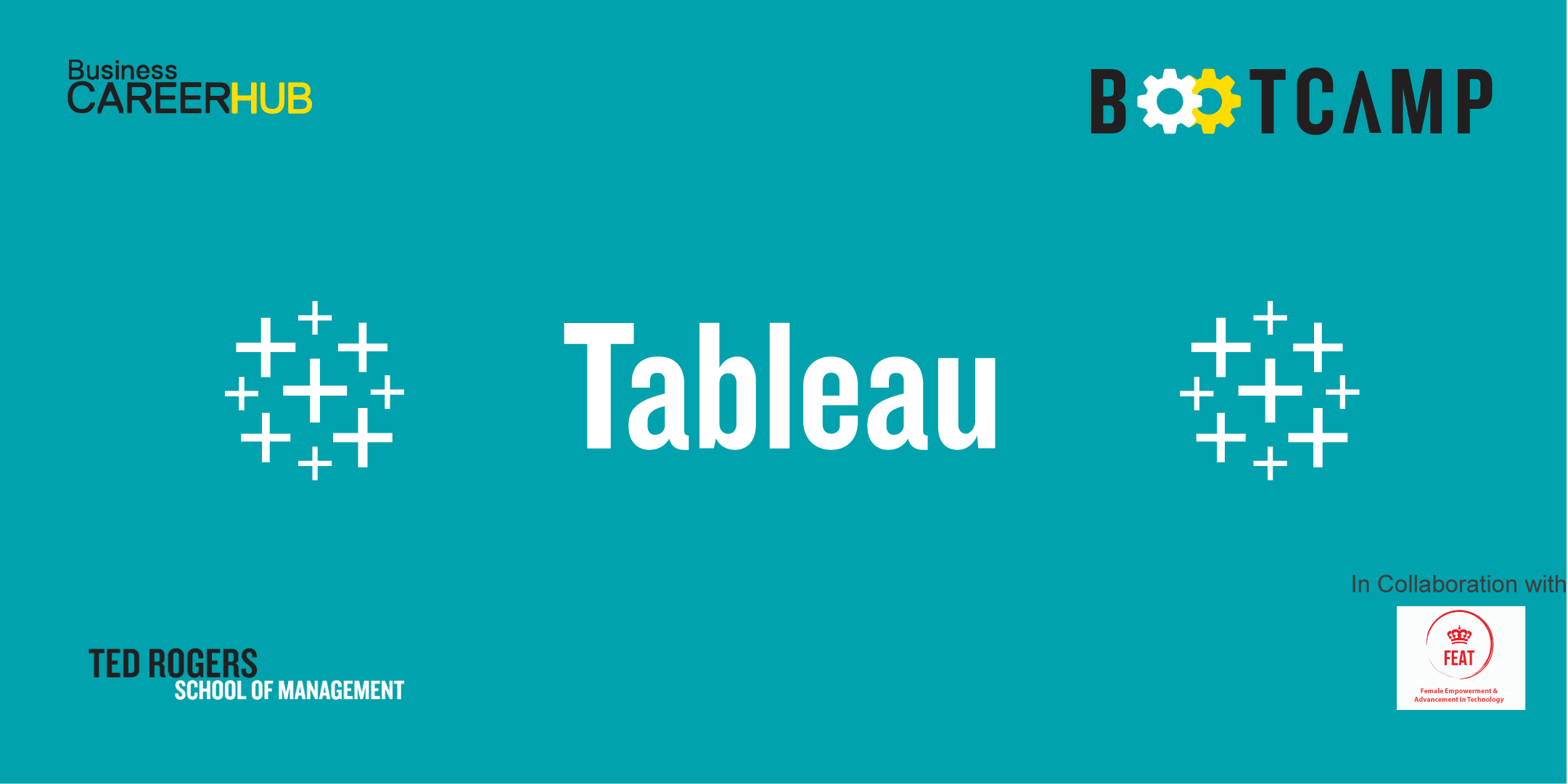 Image from eventbrite.com
---
**Registration will close 7 days prior to ensure attendees have sufficient time to download and receive Tableau software.**
Please note this event is open to TRSM/Ryerson students only.
There are a limited quantity of tickets available exclusively to TRSM students, Non-TRSM students, TRSM Alumni and Ryerson/TRSM faculty/staff members. At this time, we do not accept any individuals outside of Ryerson University, however, we are working on this. Please check-in with us in 2020.
If you SIGN UP, the expectation is that you SHOW UP. If you can no longer attend, you MUST log back into Eventbrite and CANCEL your ticket. Instructions on how to cancel your ticket can be found here.
This session will be hosted virtually. All Ryerson attendees will be sent invitation details and instructions to your Ryerson email.
Kindly note that we will be tracking participation in the session by asking that you submit all completed work to a Google Drive folder. You MUST upload completed work into this folder for full consideration of the Tableau Badge (File Name: Full Name - Tableau 3).
'Sign-up Show-up' Policy Effective June 1st, 2020.
This policy targets students who are consistently signing up for Bootcamps and not attending them.
All students who sign up for a Bootcamp and do not show up without cancelling their tickets will be placed on a "no-show" list. There is a three-strike system that will be effective immediately. Once you receive your third strike, you will no longer be able to register for future bootcamps and our team will need to cancel your ticket immediately.
If you are unable to attend the Bootcamp you have signed up for, you must cancel your ticket by going back into Eventbrite and doing so at least 24-hours in advance to avoid getting on the no-show list.
We are putting this policy in place given the high demand for Bootcamps and long waiting lists of students who want to attend but are unable to do so due to a consistent number of no-shows.
Tableau (Level 1 - 3)
Our digital world is overflowing with databases but how do you make sense of it all? The answer is Tableau. Tableau is an interactive data visualization software that is utilized in industries/fields such as computer software, information technology, human resources, financial services and management consulting. In this Bootcamp, you will discover one of the most popular business intelligence applications in the world. Learn how to import, link, and present data. Tableau can help you see and understand your data!
Here's What You'll Learn
Level 1: *Recommended experience: no experience required*
Basic introduction to visualization
Connect to data from a variant of data sources
Difference between working with extracted versus live data
Explore data sets
Clean and prepare data/information for various data management tasks
Dimensions and measures
Build views
How to use a quick table calculation and filters
Crosstab and exporting data
Make bar charts
"Show me" function
Level 2: *Recommended experience: Attendance of Tableau level 1 or working knowledge of Tableau*
Explore the difference of data blending and joins
Explore different types of charts and how to apply the tools to solve business cases
Data analysis
Connecting to data and fundamentals of data visualization (on a map)
Build different types of pie charts -doughnut chart
Build bar charts
Analyze data and create reports using different charts
Level 3: *Recommended experience: Attendance of Tableau level 2 or working knowledge of Tableau*
Tableau analytics
Apply previous knowledge to solve a business case
Analyze the data using the built-in Tableau Analytics
Different types of bar charts
Dual Axis charts
Quick table calculation
Group data
Filters
Building sample dashboards and telling a story
How do I receive a badge?
We are currently only issuing badges for Excel, R, Python, Power BI, Tableau and Marketing* Bootcamps. To receive a Badge, students are required to attend each Bootcamp in full, remain engaged throughout the entire session, and provide Luup feedback at the end using their Ryerson emails.
Please note for Virtual Bootcamps, attendees are required to upload completed work assigned for verification of participation.
Can I receive a Badge if I attend different series of a Bootcamp? ( Excel SAF Level 1 and 2 but BTM Level 3)?
No, you must attend all 3 levels of a specific Bootcamp Series in order to qualify for a badge. For example, you must attend SAF Level 1-3 or BTM Level 1-3. Students who attend different levels across multiple series will not qualify. (E.g., Completing SAF Level 1, BM Level 2, BTM Level 3).
How can I cancel my ticket?
Please follow the instructions in the link here to cancel your Eventbrite ticket. Please note, you can only cancel your ticket on a computer. If you run into any challenges while cancelling your ticket, please email trsmbootcamps@ryerson.ca
In the event that a Bootcamp is sold out and you have a legitimate reason to attend, please send a request to trsmbootcamps@ryerson.ca and we will place your name on a waiting list and do our best to accommodate. Please note that placement is not guaranteed.
If you require any special accommodations, please inform trsmbootcamps@ryerson.ca
220 Views - 07/07/2020 Last update
via email.
ryerson university ted rogers school of management link provided, toronto, on, ca
---
Are you an event organizer?
Create events for free. They will be immediately recommended to interested users.
Create event
Nearby hotels and apartments
ryerson university ted rogers school of management link provided, toronto, on, ca
---
---
via email.
ryerson university ted rogers school of management link provided, toronto, on, ca
Event from
eventbrite.com
---
---
Are you an event organizer?
Create events for free. They will be immediately recommended to interested users.
Create event
Toronto

›