[VIRTUAL] Branding Bootcamp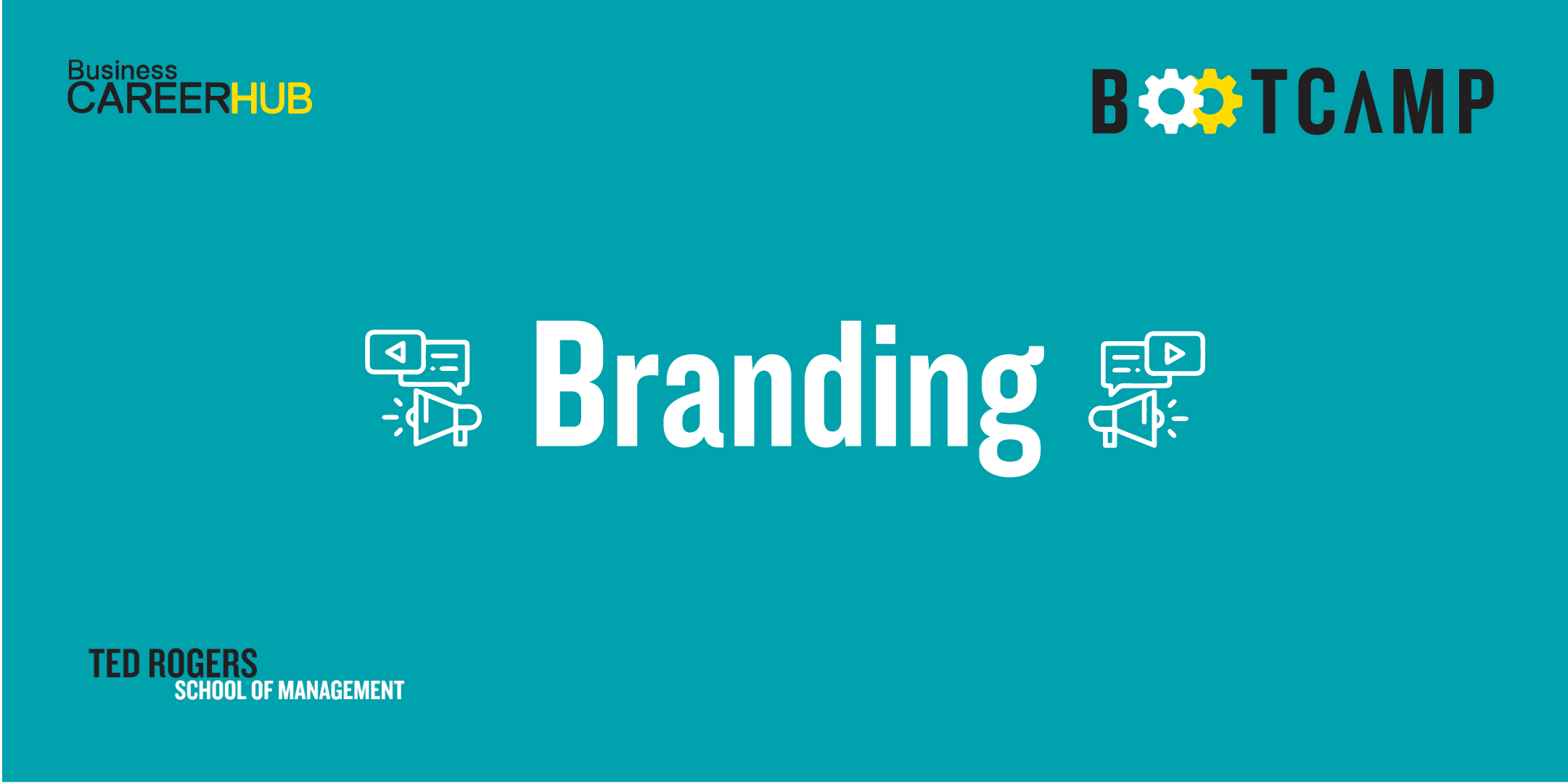 Image from eventbrite.com
---
Please note this event is open to TRSM/Ryerson students only.
There are a limited quantity of tickets available exclusively to TRSM students, Non-TRSM students, TRSM Alumni and Ryerson/TRSM faculty/staff members. At this time, we do not accept any individuals outside of Ryerson University, however, we are working on this. Please check-in with us in 2020.
If you SIGN UP, the expectation is that you SHOW UP. If you can no longer attend, you MUST log back into Eventbrite and CANCEL your ticket. Instructions on how to cancel your ticket can be found here.
This session will be hosted virtually. All Ryerson attendees will be sent invitation details and instructions to your Ryerson email.
Kindly note that we will be tracking participation in the session by collecting responses through the Google Form. Please ensure you complete this using your Ryerson Email in order to be counted for attendance. You MUST complete this in order to receive full consideration for the Marketing Badge (Must complete: Social Media Marketing, Branding, Graphic/Visual Design, SEO & Analytics to receive the badge).
'Sign-up Show-up' Policy Effective June 1st, 2020.
This policy targets students who are consistently signing up for Bootcamps and not attending them.
All students who sign up for a Bootcamp and do not show up without cancelling their tickets will be placed on a "no-show" list. There is a three-strike system that will be effective immediately. Once you receive your third strike, you will no longer be able to register for future bootcamps and our team will need to cancel your ticket immediately.
If you are unable to attend the Bootcamp you have signed up for, you must cancel your ticket by going back into Eventbrite and doing so at least 24-hours in advance to avoid getting on the no-show list.
We are putting this policy in place given the high demand for Bootcamps and long waiting lists of students who want to attend but are unable to do so due to a consistent number of no-shows.
Branding
Get an overview of the branding process from strategy to development including brand guidelines and planning for growth. In this Bootcamp, you will practice techniques to improve customer engagement and boost ROI through a strong branding strategy.
Here's What You'll Learn
Understand the foundations of branding and how it can impact your business
Learn how to build a market and boost customer engagement
Gain knowledge of an increasingly crucial element of business in the social media age
Become skilled in using branding to help any company generate positive ROI
Reporting, budget management, pricing and promotions, distribution and shelving, innovation and renovation, Marcoms and In-store
Solving brand problems in a team activity
FAQs:
How do I receive a badge?
We are currently only issuing badges for Excel, R, Python, Power BI, Tableau and Marketing* Bootcamps. To receive a Badge, students are required to attend each Bootcamp in full, remain engaged throughout the entire session, and provide Luup feedback at the end using their Ryerson emails.
Please note for Virtual Bootcamps, attendees are required to upload completed work assigned for verification of participation.
If you are interested in attaining the badge, please complete the Bootcamps again and use it as an opportunity to test and refresh your memory on the skills.
How do I receive my Linkedin Endorsement?
Please reach out to your Bootcamp Facilitator for your LinkedIn endorsements and follow the steps below:
1. Add the corresponding Bootcamp skill on LinkedIn
2. Connect with your Bootcamp Facilitator and send them a message once they have connected with you.
Example: Hi. I have attended the Power of Excel Bootcamp and would like my skill to be endorsed. My Ryerson email is ______@ryerson.ca
How can I cancel my ticket?
Please follow the instructions here to cancel your Eventbrite ticket. Please note, you can only cancel your ticket on a computer.
In the event that a Bootcamp is sold out and you have a legitimate reason to attend, please send a request to trsmbootcamps@ryerson.ca and we will place your name on a waiting list and do our best to accommodate. Please note that placement is not guaranteed.
If you require any special accommodations, please inform trsmbootcamps@ryerson.ca
137 Views - 03/07/2020 Last update
ryerson university ted rogers school of management bootcamp lab, toronto, on, ca
---
Are you an event organizer?
Create events for free. They will be immediately recommended to interested users.
Create event
Nearby hotels and apartments
ryerson university ted rogers school of management bootcamp lab, toronto, on, ca
---
---
ryerson university ted rogers school of management bootcamp lab, toronto, on, ca
Event from
eventbrite.com
---
---
Are you an event organizer?
Create events for free. They will be immediately recommended to interested users.
Create event
Toronto

›