Vancouver *APRIL* Brush Lettering CALLIGRAPHY Art Workshops
COVID-19: many events have been canceled or postponed, please check with the organizer the event status.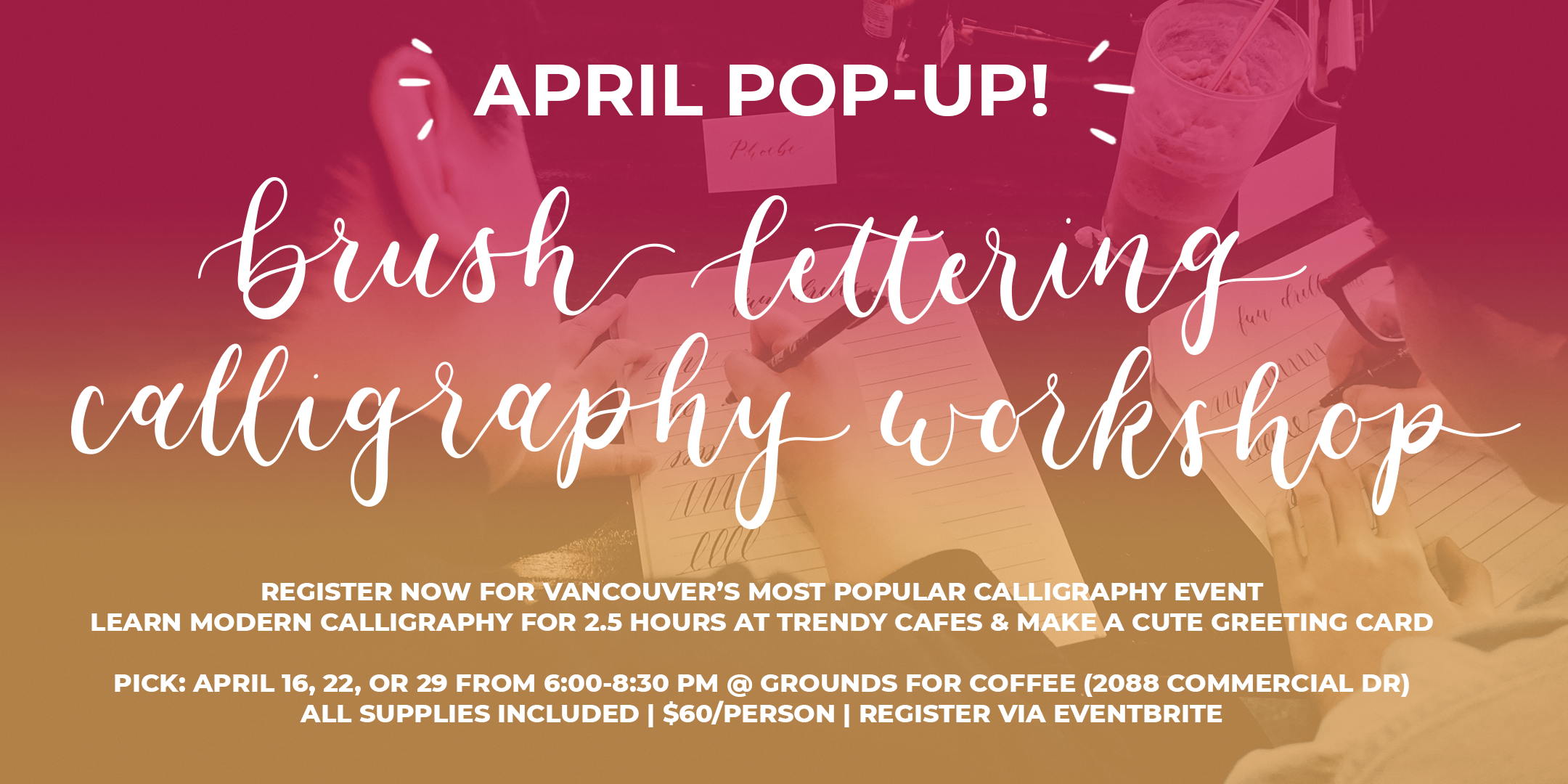 Image from eventbrite.com
From Thu 16 April 2020 to Fri 17 April 2020
From Thursday 16 April 2020 to Friday 17 April 2020
---
REGISTER NOW FOR BC'S MOST POPULAR CALLIGRAPHY EVENT!
LEARN CALLIGRAPHY AT COOL TRENDY CAFES AND MAKE NEW FRIENDS IN VANCOUVER IN THIS 2.5 HOUR BEGINNER'S WORKSHOP (ALL SUPPLIES INCLUDED).
WANT TO IMPRESS FAMILY AND FRIENDS, AND MAKE UNIQUE GIFTS?
How about designing your own wedding invitations? Or writing out inspirational quotes for friends?
Maybe you've always thought that calligraphy is beautiful and wanted to learn an art but never knew where to start?



This is the page for the APRIL workshop in Vancouver.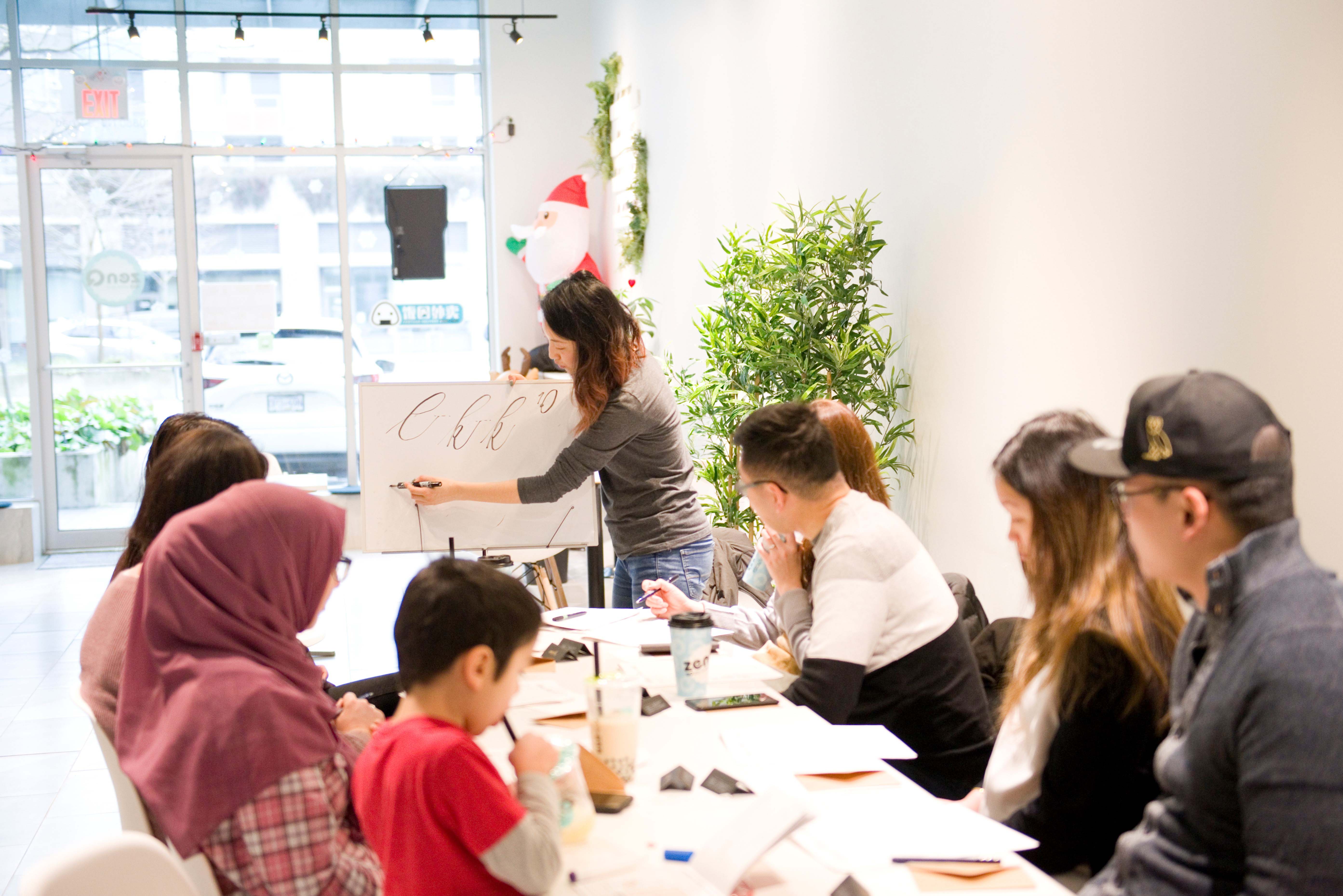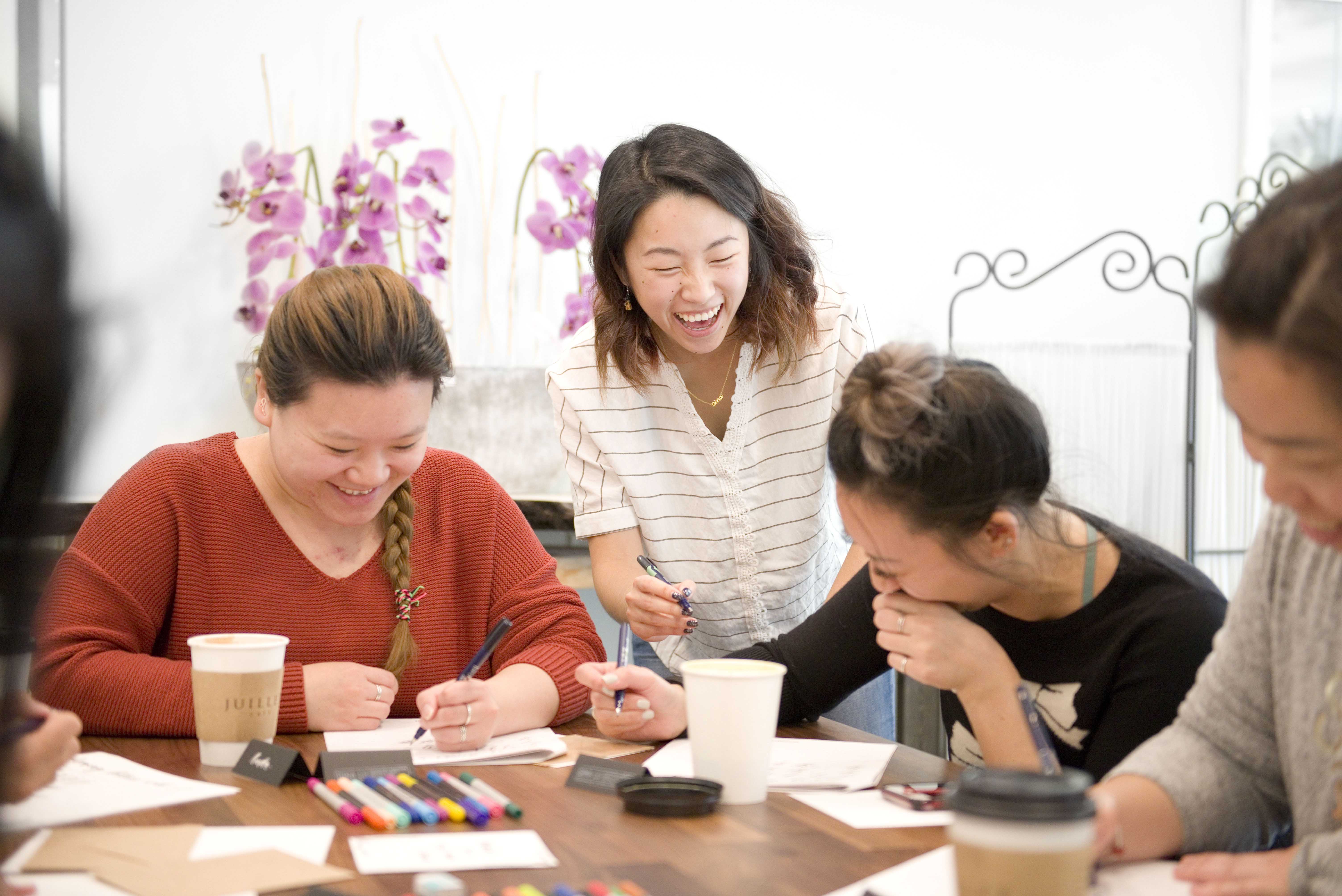 THIS INTRODUCTORY BRUSH LETTERING WORKSHOP WILL GIVE YOU THE FOUNDATION TO DO ALL THOSE THINGS, AND MORE!
ABOUT THE WORKSHOP
During this 2.5 hour workshop, you will start off with learning the basic strokes and alphabet, tricky letter combinations, and how to create sentences. By the end of the workshop, you will be on your way to writing out gorgeous words and sentences to create a special greeting card for a loved one! This is a class for BEGINNERS! You don't need any prior experience in lettering.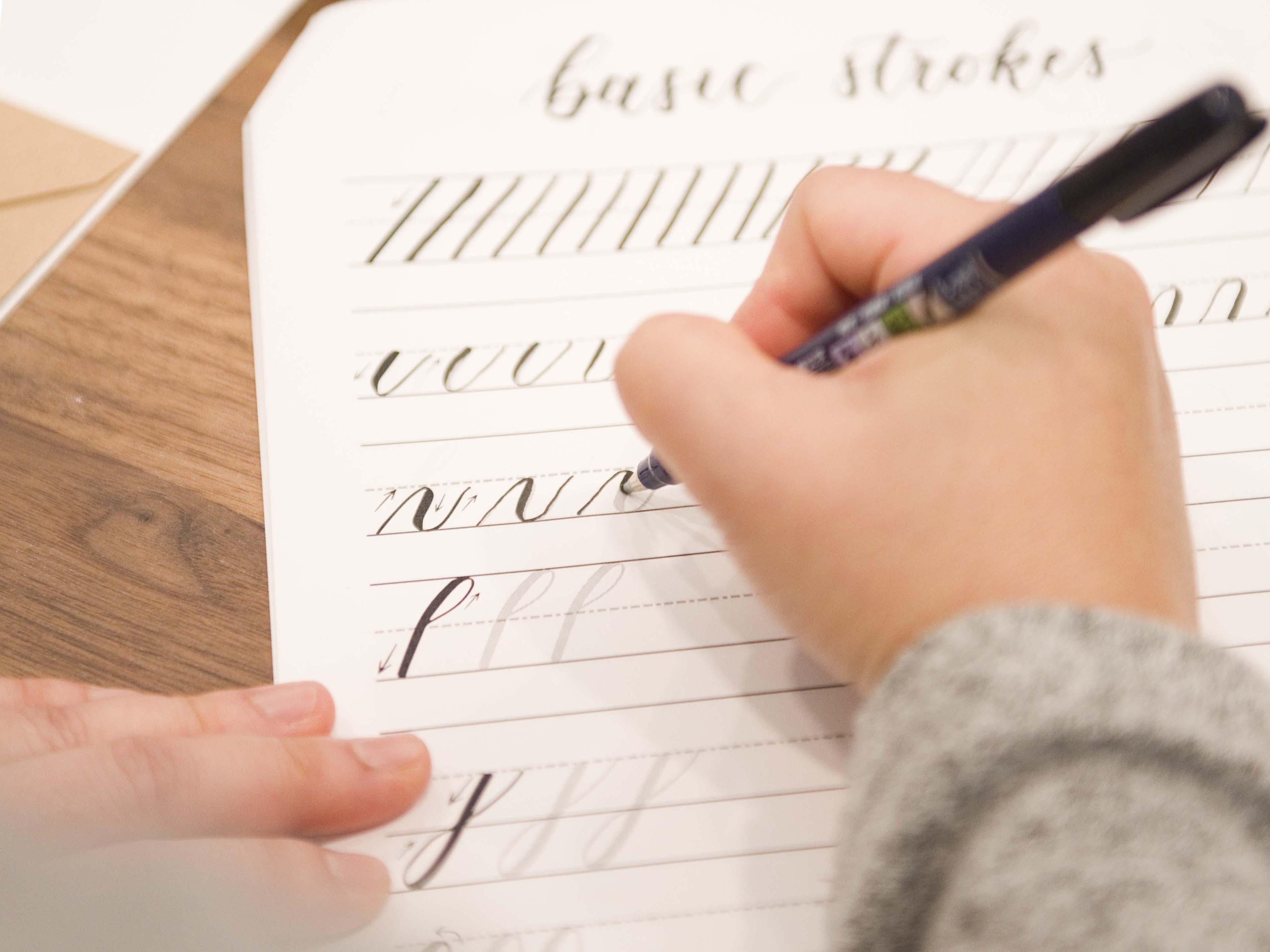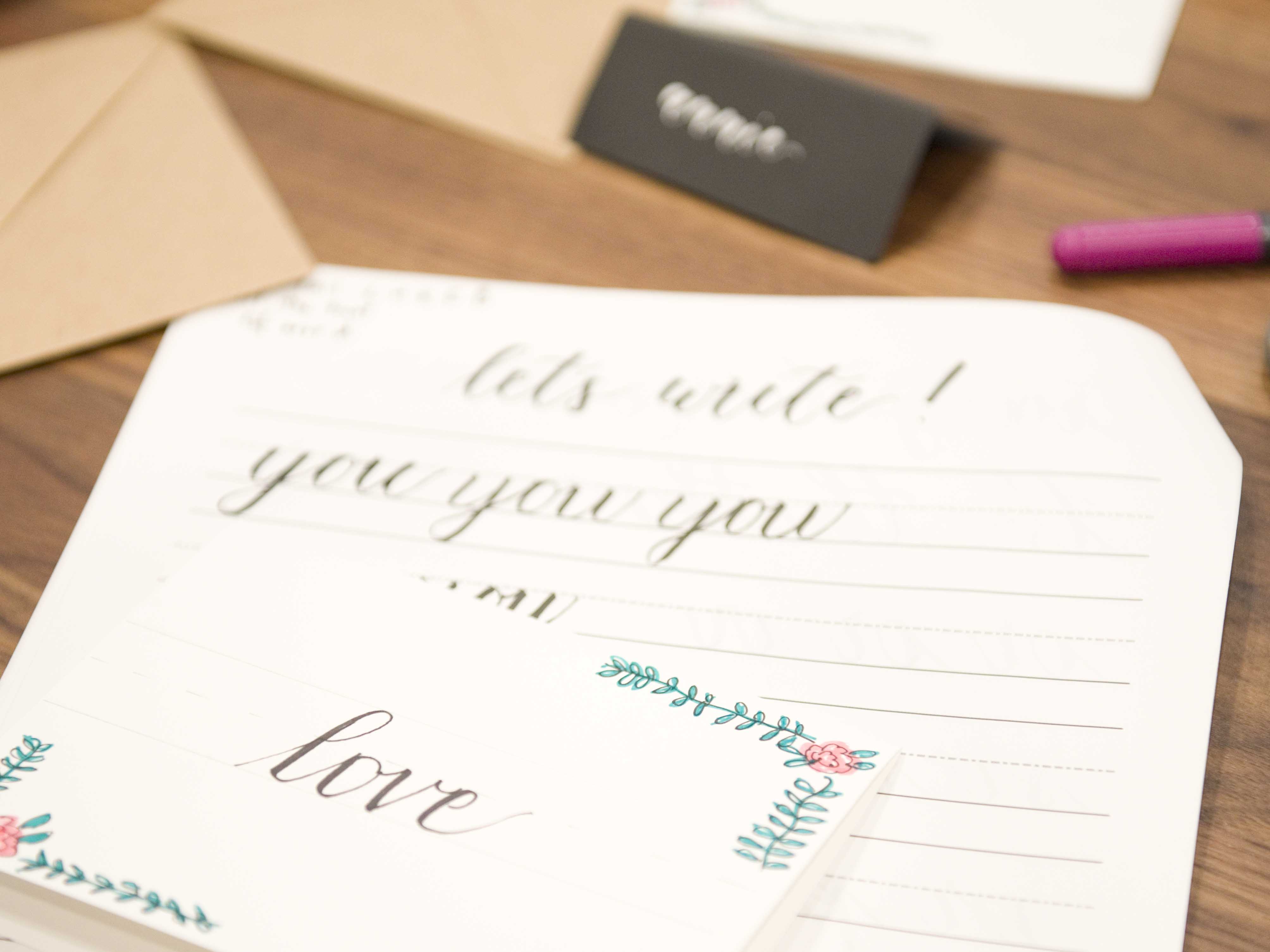 You will learn:
The difference between brush lettering, pointed pen calligraphy, and cursive writing

The proper way to hold a brush pen for right handed and left handed people

Basic strokes, which will be the foundation of all the letters you write

Lower case alphabet

How to connect letters to form words and sentences

How to vary your lettering with different techniques such as slant, dipping, and different ways to write letters
There will be THREE 2.5 hour workshops happening in March. All are at the same location, Grounds for Coffee (2088 Commercial Drive, Vancouver) at 6:00-8:30 PM. Please choose one.



Thursday, April 16 at 6:00-8:30 PM

Wednesday, April 22 at 6:00-8:30 PM

Wednesday, April 29 at 6:00-8:30 PM
At the workshop, you will get a COMPREHENSIVE BRUSH LETTERING KIT that you can take home to practice with afterward.
Tombow Fudenosuke hard tip brush pen

Set of calligraphy worksheets with step-by-step instructions (25 pages in total)

Lowercase and uppercase exemplar

A blank card and envelope

A personalized name card, especially for you!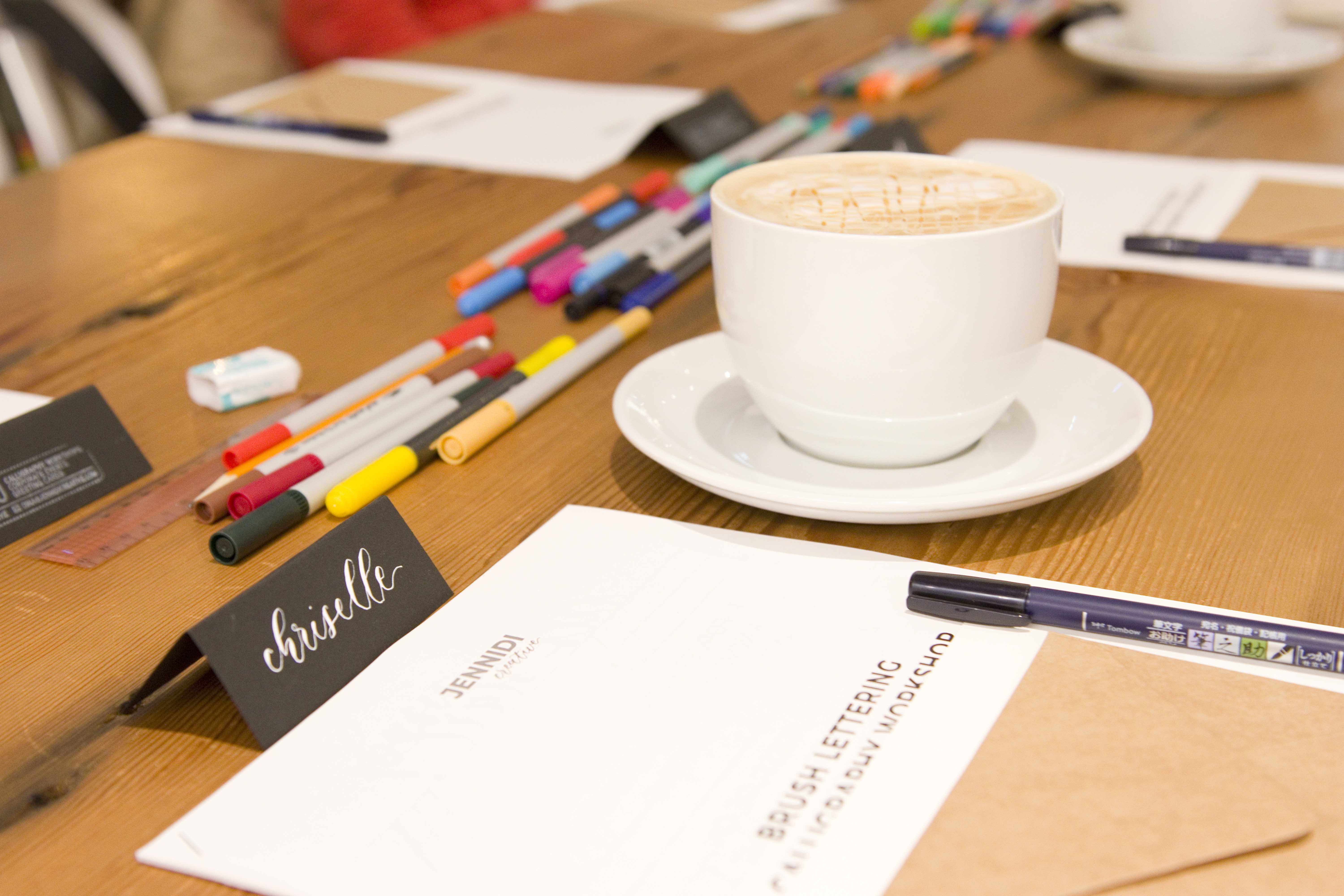 The instructor will also bring:
100 different brush pens of various colours and sizes for you to try

Pencils, erasers, and rulers

Samples of pointed pen calligraphy supplies (pen holders, nibs, inks) – for show only, not for participant use
Spots are limited to 7 people in each workshop. 90% of all workshops are SOLD OUT.
If you want to see what my previous lettering workshops look like, check out my Instagram @dinacalligraphy.
*Please note that this is a brush pen lettering workshop, not a pointed pen workshop.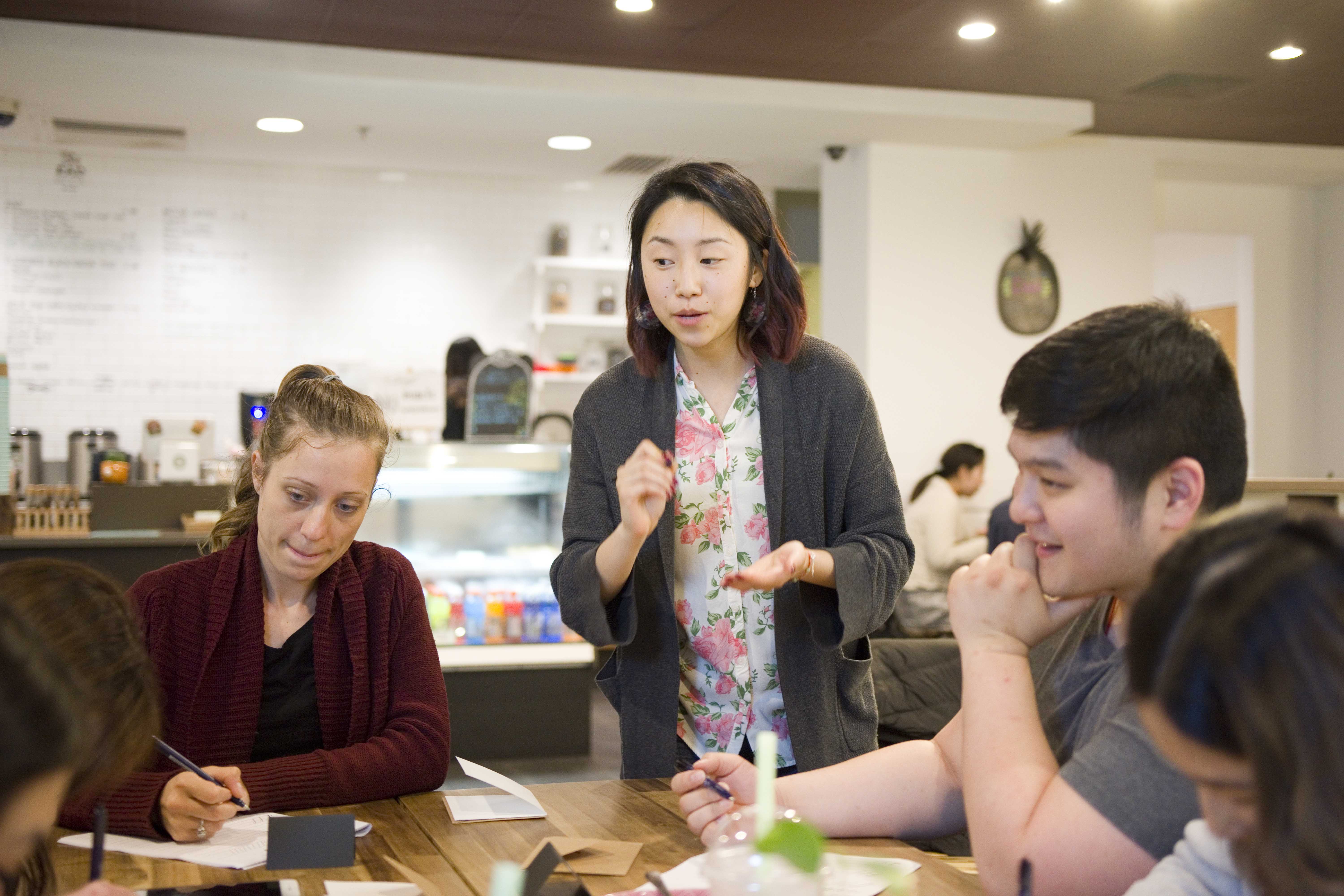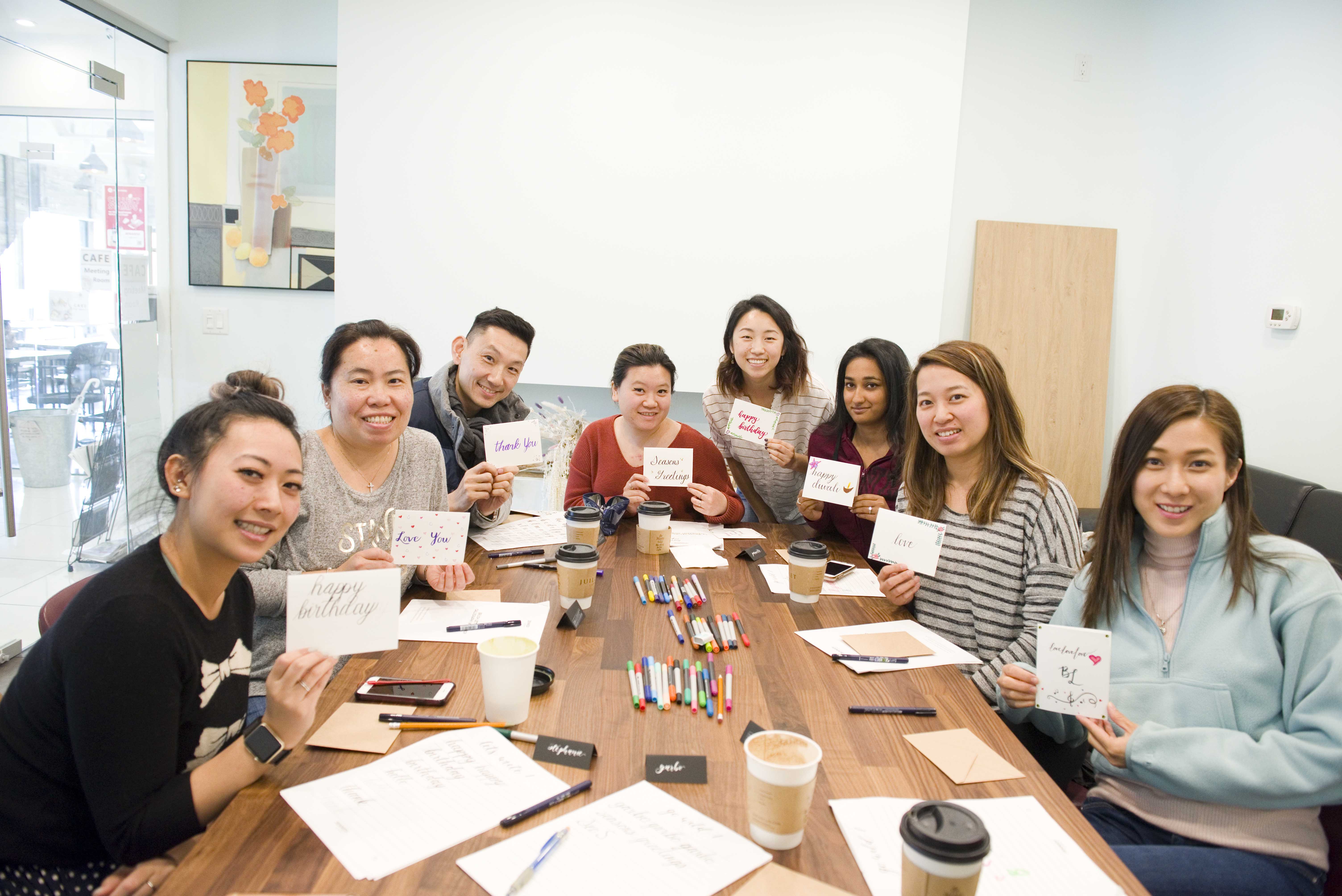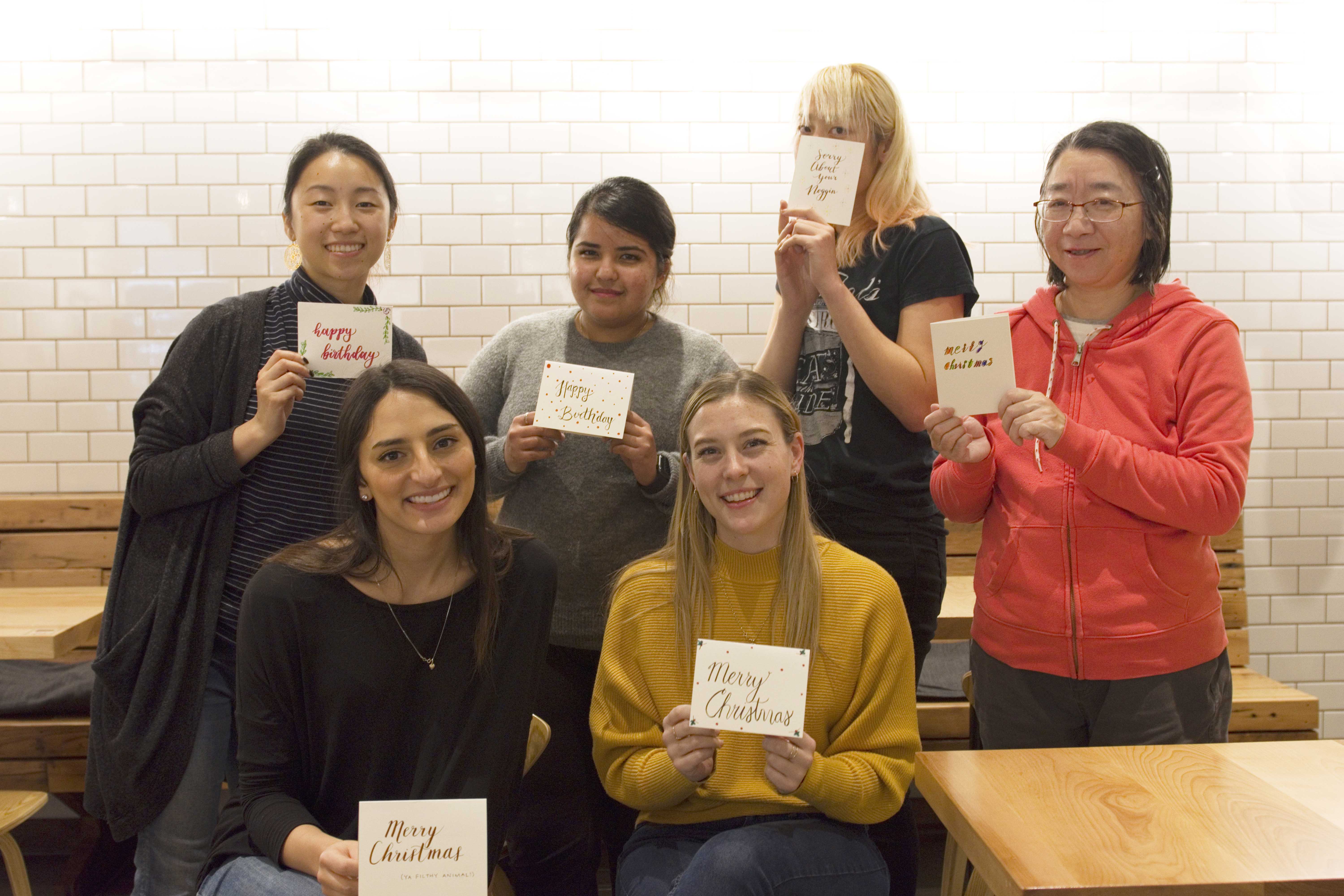 -----
FAQs:
I'm left-handed, can I still do calligraphy?
Yes! This workshop is for both RIGHT-HANDED and LEFT-HANDED people.
What should I bring into the workshop?
All materials are provided so you do not need to bring anything.
Do I need to purchase something at the cafe?
It's highly encouraged that you purchase something at the cafe (drink and/or food) as a respectful gesture. A main part of the event is for people to try out trendy cafes in Vancouver!
How is brush lettering different from cursive writing?
The point of cursive writing is to connect everything together and to write fast. Brush lettering is a practice that is generally slow and relaxing—you create each stroke and letter individually, lifting your pen up after most strokes.
Do you do other workshops?
Yes, I have a Level 2 workshop (POINTED PEN) for those who are confident in brush lettering.
What are the benefits of knowing brush lettering?
You can use it to do everything and anything you think of! These include:
Handmade greeting cards

Wedding invitations

Event name cards

Party signage

Journaling

Quotes

Stationary

Handmade gifts

Home decor

Letters and postcards
How can I contact the organizer with any questions?
If you have any questions of any kind, don't hesitate to email the workshop instructor, Dina, at dina@jennidicreative.com.
What is the refund policy?
No refunds. But you can transfer your ticket to someone else if you email dina@dinacalligraphy.com 24 hours before the workshop.
No money back for no-shows.
-----
ABOUT THE WORKSHOP INSTRUCTOR
Dina is an ambidextrous calligrapher and workshop instructor based in Vancouver, BC. She has taught over 400 people brush lettering and pointed pen calligraphy through her public and corporate workshops in BC.
Dina started her calligraphy business called "Jennidi Creative" in August 2018. The name is a combination of Dina's mom's name (Jenny) and Dina's own name. Dina founded Jennidi Creative after her mom was hospitalized in 2018 for depression and psychosis. Together, they started a creative side business selling greeting cards – her mom painted the cards and Dina did the calligraphy on them. In summer 2019, Dina transitioned out of her 9-5 office job to pursue her calligraphy business full-time. In January 2020, Dina renamed the business "Dina Calligraphy" as Dina's mom is not too involved in the business anymore.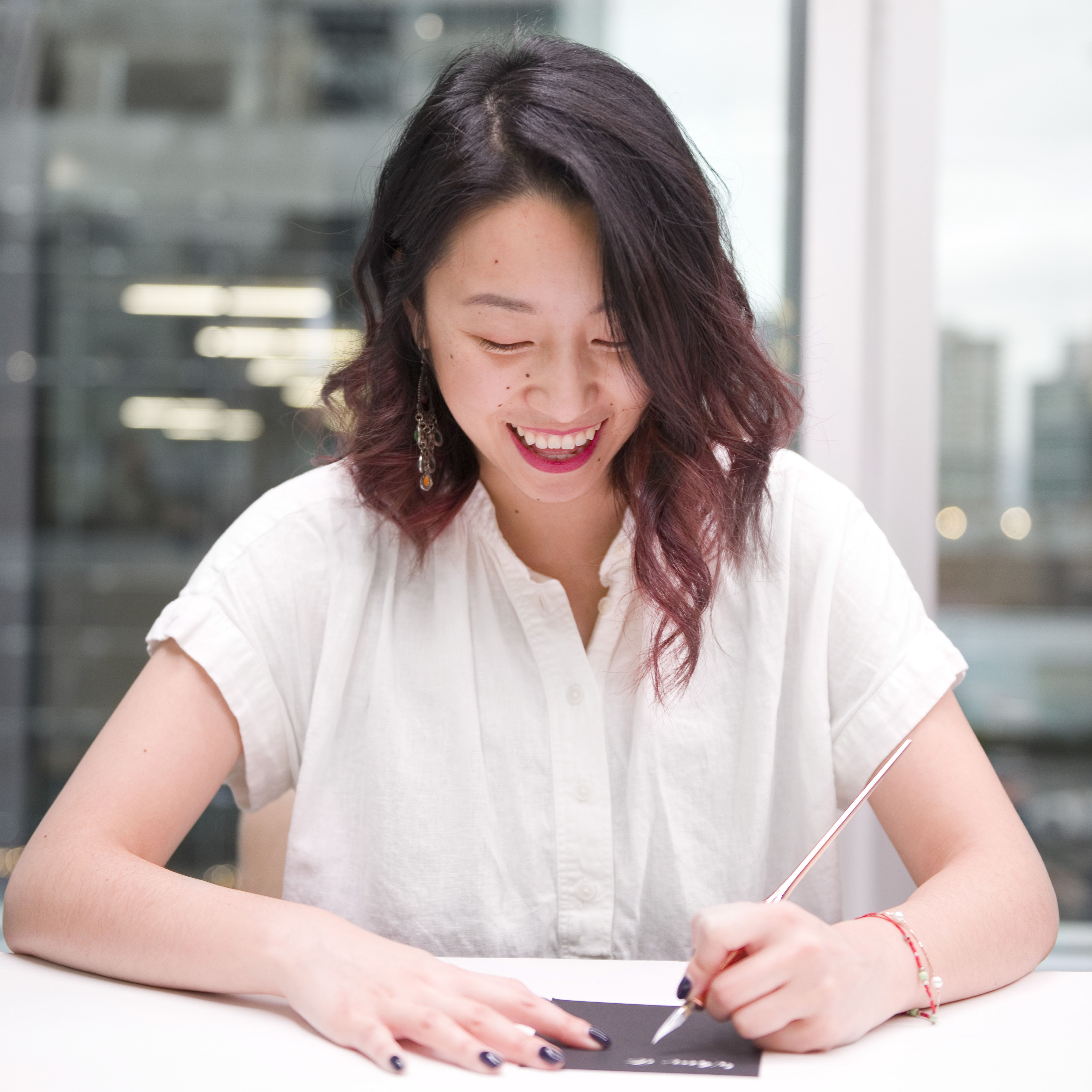 -----
TESTIMONIALS FROM PAST WORKSHOP ATTENDEES
"Dina's Calligraphy classes are such a joy, truly food for the soul!
Walking into something not knowing who you're going to meet, what the atmosphere will be like; and on top of that asking questions like "what if I'm not good enough?" "Will I be laughed at?", etc. It's scary, and can be nerve-wracking.
From the moment you buy a ticket go the moment you finish and walk out of the class, not once will any of those thoughts cross your mind. From minute one Dina makes you feel as though you and all else who attend are a family. One that learns, grows, has fun together!
Dina's way of teaching is so fun, casual, and personal which makes each and every class such a joy to participate in. Learning calligraphy can be daunting, especially if like me, cursive was never your strong suit. Dina takes it step by step, letter by letter, literally letter by letter, and at the end you come out feeling like you just had a giant bowl/plate of your favourite comfort food, and feel so accomplished at having finished it!
Dina's classes are a must attend for anyone, and everyone! I am so glad I had the chance to go to one, and CANNOT wait to go again! Trust me, best decision you'll make this year!!"
Sukhmani Purewal
"Dina was very attentive and really paid attention to our progress. The workbook she developed was great because it broke down our learning into very practical steps. I thought her idea to get everyone making a greeting card at the end of the workshop was fun! It made people feel like they accomplished something. Going into the workshop I wasn't sure if I would enjoy it because I never tried brush lettering before but the two hours went by in a breeze. Highly recommended - don't hesitate!"
Jimmy Chang
"Took Dina's Brush Lettering workshop and highly recommend it! Her smile made you feel instantly comfortable and the pace of the night was great. It was great getting to bring something home and I loved how frequently she walked around and watched us as we practiced what had just been taught. She had a nice way of offering suggestions and was always open to questions. I already notice an improvement in my lettering!"
Lindsay McGuire
"Dina's Lettering Pop-Up Workshop was my first introduction to hand lettering and she made it super easy, fun, and engaging. She even set us up with a brush pen and lettering worksheets to continue practicing at home. Now I hand letter all my birthday cards and people love it!"
Sasha Cooke
2647 Views - 18/04/2020 Last update
commercial drive 2088
grounds for coffee, vancouver, bc, ca
---
Are you an event organizer?
Create events for free. They will be immediately recommended to interested users.
Create event
Nearby hotels and apartments
grounds for coffee, vancouver, bc, ca
---
---
commercial drive 2088
grounds for coffee, vancouver, bc, ca
Event from
eventbrite.com
---
---
Are you an event organizer?
Create events for free. They will be immediately recommended to interested users.
Create event