Thrive in Style:The workshop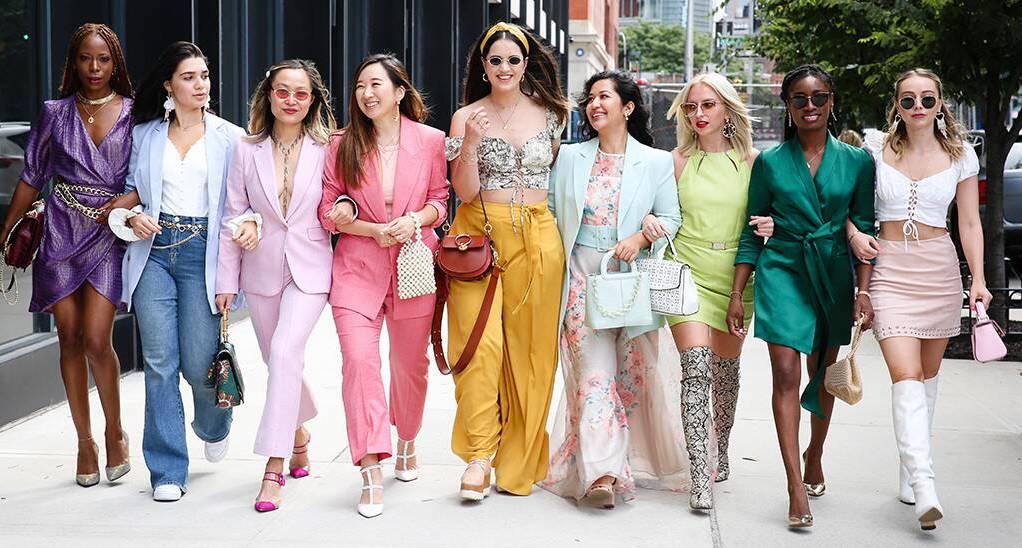 Image from eventbrite.com
---
Thrive in Style: The workshop is an experience that combines thoughtful introspection and future visioning that delivers tangible tools enabling you to step confidently into the life you choose to enjoy, with great style...your style!
You ever wonder why an outfit looks great on your friend but... not so much on you? One reason could be that you are completely different body shapes! You both carry your weight in different areas, and as a result clothes will fit you both differently. The types of fabrics, the cuts, where the details are etc all play a role in how clothes fit the body. Once you know which details to look for, or stay away from, for your unique shape, it's a game changer.
When your clothes fit you well, and the image you project on the outside is in alignment with the woman you are on the inside, it is magic. You'll have the confidence to step boldly into the life you want to enjoy.
What about having a full closet but nothing to wear and cringing at the thought of trying to get dressed in the mornings? You'll learn how to swerve that morning madness and create a closet that works for you now.
This workshop will open your eyes to a new appreciation for dressing your body with intention and creating a wardrobe that communicates exactly who you are.
During this carefully curated, 3-hour fun and interactive workshop you will learn:
How to identify your personal style
Which body type is yours and how to choose clothing that flatters you every time
The ABCs of dressing
How to confidently shop for the right styles and fabrications in clothing so that you save time and money
How to create a functional capsule wardrobe so that getting ready in the mornings is no longer a struggle
How to create a closet full of outfits and not several random pieces, so that your wardrobe supports your current lifestyle
How to determine your best colours so you'll look fresh, lively and happy
How to accessorize to take your ensemble up a notch or two
So, how will this unfold?
WHAT YOU'LL GET
This is more than just a half day workshop. You'll get resources before and after so that the concepts become a new way of appreciating and dressing your body
BEFORE:
Pre-workshop you'll receive a few questions so that I can ensure your particular challenges are addressed
You'll also start thinking about your current style and goals to ensure you are prepared for the day and ready for this transformation
Your answers will get you primed and ready for the day's learning
DURING (No sitting around listening to boring stuff)
A half-day training and workshop with

Renée Lindo, Personal stylist and owner of Let's Get Dressed Now

and former National Sales Director
A thorough understanding of your unique body shape and how to choose clothing, colour and accessories so that you maximize your assets and look your best every time you get dressed (we're bringing out the measuring tapes)
Hands on creation of 30+ outfits for your functional capsule wardrobe so that you are excited about getting dressed again
AFTER:
You'll receive my step by step guide to a successful closet edit
You'll receive my Personal stylists' guide to shopping smart to save time and money
Invitation to join a 90 mins Q&A call to discuss any of your style challenges (only available to attendees of this workshop). I know questions come up after, so this gives you an opportunity to digest the information, practice and play, and then bring any challenges you are facing to this group call
WHO IS THIS WORKSHOP FOR?
This workshop is perfect for women who are experiencing any of these style and life challenges:
They know they are not showing up as the confident badass they are on the inside
They want to progress in their career and know that their image has to project confidence
They experienced a life transition (baby, job change, life change) and are ready to put their best foot forward in this new phase
Their body has changed and they are confused as to how to dress this new body
They need to minimize their shopping mistakes and be more deliberate in how they spend their time and money
They want to authentically communicate their personality through their style
Getting ready for any occasion is overwhelming
Their closet no longer serves their current lifestyle
They feel meh about their style and feel like they are in a style rut
They are ready to get that sparkle, life and energy back
INCLUDED ON-SITE AT THIS WORKSHOP
Supplies: Workbook and worksheets full of tangible tools to help you elevate your styleFood & Drink: Yep, we'll be bringing the yummy-yummy to your tummy tummyWorkspace: the beautiful and very Instgrammable 'Jungle Room' at Make Lemonade
Take the step you know you need to make to elevate your style and get that pep back in your step so that you can share your confidence and magic with the world.
Join us, won't you. It will be a fun and transformative day.
835 Views - 05/04/2020 Last update
Make Lemonade
326 Adelaide Street West, Toronto, ON, CA
---
Are you an event organizer?
Create events for free. They will be immediately recommended to interested users.
Create event
Nearby hotels and apartments
326 Adelaide Street West, Toronto, ON, CA
---
---
Make Lemonade
326 Adelaide Street West, Toronto, ON, CA
Event from
eventbrite.com
---
---
Are you an event organizer?
Create events for free. They will be immediately recommended to interested users.
Create event
Toronto

›