Theory X with Monument Lab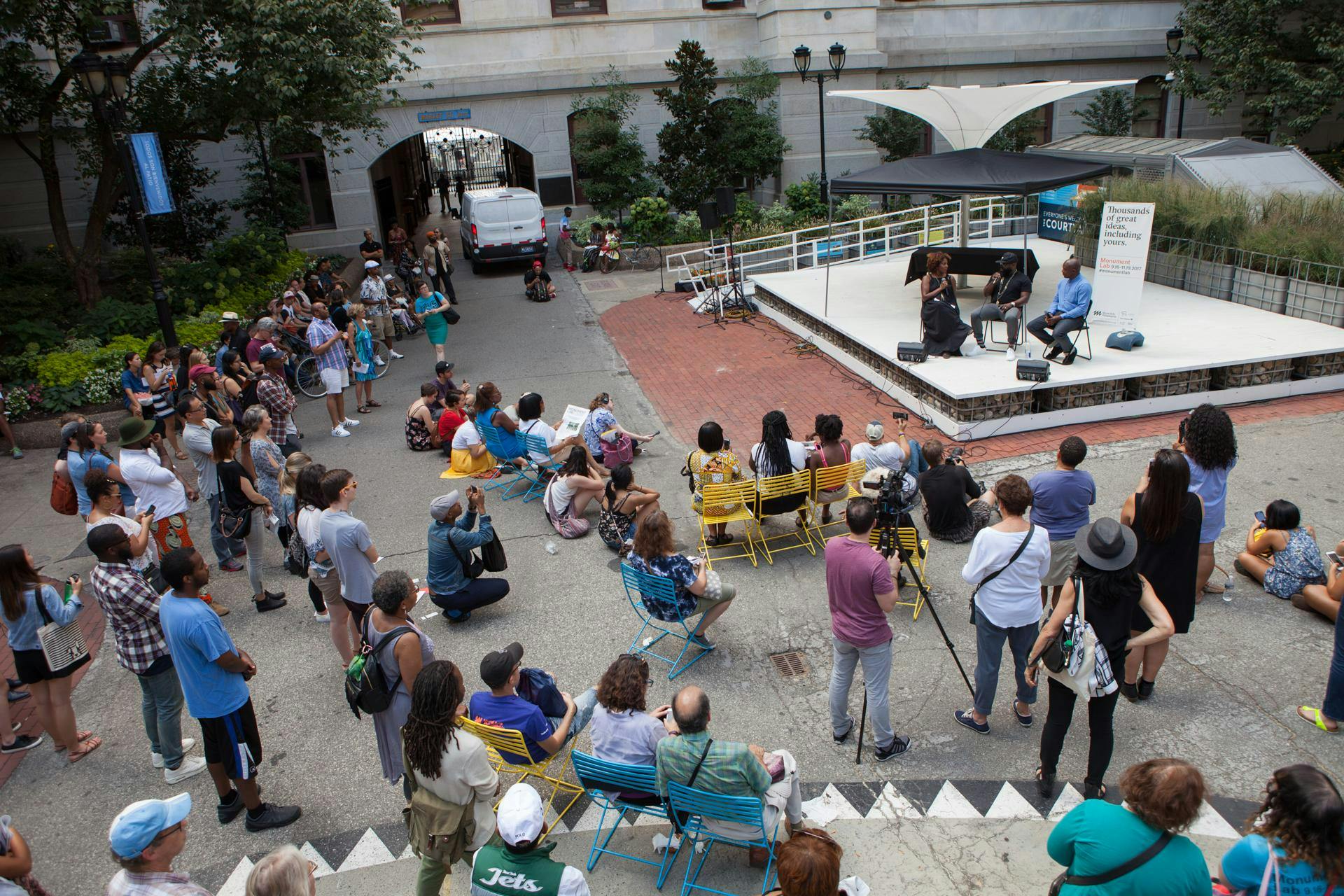 Image from eventbrite.ca
---
Theory X with Monument Lab

June 16, 1-4
pm
Free
As a part of our New Monuments for New Cities initiative with the High Line Joint Art Network, the Bentway has invited High Line research residents and Monument Lab co-founders Ken Lum and Paul Farber to curate a speakers series entitled Theory X.
Together, Monument Lab and the Bentway have posed an open research question: What is your theory of Toronto? We have worked with Lum and Farber to create a list of potential speakers to reflect a widespread critical community. The invited speakers have been asked to respond to this question as it is broken down into four categories: the constitution of Publics, the historical transmission of Legacies, the recognition of Ecologies, and the striving for Belonging. Additionally, besides the speakers, all public attendees will be invited to author and contribute their own responses, which will be collected and shared as a part of this program.
Curatorial Statement:
"Your gaze scans the streets as if they were written pages: the city says everything you must think…however the city may really be, beneath this thick coating of signs, whatever it may contain or conceal."
–Italo Calvino, Invisible Cities
Theory X proposes an open question to a group of 12 invited Torontonians: What's Your Theory of Toronto? The question will spawn responses that will be prepared by a range of artists, activists, planners, and cultural workers; delivered as a form of public address at the Bentway; shared online in textual and video form; and serve as platform to invite public participants to respond with dialogue, or author words and/or images of their own responses to the central question, which will also be shared as a research platform afterward.
The question is intended to invite theorization about the city through creative speculation, recollection, and reckoning. If cities are places of order, logic, balance, encounter, and data-driven policy, as we understand, they, too, are sites of profound challenge, improvisation, inequality, surveillance, and grassroots forms of knowledge. Conscious of the narratives of "smart" cities as places wired for progress and profit, this speakers series and research project seeks a moment to pause, ponder, and unlock other insights regarding collective values and visions of civic identity.
About Monument Lab
Monument Lab is an independent public art and history studio based in Philadelphia. Founded by Paul Farber and Ken Lum, Monument Lab works with artists, students, activists, municipal agencies, and cultural institutions on exploratory approaches to public engagement and collective memory. Monument Lab cultivates and facilitates critical conversations around the past, present, and future of monuments.
As a studio and curatorial team, Monument Lab pilot collaborative approaches to unearthing and reinterpreting histories. This includes citywide art exhibitions, site-specific commissions, participatory research initiatives, a national fellows program, a web bulletin and podcast, and more.
Monument Lab's goal is to critically engage the public art we have inherited to reimagine public spaces through stories of social justice and equity. In doing so, they aim to inform and influence the processes of public art, as well as the permanent collections of cities, museums, libraries, and open data repositories.
Since 2012, Monument Lab's projects have engaged 300,000 people in person, and garnered recognitions from Americans for the Arts and the Preservation Alliance.
4567 Views - 17/06/2019 Last update
The Bentway
250 Fort York Boulevard, Toronto, ON, Canada
---
Are you an event organizer?
Create events for free. They will be immediately recommended to interested users.
Create event
Nearby hotels and apartments
250 Fort York Boulevard, Toronto, ON, Canada
---
---
The Bentway
250 Fort York Boulevard, Toronto, ON, Canada
Event from
eventbrite.ca
---
---
Are you an event organizer?
Create events for free. They will be immediately recommended to interested users.
Create event
Toronto

›