Tartan Turban Secret Readings #10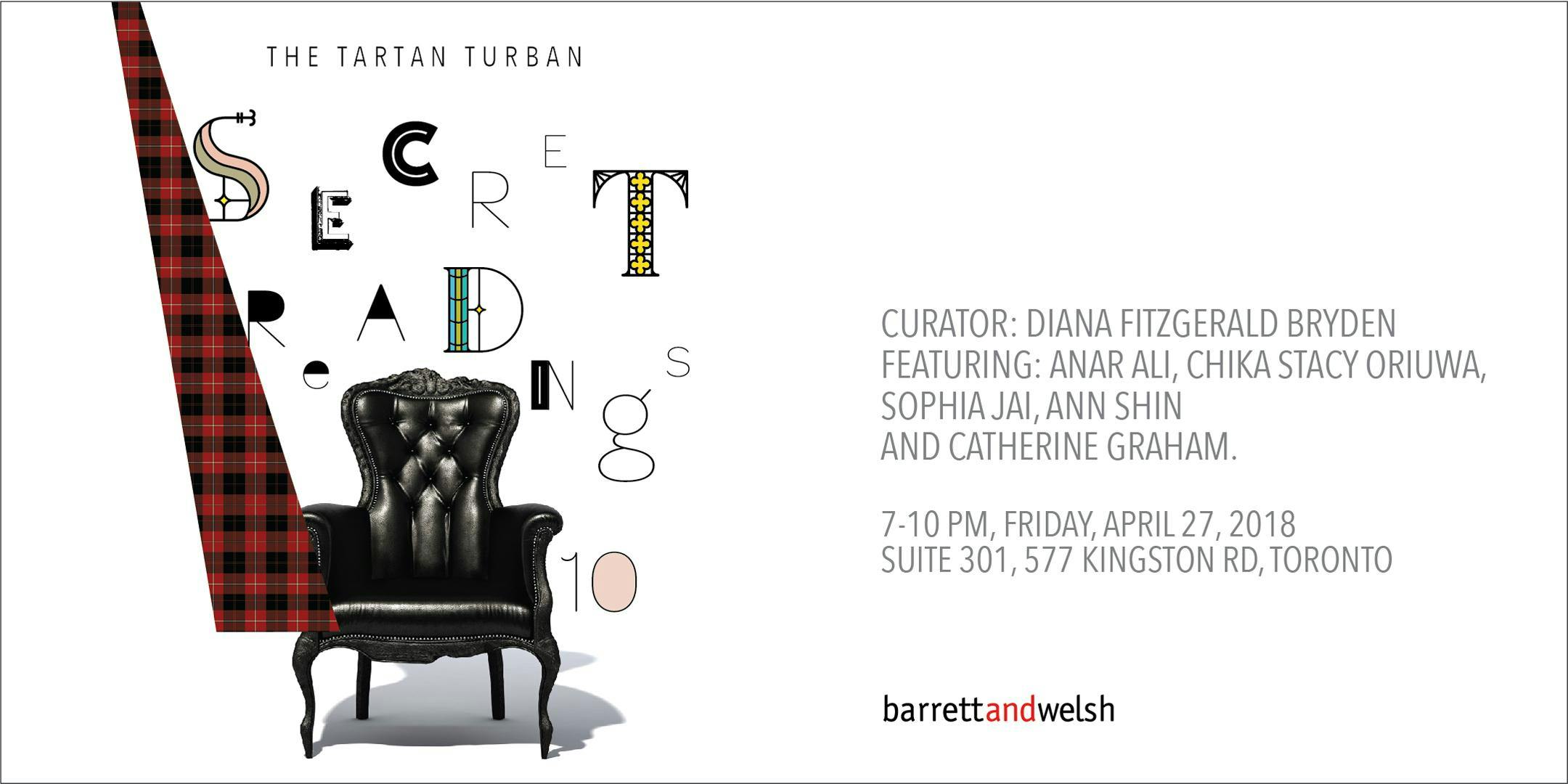 Image from eventbrite.com
---
You are invited to the 10th session of The Tartan Turban Secret Readings curated by writer Diana Fitzgerald Bryden at Barrett and Welsh on Friday, April 27th, 2018, from 7 pm to about 10 pm.
Diana Fitzgerald Bryden is the author of two books of poetry, Learning Russian and Clinic Day, and a novel, No Place Strange, which was short-listed for the Amazon.ca First Novel Award and long-listed for the Impac/Dublin. She has published numerous essays, poems and short fiction in journals and anthologies in Canada and the U.S., and her subscription series can be found at Channillo.com. She has almost completed her second novel, Wet Dogs.
Our evening features Anar Ali, Chika Stacy Oriuwa, Sophia Jai, Ann Shin and Catherine Graham.
Anar Ali's first book, Baby Khaki's Wings, a collection of short stories, was a finalist for the Commonwealth Writer's Prize (Best First Book), Ontario's Trillium Book Award, and the Danuta Gleed Literary Award. Her debut novel, The Night of Power, is forthcoming from Penguin. She is also a recent graduate of the Canadian Film Centre and has a 1-hour TV family drama series in development with the CBC. Anar splits her time between Toronto and Mexico.
Chika Stacy Oriuwa is a second-year medical student at the University of Toronto and professional spoken word artist and national slam poetry finalist who has worked under the Hamilton Youth Poets. Keenly interested in healthcare reform pertaining to the intersections of race and gender within medicine, she is committed to the mentorship of youth in minority communities. She is co-president of the U of T Black Medical Students Association, co-founder of the Black Interprofessional Students Association (BIPSA), and co-director of uFLOW. Currently an ambassador for the Black Students Application Program at U of T's Faculty of Medicine, Chika sits on the External Implementation Steering Committee to the Minister of Child and Youth Services assisting with the Ontario Black Youth Action Plan.
Catherine Graham is the author of the novel Quarry and six poetry collections including The Celery Forest, a CBC Books Top 10 Canadian Poetry Collection of 2017. Her Red Hair Rises with the Wings of Insects was a finalist for the Raymond Souster Award and CAA Award for Poetry. She received an Excellence In Teaching Award at the University of Toronto School of Continuing Studies where she teaches creative writing. She was also a winner of IFOA's Poetry NOW. Visit her at www.catherinegraham.com. Follow her @catgrahampoet.
Sophia Jai is a Trinidadian-Canadian writer in Toronto. Sophia began writing her first book in 2017 under the mentorship of iconic Jamaican novelist and poet, Olive Senior, at the Humber School for Writers. Sophia was selected as an Emerging Author and Presenter in the 2017 Festival of literary Diversity in Canada, and has read her works at other events that support emerging writers. She used to work in publishing at Harper Collins, but is now taking a hiatus from corporate life to finish her novel, The Space In Between.
Ann Shin grew up in Fraser Valley, BC and now lives in Toronto where she writes and makes documentary films. Her latest book of poetry, The Family China, (Brick Books, 2013) won the Anne Green Award and was shortlisted for the Gerald Lampert Poetry Prize. Ann's latest documentary My Enemy, My Brother was shortlisted for a 2016 Academy Award and nominated for an Emmy. Her previous documentary, The Defector: Escape from North Korea won 7 awards including Best Documentary and Best Documentary Director at the 2014 Canadian Screen Awards.
For updated information, follow us on our Facebook group.
We hope you will come, read, share and listen, but if life/the evening/your acrobatic gerbil has other plans for you, we completely understand.
We encourage you to support our featured writers by buying signed copies of their works at the reading. (Cash only please).
------
Open mic sessions:
Anyone attending is welcome to read or perform (if you are a musician) in our 3 open mic sessions.
If you are a writer or musician who would like to perform in the open mic session, we ask that you listen in to at least one session to get the flavour of the evening and join in on your next visit. To participate in TTSR #10 please contact Diana Fitzgerald Bryden — the evening's curator — beforehand as this will allow her to line up the readers and manage the evening efficiently.
Open mic readers are given 4 minutes in total — you may read a work of creative writing (fiction/poetry/drama/screenplay) - or a work of reportage or creative non-fiction. This is not a lecture or motivational speaking series, so no academic or self-help works, please.
Your reading doesn't have to fit into the evening's theme and it doesn't matter if it's not in English or French - one of our open mic readers read a stunning series of poems in Spanish based on interviews with jailed murderers in Mexico. Simply accompany your readings with an explanation of the context and a brief translation in English.
If you are reading at an open mic please read no more than:
4 pages of poetry or,
2 single pages of double-spaced prose, or
3 pages of a screenplay or play,
- up to a 4 minute maximum for any creative material, including a brief introduction to yourself and your work.
At the end of 4 minutes, there will be a simple buzzer to let you know your time is up, to save any reader the embarrassment of being stopped by a curator.
Don't let yourself be intimidated by these guidelines. They are designed to make sure the evening is enjoyable for all. The ambience at our readings is intimate, extremely informal and very supportive.
If you have published works that you would like to offer for sale, feel free to mention it when you finish your reading.
----
About The Tartan Turban Secret Readings: Barrett and Welsh hosts a (not so) "secret" reading series on its rather lovely open-air office rooftop deck while it's warm, and in its large open concept studio space in cooler weather.
The Tartan Turban Secret Readings feature poetry, drama and prose readings that celebrate Canadian multicultural writing created by multicultural, minority and BIPOC writers. The idea is to provide a platform for minority writers who have very few such platforms while welcoming all writers who want to celebrate Canada's multiculturalism, diversity and indigenous heritage, and have talent to share.
Curators change from reading to reading. If you would like to read or curate, contact Gavin Barrett or Mayank Bhatt who are co-curators for the series.
Readings ideally take place every 3rd or 4th Thursday or Friday, but this varies depending on what is convenient for featured readers and curators. The series has moved indoors for winter.
The hope is to also intersperse the readings with musical performances from multicultural/minority/BIPOC musicians eventually. Maybe a tabla or bongo player may pop in to accompany the readers or to play between readings. Maybe one of you will invite a Metis fiddle maestro.
Please feel free to bring any of your friends of every minority whether "visible" or otherwise – non-minorities are warmly welcomed too. Feel free to suggest others you think might be ideal as curators, participants or happy listeners.
The sessions may be photographed, filmed and possibly streamed on FB/YouTube live. (if we can arrange for a production partner to organise this.)
Readings may be collected for a book for publication at the end of the year, so ideally everyone will be reading unpublished work.
----
Seating: For those wishing to attend, please note that our space can comfortably accommodate no more than 35 people, including our features for the evening.
Refreshments: Barrett and Welsh does provide complimentary refreshments and light snacks, but in keeping with the community-centric spirit of the series, we encourage attendees to bring and/or share their own beverages and snacks (and to carry their own drinking cups/glasses).
Entry: We'll have someone posted at street level until 7 pm to get people in. (Ground level entrance is auto-locked by security after that.) Please arrive before 7 and encourage your guests to do same. if they arrive later, they'll need to text one of us to let them in and we'll swing by in 10 min intervals (sorry!)
Accessibility: Barrett and Welsh's offices are at the top of an office building that was once a large townhouse, so there are a couple of steep flights of stairs to get in. If you (or any guests) have mobility challenges, please be aware that you may need a helping hand up the stairs, as there is no elevator. Please let us know if we can be of assistance.

Want to receive updates on the next reading? Simply follow our FB group for updates on the next session and the link to the Eventbrite registration page for each reading. (we do ask that you register if you plan to attend). You can also sign up for our email list here.
----
About Barrett and Welsh: Barrett and Welsh is a minority-led, creativity-powered, change-making ad agency that puts ideas first to make ideas last. A certified B-Corp, it has speciality practices in inclusion communications (mainly multicultural/minority and persons with disabilities) and urban sustainable development (mainly transit).
About the series co-curators: Mayank Bhatt's first novel Belief was published late last year by M G Vassanji's Mawenzi House press. The novel explores youth radicalisation and alienation, and the impact of terrorism on a family in the context of the failure of immigration and settlement framework in Canada.
Mayank Bhatt immigrated to Toronto in 2008 from Mumbai (Bombay), where he worked as a journalist. His short stories have been published in TOK 5: Writing the New Toronto and Canadian Voices II. In Canada, he has worked as a security guard, as the Chief Administrative Officer of the Indo Canada Chamber of Commerce and as an organizer for the Festive of South Asian Literature and Art. He lives in Toronto with his family.
Mayank co-curates the Tartan Turban Secret Readings with Gavin Barrett. (see organizer description below for more about Gavin).
447 Views - 27/04/2018 Last update
culture
art
education
music
concerts
business
Barrett and Welsh
577 Kingston Road, Toronto, ON, Canada
---
Are you an event organizer?
Create events for free. They will be immediately recommended to interested users.
Create event
Nearby hotels and apartments
577 Kingston Road, Toronto, ON, Canada
---
---
Barrett and Welsh
577 Kingston Road, Toronto, ON, Canada
Event from
eventbrite.com
---
---
Are you an event organizer?
Create events for free. They will be immediately recommended to interested users.
Create event
Toronto

›