Soul Movement presents Ecstatic Dance Vaughan
Saturday 22 July 2017 7:00 PM Saturday 22 July 2017 11:00 PM
Save
Saved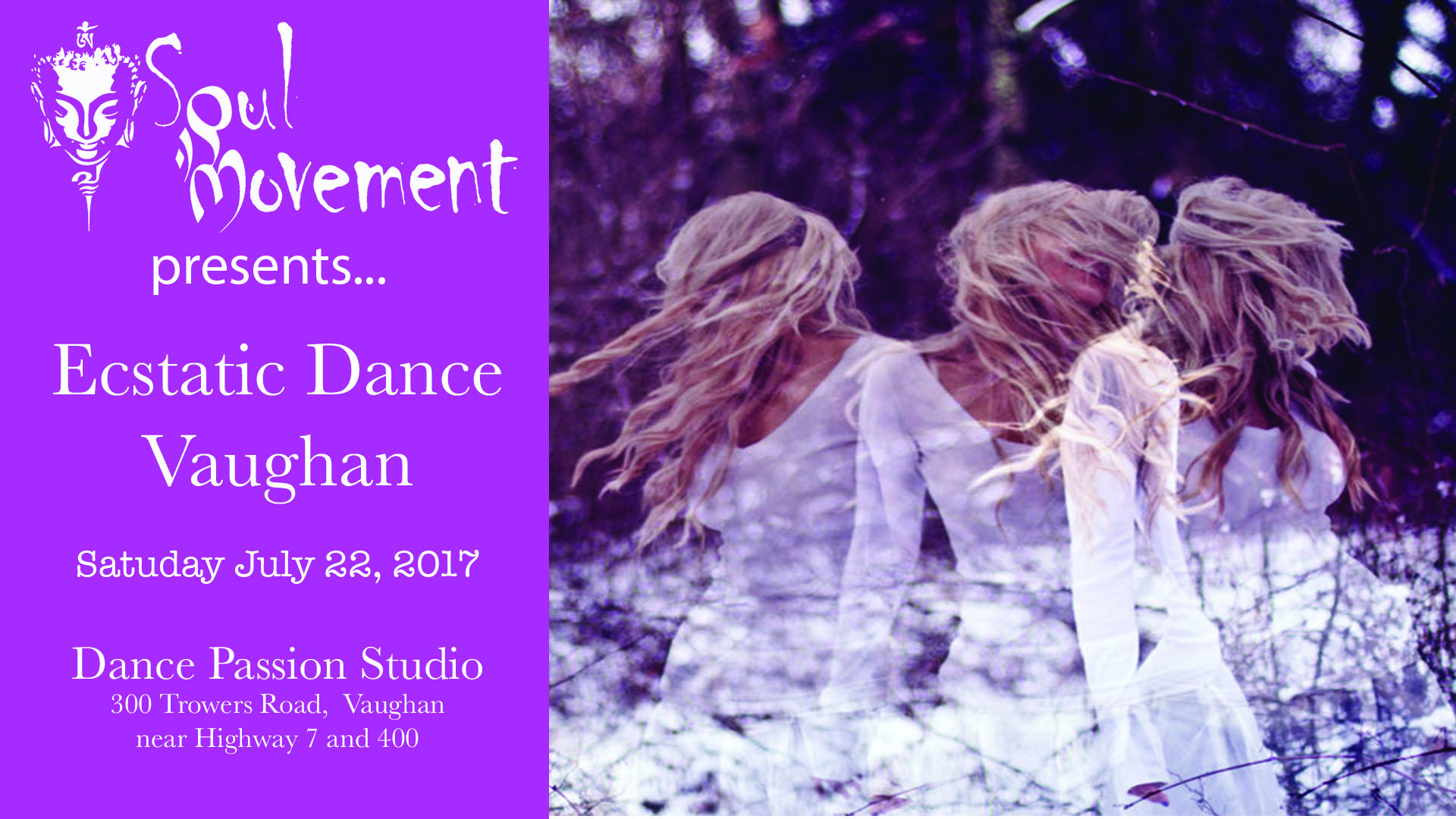 Last update 23/07/2017
91235
Yoga EcstaticDance Drumming GuidedMeditation SharingCircleCommunity Reiki ConsciousFood SoulMovement1111
It is with great excitement that we invite you to the Grand Inauguration of ECSTATIC DANCE VAUGHAN by Soul Movement on Saturday July 22nd at 7 pm. 
We are...well...."Ecstatic" as we announce this brand new offering which will be a regular event taking place every two months in the Vaughan area. The Grand inauguration is FREE TO ALL on a first come first served basis, so be sure to register as soon as possible to secure your ticket ♥
Our intention for these events is to create a space in the Northern suburbs of Toronto where Community can come together and co-create in harmony a space of Healing, a space of Self-Expression through Dance, Yoga, Meditation and Sacred Ceremonies; a safe space free of judgement where we are all united as a soul family beyond the divisions of age, gender, class, creed or status.
Ecstatic Dance – or free form dance – is an invigorating mind body practice of uncensored spontaneous movement for people just like you who love to dance when no one's watching. Just think of it as rockin' out to your favorite tunes at home, only So. Much. More. Imagine recess – grownup style – as a group of friends drop inhibitions and let loose; animating the room into a dynamic and interactive playground engendering total freedom of expression. Going through the wave of movement and feelings of catharsis and release together generates a unifying experience for participants akin to tribe. People bond easily and effortlessly. Many newcomers find this to be their first authentic place of belonging in town.
We are currently welcoming applications from Healers, Vendors, Artists and anyone in the Community to reach out to us via the Soul Movement inbox for collaboration opportunities.
The venue we have chosen in Vaughan is conveniently located near the intersection of Highway 7 and 400. 
Register here (Free event, requires registration for entry)
https://www.eventbrite.com/e/soul-movement-presents-ecstatic-dance-vaughan-tickets-35901562540
Outline of the event will be posted soon xoxo. 
Abour your Facilitators: 
Sana and Umair are a twin-flame couple based out of Richmond Hill, Ontario. They led parallel lives until 2012 when the Universe aligned their paths. Soul Movement was birthed shortly after their union, and they have been hosting Conscious Events and bringing Communities together in Toronto since 2015. 
Sana is a Business Owner and owns Cafe Demetre in Richmond Hill. Umair is an Energy Healer who channels the energies of various Ascended Masters in his healings and teachings. 
Sana and Umair are very honored to be on this path of service, and it gives them the deepest happiness ever imaginable to carry out this work.

music
business
courses
yoga
Nearby hotels and apartments
Dance Passion Dance/Fitness Studio
300 Trowers Road, Vaughan, ON, Canada
Dance Passion Dance/Fitness Studio
300 Trowers Road, Vaughan, ON, Canada