Ryuho Okawa Lecture Event ーLove, Truth, and Mission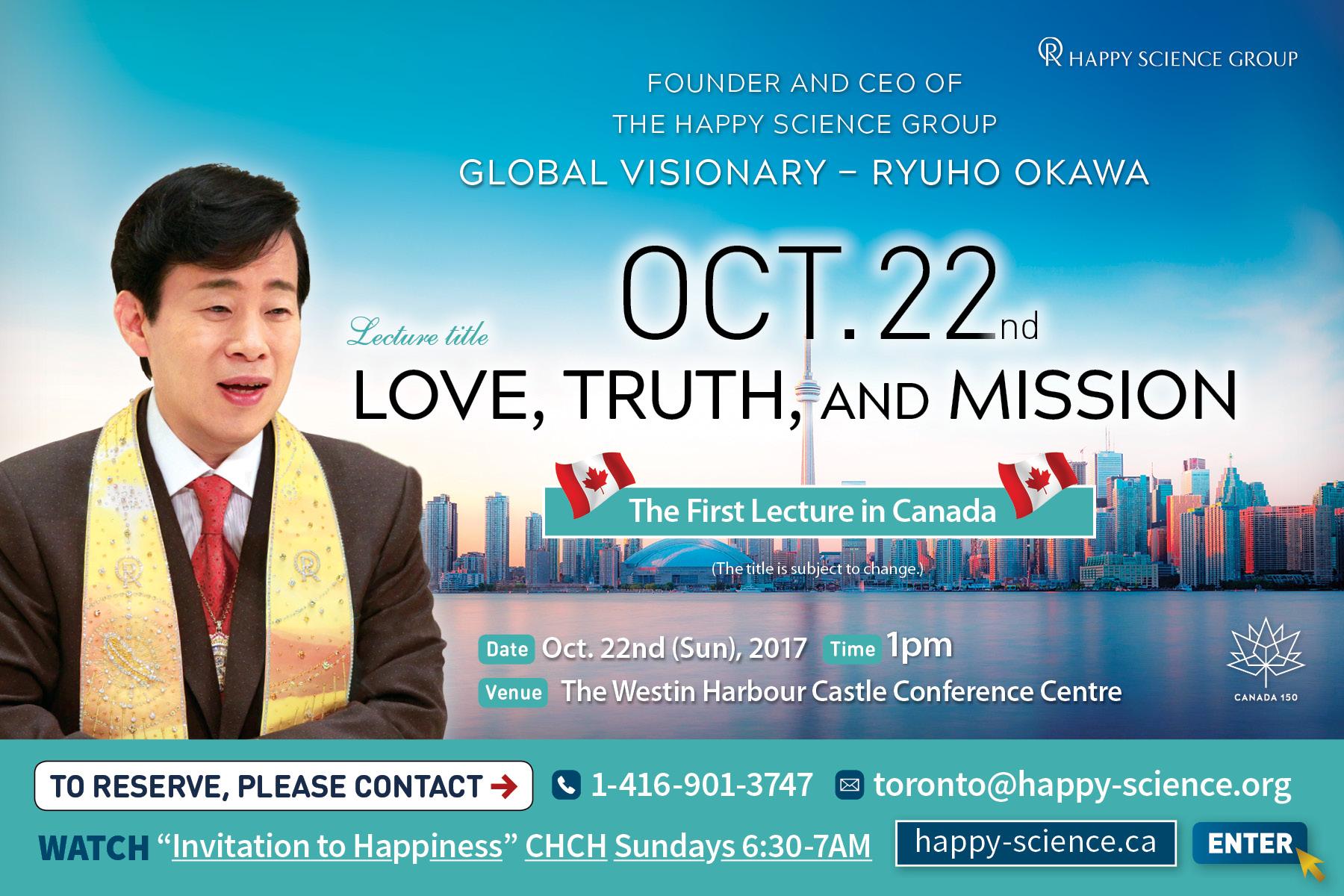 Image from eventbrite.ca
---
Founder and CEO of the Happy Science Group
Global Visionary – Ryuho Okawa
The First Lecture in Canada at The Westin Harbour Castle Conference Centre in Toronto
Lecture Title: Love, Truth, and Mission

-The title is subject to change-

* A question and answer session will follow the lecture.

Program Starts 1:00 PM

Door Open: to be announced/Door Close 12:50

Registration Starts 11:00/Close 12:40

These tickets are exclusively for those residing in Canada and the US. If you are residing in another area, please contact inquiry@happy-science.org.

If you are a Happy Science member, please contact your local temple.
Join Us for this Life Transforming Event!
Master Ryuho Okawa is world-renown for revealing answers to life's most fundamental questions and today's most pressing global issues. Since attaining great enlightenment, he founded Happy Science, has given more than 2,600 lectures, and published best-selling books loved by millions all over the world. He works tirelessly to teach how each of us can realize our own happiness, revealing the meaning of life, and also our differences – religious and cultural – so that we can understand and love each other better, in order to build an ever-brighter future, together.
This year he is traveling to Toronto and giving a lecture in Canada for the first time. This message will give us insight as to how to bring together conflicting values in these turbulent times.
This event is for everyone, young and old. Do not miss this incredible opportunity to feel your inner light sparks alight.
Ryuho Okawa, Founder and CEO of Happy Science Group
Global Visionary and Spiritual Leader
Born in Japan and after graduating from the University of Tokyo, Master Ryuho Okawa joined a Tokyo-based trading house. While working at its New York headquarters, he studied finance at the Graduate Center of the City University of New York.
In 1981, his deepest subconscious awakened and revealed his calling to become a spiritual leader who will inspire the world with the power of God's Truth. In 1986, he founded Happy Science, a nondenominational universal religion, to share God's Truths and to help humankind overcome religious and cultural conflicts and usher in an era of peace on Earth. Since then, he has given more than 2,600 lectures. His books have been translated into 28 languages and the number of books published surpasses 2,200.
In addition, he is the founder of Happy Science University, Happy Science Academy (Junior and Senior High School), the Happiness Realization Party, Happy Science Institute of Government and Management, and IRH Press Co., Ltd.
The fundamental teaching of the Fourfold Path, Love, Wisdom, Self-Reflection, and Progress, has spread across the whole world, and currently, members in over 100 countries are active in this new global movement.
*Tha data are as of July, 2017.
230 Views - 22/06/2018 Last update
courses
conventions
culture
party
---
Are you an event organizer?
Create events for free. They will be immediately recommended to interested users.
Create event
---
---
Event from
eventbrite.ca
---
---
Are you an event organizer?
Create events for free. They will be immediately recommended to interested users.
Create event