PMI LAKESHORE ONTARIO CHAPTER PRESENTS LEAN SIX SIGMA (LEGO) YELLOW BELT CERTIFICATION, 2 DAYS, APRIL 2 & 3, 2020
COVID-19: many events have been canceled or postponed, please check with the organizer the event status.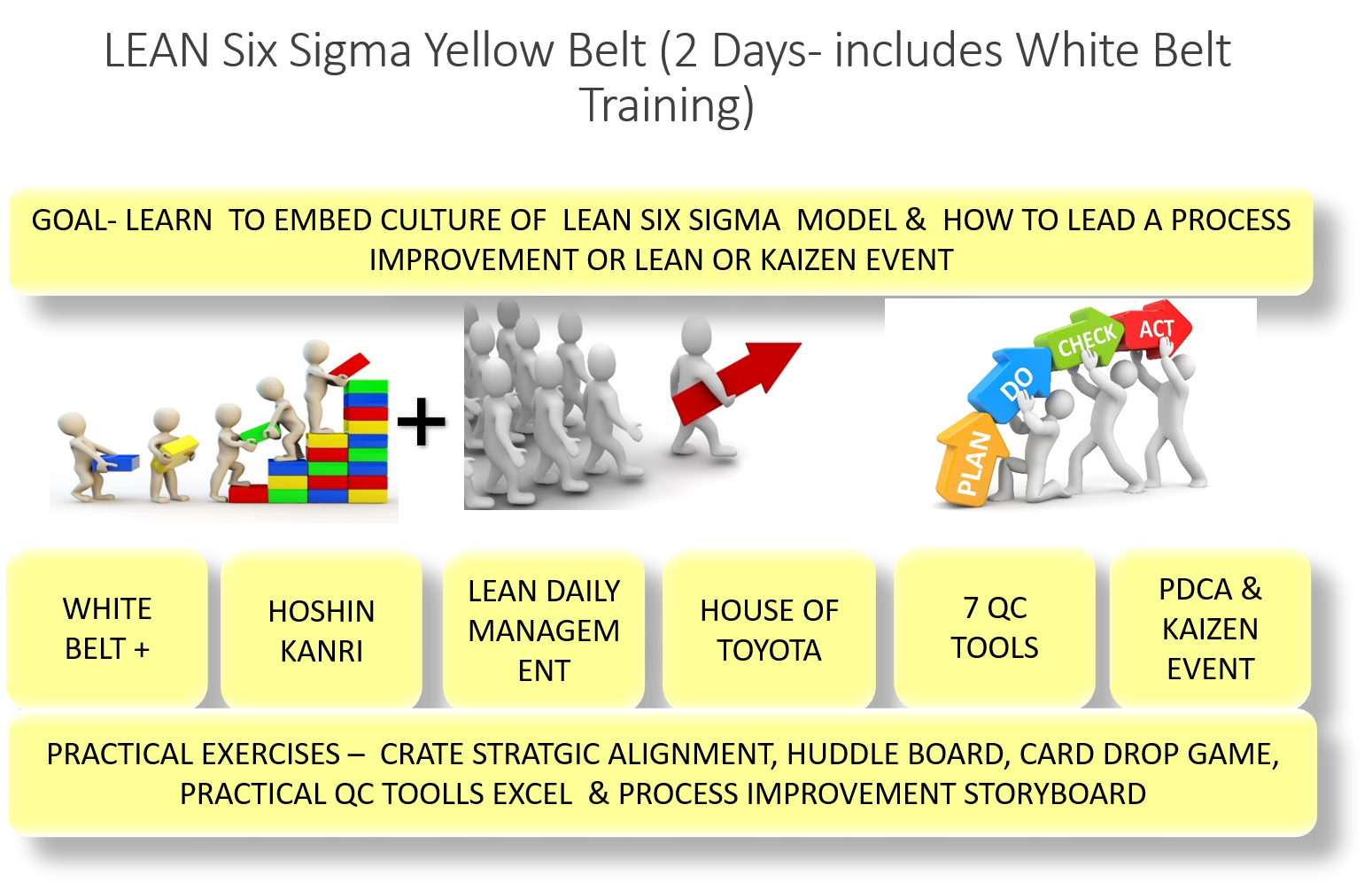 Image from eventbrite.com
From Thu 2 April 2020 to Fri 3 April 2020
From Thursday 2 April 2020 to Friday 3 April 2020
---
PRESENTED BY PMI LAKESHORE ONTARIO CHAPTER- 28th "LEAN SIX SIGMA YELLOW BELT" CERTIFICATION – FOR ALL SECTORS, COME BRING THE CHILD IN YOU OUT & HAVE FUN AT OUR WORLD-CLASS TRAINING SESSION. LEARN WITH FUN AND USE YOUR MUSCLE MEMORIES TO REGISTER.

Goal:
To create Lean Leaders who can engage their teams to improve processes and the organization's bottom-line. Trainees will learn about "Lean Daily Management", "Lean or Kaizen Event methodology" and "Six Sigma- DMAIC or HONDA A3 Problem Solving thinking".
Note- For Yellow Belt, you just must complete some homework, an exam in the classroom and no project or external tests are required after the training.

IMPORTANT – IF YOU WISH TO GO FURTHER TO "LEAN SIX SIGMA GREEN BELT", THEN AFTER REGISTERING FOR THESE 2 DAYS, PLEASE GO BACK TO PMI EVENT CALENDAR OR ON EVENTBRITE TO FIND GREEN BELT TRAINING REGISTRATION LINKS. PLEASE REGISTER FOR 3 ADDITIONAL DAYS OF GREEN BELT.

Note- For Green Belt, you have to complete an open book exam and an improvement project (whether a Problem Solving or Process Improvement project) after the training to be certified as a Green Belt.

Lean Six Sigma is a methodology that relies on team-based problem solving or process improvements, to improve the organization's performance, Through LEAN Six Sigma trainees will be able to remove WASTE OR reduce VARIATION in their processes. LEAN is Toyota Production System, and together with Motorola's Six Sigma, these certifications are in great demand in all the sectors, manufacturing, healthcare, service and public service.
Requirements & Training Details:
No previous Lean Six Sigma training or experience is required. The trainer only wants you to bring 1 problem and 1 medium-size process from your existing or previous job. You are also welcome without a problem or a process as you will be able to work in groups on other trainee's processes. We have planned numerous group exercises in the classroom to engage you. You will be able to apply Lean principles, Six Sigma, Lean philosophies, methodologies and tools in your own processes and through experiential exercises that we have designed for easy learning and for faster adoption.
Where- Residence Inn by Mariott, 55 Courtneypark Drive West, Mississauga, ON L5W 0E3
When- April 2 & 3, 2020, 2 Saturdays, 8:00 AM to 5:00 PM on both the days. Breakfast is served at 8:00 AM and training starts sharp at 8:30 AM. For Lunch, we will go out to different restaurants as per Trainee's choice.
Closing Date – 11:30 PM, Thursday, April 1, 2020
Who- Trainees from every sector are welcome, no previous experience with Lean is required (Open to All)
How much - $499 plus tax, it includes the cost of training material, templates, case studies, breakfast, lunch and free parking for both the days. NO OTHER HIDDEN COSTS.
IMPORTANT - This training comes with 30 days money-back guarantee from PMI Lakeshore Ontario chapter, no questions asked. Please come with confidence. We have completed 23 similar sessions with 500+ trainees, and training is so engaging and informational that not a single trainee asked for a return.
How- To earn you Lean Six Sigma Yellow Belt certification, you will have to complete the following-
4 hours of pre-work (trainer will send these 3 days ahead of the training)

8 hours of Day 1 training

4 hours of work in between 2 days

8 hours of Day 2 training and a simple open book test
These 16 hours can be utilized as recertification units for your respective PMI members can apply for 24 PDUs, including homework hours. ASQ members can apply for 16 hours of classroom or 1.6 RUs.

Training overview:
Lego Simulation (Round 1 and 2)

Introduction to Lean- History, 3 P's, Lean 9 Waste, Muda, Mura, Muri

Introduction to Six Sigma- History, Basics, and Variation

Lean Management and Philosophies- 5 Principles of Lean, House of Toyota (Standardization, JIT, Jidoka, Kaizen and Respect for People)

Basic Statistics (Measure of Central Tendency)
LEAN OR KAIZEN Event Methodology applied on Trainee's Processes, 6 step methodology

7 Quality Control (QC) Tools, also known as 7 Samurais (Pareto, Process Map, Fishbone, Check Sheet, Histogram, Control Chart, and Scatter Diagram)

TOYOTA & HONDA (A3 THINKING) Problem Solving or Six Sigma (Define – Measure- Analyze- Improve- Control) or applied on Trainee's Problems

An Open book exam

870 Views - 04/04/2020 Last update
Residence Inn By Marriott
55 Courtneypark Drive West, Mississauga, ON, CA
---
Are you an event organizer?
Create events for free. They will be immediately recommended to interested users.
Create event
Nearby hotels and apartments
55 Courtneypark Drive West, Mississauga, ON, CA
---
---
Residence Inn By Marriott
55 Courtneypark Drive West, Mississauga, ON, CA
Event from
eventbrite.com
---
---
Are you an event organizer?
Create events for free. They will be immediately recommended to interested users.
Create event