Overcoming Inequality featuring Richard Wilkinson
COVID-19: many events have been canceled or postponed, please check with the organizer the event status.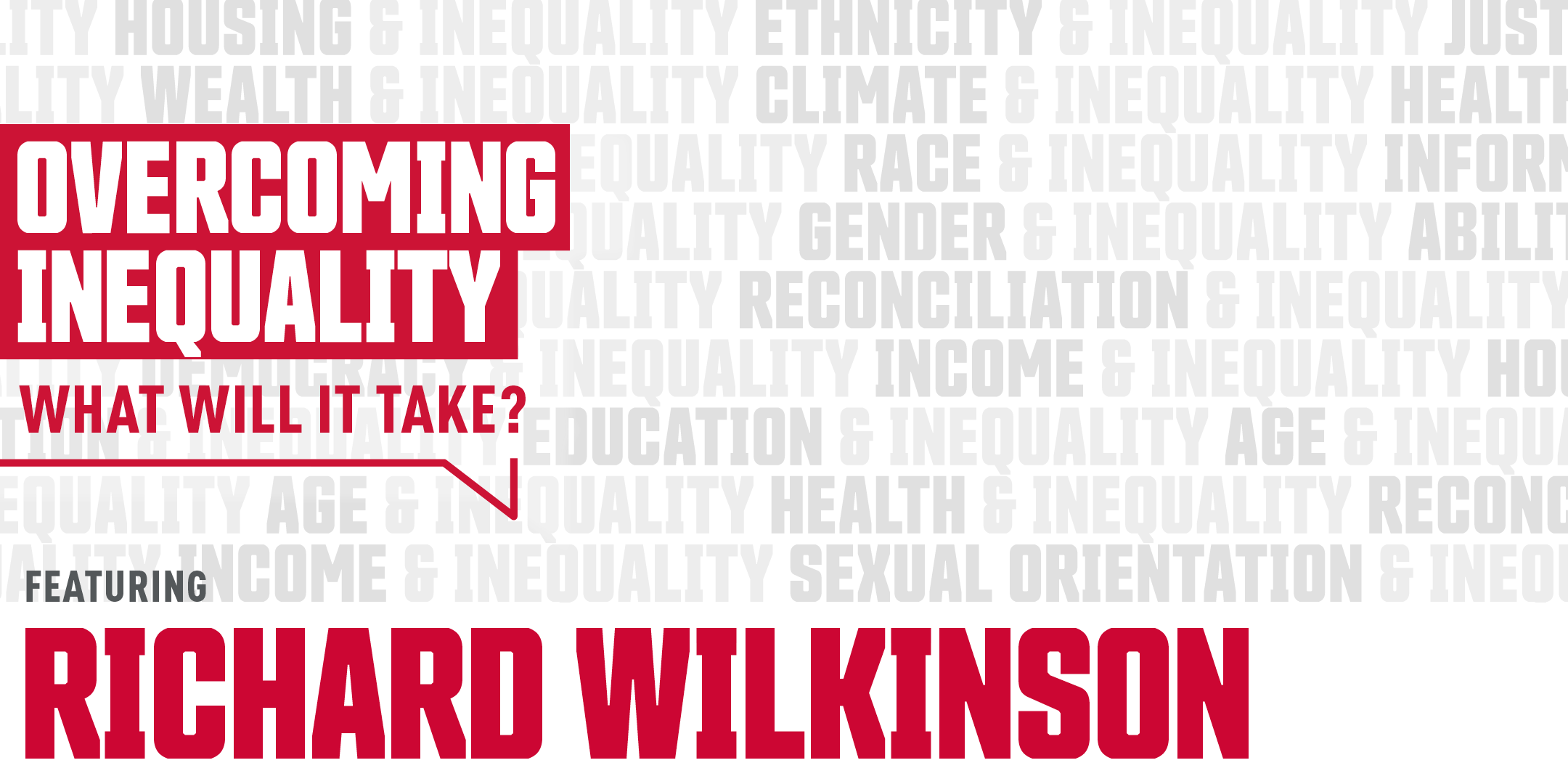 Image from eventbrite.com
---
SFU Public Square and Vancity are proud to present the keynote event for the 2020 Community Summit Overcoming Inequality featuring Richard Wilkinson, one of the world's leading experts on the impacts of inequality and co-author of the groundbreaking books The Spirit Level and The Inner Level.
Inequality affects us all. Countries like Canada may enjoy more material wealth than ever before, but we face grave health and social problems and a climate crisis.
Wilkinson's research shows that societies with higher levels of income inequality suffer in diverse ways that touch on all aspects of our public and personal lives. Less equal societies experience lower social mobility, worse educational outcomes, shorter life spans, and increased rates of addiction, violence, imprisonment and obesity. People in less equal societies are not as likely to trust each other, engage in social or civic actions and are more prone to chronic stress, anxiety and depression.
Join us for a thought-provoking talk as Wilkinson draws on decades of experience as a public health researcher to help us consider how improved equality benefits everyone in society, and how we can and must work together to overcome inequality.
Registration Disclaimer
We have made this event free to reduce financial barriers for participation. However, free events routinely have a high number of no-shows so we will be overbooking this event in an effort to provide this opportunity to as many people as possible. Please plan to arrive early and check in no later than 6:30 PM to guarantee your assigned seat. Doors to the lobby will open at 6pm.
We will begin rush seating at 6:45 PM and will offer any unclaimed seats to rush ticket holders.
Richard Wilkinson
We respectfully acknowledge that this event takes place on the Unceded, Traditional, Ancestral Territories of the Sḵwxwú7mesh, səl̓ilw̓ətaʔɬ, and xʷməθkʷəy̓əm First Nations.
Accessibility
Real-Time Captioning
This event will feature captioning services (Ai-Media), with the live transcript provided in real-time on large viewing screens on each side of the stage. It will also be accessible on personal computing devices or phones (link to come).
Venue and Transportation Information
The Queen Elizabeth Theatre is located at 630 Hamilton St and is a short walk from Chinatown-Stadium Skytrain Station and various bus stops out front. There is a parkade underneath the theatre with first-come, first-served accessible parking. To reserve an accessible parking space, phone 604-665-2193 at least one week in advance of the event. Parking is available at 500 & 400 W. Cordova St.
Wheelchair Accessibility
Wheelchair seating is available on the orchestra and mezzanine levels. Orchestra: row 25, seats 31 through 40 and seats 60 through 69. Mezzanine: row 34, seats 15 through 20 and seats 41 through 46. If you would like to reserve one of these seats, please get in touch with us directly at psqevent@sfu.ca.
Washroom Facilities
Wheelchair accessible washrooms are on the orchestra and mezzanine levels with a private, all-genders washroom on the main floor by the Hamilton entrance.
For full details on venue accessibility, visit the Queen Elizabeth Theatre website. If you have any questions, concerns, or comments regarding this event's accessibility, feel free to connect with us at psqevent@sfu.ca or 778-782-9442.
Richard Wilkinson has played a formative role in international research on the social determinants of health and on the societal effects of income inequality. He studied economic history at the London School of Economics before training in epidemiology and is a professor emeritus at the University of Nottingham Medical School and honorary professor at University College London and University of York.
Wilkinson's books and papers have drawn attention to the tendency for societies with bigger income differences between rich and poor to have a higher prevalence of a wide range of health and social problems. The Spirit Level co-written by Wilkinson and Kate Pickett, is a best seller available in 24 languages that has influenced politicians on both the left and the right, winning the 2011 Political Studies Association Publication of the Year Award and chosen as one of the Top Ten Books of the Decade by the New Statesman. In their new 2019 book, The Inner Level Wilkinson and Pickett move from the study of inequalities on societies, to how it affects us individually, and how material inequities have powerful psychological effects.
Wilkinson is also the cofounder of The Equality Trust, which seeks to promote public understanding of the effects of inequality.
________________________________________________________________________________________________________
2760 Views - 03/04/2020 Last update
Queen Elizabeth Theatre
630 Hamilton Street, Vancouver, BC, CA
---
Are you an event organizer?
Create events for free. They will be immediately recommended to interested users.
Create event
Nearby hotels and apartments
630 Hamilton Street, Vancouver, BC, CA
---
---
Queen Elizabeth Theatre
630 Hamilton Street, Vancouver, BC, CA
Event from
eventbrite.com
---
---
Are you an event organizer?
Create events for free. They will be immediately recommended to interested users.
Create event
West End

›