$30.00 GENERAL ADMISSION TICKETS ON SALE NOW, FILL THE HALL PRICING MARK HOWARD BENEFIT CONCERT featuring COYOTE SHIVERS, JON HARVEY (MONSTER TRUCK), DAVE RAVE (TEENAGE HEAD), AND MORE all proceeds supporting PRINCESS MARGARET CANCER CENTRE
Saturday 1 June 2019 6:30 PM Saturday 1 June 2019 11:00 PM
Save
Saved
Last update 02/06/2019
459



Mark Howard is an accomplished Canadian Record Producer/Engineer who is cancer-free from melanoma due to the efforts of Dr. Marcus Butler and his team at Princess Margaret Cancer Centre in Toronto. Mark has worked with many performers over the years like Bob Dylan, Lucinda Williams, Tom Waits, Marianne Faithfull, Daniel Lanois, Neil Young, Avril Lavigne, Natalie Imbruglia, R.E.M., U2, Emmylou Harris and Tragically Hip, to name a few.
The concert will showcase numerous performers/bands that originated from the Niagara/Hamilton corridor and will feature songs associated with Mark's life long journey through the music industry.
HOSTED BY COYOTE SHIVERS
FEATURING: Jon Harvey (Monster Truck), Dave Rave (Teenage Head), Wandering Hearts, Chris Caddell, Amanda Jean, Melissa Marchese, Tim Gibbons, Tom Wilson, Hailee Rose, Under Popularity, Crackers, Harm & Ease, Ginger St James, Lynn Rosenblood, Coyote Shivers and more.
PERFORMING SONGS BY: Bob Dylan, Emmy Lou Harris, Tom Waits, Neil Young, Iggy Pop, U2, R.E.M., Willie Nelson
Mark is determined to give back to The Princess Margaret Hospital, namely Dr. Marcus Butler and his team, for their amazing accomplishments on cancer and their ongoing research. Mark's recent cancer-free diagnosis was solely due to this team of doctors. Mark would also like to make this concert in memory of Jennifer van Leeuwen, who lost her battle with cancer but while doing so contributed greatly to the research on Mesothelioma.
THIS NIGHT IS ABOUT CELEBRATING, GIVING BACK, GIVING HOPE, REMEMBERING AND INSPIRING! PLEASE JOIN US!
DONATIONS ARE GLADLY ACCEPTED BY e- transfer to mhrealmusic5@gmail.com. Tax receipts available upon request. THANK YOU!!
BOOK SIGNING BY MARK HOWARD.AT 6:30 PM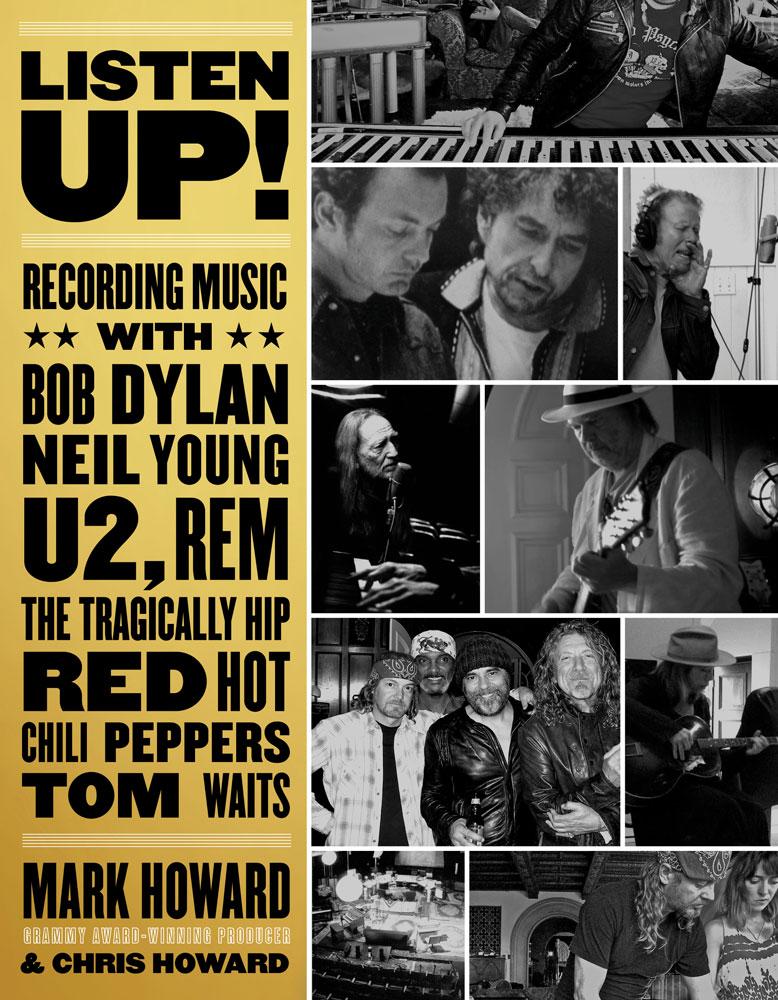 Books › Listen Up!: Recording Music with Bob Dylan, Neil Young, U2, R.E.M., The Tragically Hip, Red Hot Chili Peppers, Tom Waits...
Howard, Mark and Howard, Chris
$24.95 CAD
Details

An album-by-album account of working with iconic artists such as Anthony Kiedis, Michael Stipe, Gord Downie, and Bono, from a leader in the field
Mark Howard, a record producer/engineer/mixer and a trailblazer in the industry, will take you through the star-studded world of recording and producing Grammy Award–winning artists. Listen Up! is an essential read for anyone interested in music and its making. Along with the inside stories, each chapter gives recording and producing information and tips with expert understanding of the equipment used in making the world's most unforgettable records and explanations of the methods used to get the very best sound.
Listen Up! is both production guide and exclusive backstage pass into the lives of some of the planet's most iconic musicians. Writing with his brother Chris Howard, Mark Howard provides a rare glimpse into the normally invisible, almost secretive side of the music story: that of the producer and recording engineer.
Available May 14, 2019. PRE-ORDER NOW!
Born in Manchester, England, Mark Howard is a Canadian record producer, engineer, and mixer. He has worked with Neil Young, R.E.M., Willie Nelson, Peter Gabriel, U2, the Neville Brothers, Tom Waits, Lucinda Williams, Emmylou Harris, Marianne Faithfull, and the Tragically Hip, among many others. He currently lives in Burlington, Ontario. Chris Howard is an author and painter.




Published: May 2019



PRE ORDER TODAY AT https://ecwpress.com/products/listen-up
music
concerts
culture
nightlife
Nearby hotels and apartments
The Music Hall
24 Main Street West, Hamilton, ON, Canada
24 Main Street West, Hamilton, ON, Canada
Event from
eventbrite.com