Leading Volunteers: Foundations in Volunteer Management (1-day in person + 6-Weeks on-line)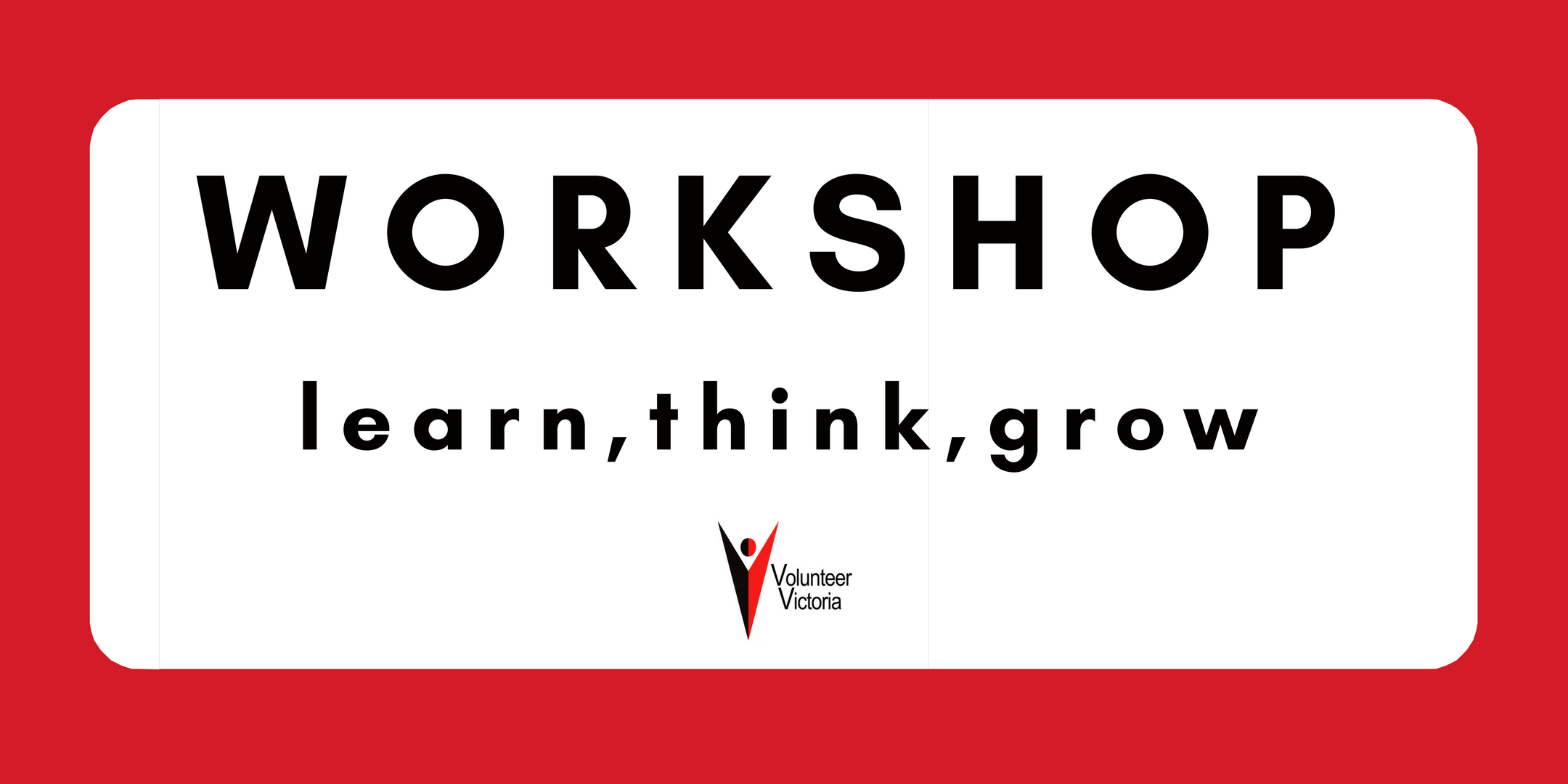 Image from eventbrite.com
From Fri 7 February 2020 to Fri 20 March 2020
From Friday 7 February 2020 to Friday 20 March 2020
---
Leading Volunteers: Foundations in Volunteer Management
This is 6-week online course begins with a mandatory in-person session on February 7th 2020, from 10am to 3pm at Volunteer Victoria.
Course participants check into the online course manamgent system to complete readings and contribute to class discussions. Participants do not need to be online everyday, but it is reasonable to expect that participants will spend several hours each week working on the course.
Volunteers are an integral part of the fabric of Canadian society. In 2010, 13.3 million people in Canada (47% of the population) volunteered a total of 2.07 billion hours.[1]
The number of volunteers is growing faster than the Canadian population. With this expansion comes the increasingly urgent need for organizations to have in place transparent and professional volunteer engagement and management practices.
Who this course is for: Whether you're thinking about entering the volunteer management field, are new to the practice or have several years of experience managing a volunteer program this course will ground you in recognized best practices, expose you to trends in the field and offer you effective management approaches.

The program begins with a one-day face-to-face launch and six weeks of on-line learning. Participants should plan to invest an average of 5-10 hours per week over the duration of the program.
During that time, through collaborative assignments, personal reflection, and structured activities participants will learn how to:
plan a successful volunteer program

recruit and screen potential volunteers

orient, train, supervise and recognize volunteers effectively within your program

evaluate and market your program effectively

organizational readiness and planning

risk assessment and mitigation

recruiting and retaining volunteers that align with the organization

leading the volunteer initiative

building capacity to train and supervise

recognizing unique volunteer contributions.
The approaches and materials address the core competencies identified for Certification in Volunteer Administration (CVA): ethics; organizational management; human resource management; accountability, and leadership and advocacy. Course credit may also be applied towards the Camosun College Certificate in Leadership Development.
Facilitator:
Since joining Volunteer Victoria as Executive Director in 2011, Lisa Mort-Putland has helped individuals explore their motivations for volunteering so that they can find meaningful opportunities. She has worked with organizations to develop quality volunteering opportunities, and to strengthen their volunteer programs and outreach capacity. Lisa sits as a member of the Board of Volunteer Canada.
NOTE:

1. A limited number of $200 bursaries are available to Volunteer Victoria agency members in good standing. Please contact George Colussi, Manager of Learning and Training for more information. george@volunteervictoria.bc.ca
2. A $100 cancellation charge will be withheld for refunds requested after January 31 2020
---
[1] Mieille Vezina and Susan Crompton. Volunteering in Canada, Canadian Social Trends, Component of Statistics Canada Catalogue no.11-008-X. Ottawa: Statistics Canada, April 2012.
12083 Views - 21/03/2020 Last update
Volunteer Victoria
306-620 View St., Victoria, BC, CA
---
Are you an event organizer?
Create events for free. They will be immediately recommended to interested users.
Create event
Nearby hotels and apartments
306-620 View St., Victoria, BC, CA
---
---
Volunteer Victoria
306-620 View St., Victoria, BC, CA
Event from
eventbrite.com
---
---
Are you an event organizer?
Create events for free. They will be immediately recommended to interested users.
Create event
Victoria

›