Leading SAFe® Certification Training in Ottawa, Canada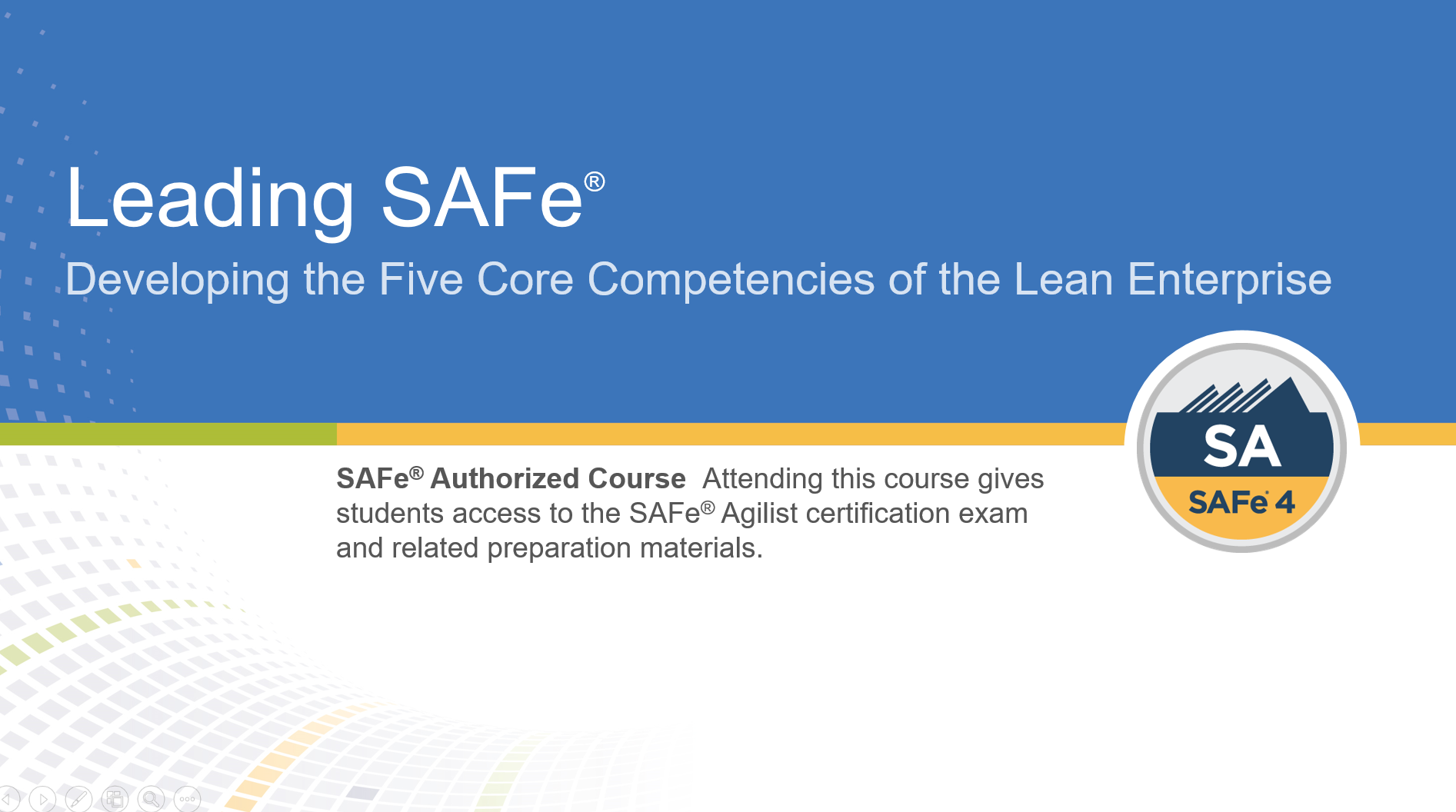 Image from eventbrite.com
From Sat 21 December 2019 to Sun 22 December 2019
From Saturday 21 December 2019 to Sunday 22 December 2019
---
About this Course
During this two-day course, attendees will gain the knowledge necessary to lead a Lean-Agile enterprise by leveraging the Scaled Agile Framework® (SAFe®), and its underlying principles derived from Lean, systems thinking, Agile development, product development flow, and DevOps. They will discuss the five competencies needed to become a Lean Enterprise. They will also learn and practice the skills for supporting and executing PI Planning events, and coordinating multiple Agile Release Trains (ARTs).
Attendees will gain an understanding of the Lean-Agile mindset, why it's so effective in today's adapt-or-die marketplace, and what it means to lead a Lean-Agile transformation. They'll also learn how to build and support Agile teams and programs, empower a Lean Portfolio, build a Continuous Delivery Pipeline and DevOps culture, and coordinate large solutions. They will develop a skillset that's in demand worldwide—and empower their enterprises to succeed in a disruptive marketplace—when they become a SAFe® 4 Agilist (SA).
Attending the class prepares individuals to take the exam and become a certified SAFe® Agilist (SA)
Learning Goals
To perform the role of a SAFe® Agilist, attendees should be able to:
Understand the Five Core Competencies of the Lean Enterprise


Become a Lean-thinking manager-teacher


Apply the values and principles of a Lean-Agile Mindset


Apply SAFe's Lean and Agile principles to the roles and practices of SAFe


Create high-performing teams by establishing mission and purpose


Lead the transformation with the SAFe Implementation Roadmap


Support PI Planning and the events associated with successful Program execution


Drive Release on Demand with the Continuous Delivery Pipeline


Establish alignment and execution with Strategic Themes and Lean Portfolio Management


Coordinate multiple Agile Release Trains and suppliers with a Solution Train


Topics Covered
Introducing the Scaled Agile Framework (SAFe)


Becoming a Lean-Agile Leader


Establishing Team and Technical Agility


Experiencing Program Increment (PI) Planning


Releasing on Demand with DevOps


Building Business Solutions and Lean Systems


Implementing Lean Portfolio Management


Leading the transformation


What Attendees Get
The class registration includes:
Attendee workbook


Preparation and eligibility to take the SAFe® 4 Agilist exam


One year membership to the SAFe Community Platform


Course certificate of completion


Attendees must attend both days of the course in order to be eligible for the exam.
Who will benefit?
The following individuals will benefit from this course:
Executives and Leaders, Managers, Directors, CIOs, and VPs
Development, QA, and Infrastructure Management
Program and Project Managers
Product and Product Line Management
Portfolio Managers, PMO, and Process Leads
Enterprise, System, and Solution Architects


Prerequisites
All are welcome to attend the course, regardless of experience. However, the following prerequisites are highly recommended for those who intend to take the SAFe® 4 Agilist (SA) certification exam:
5+ years' experience in software development, testing, business analysis, product, or project management


Experience in Scrum




SAFe Certification Kit
Attendees who pass the certification exam will receive:
SAFe Agilist certificate
A SAFe 4 Agilist digital badge to promote your accomplishment online
A one-year certified membership as a SAFe Agilist, which includes access to the SA Community of Practice
A SAFe Agilist certification usage guide with SA certification marks
Access to a variety of learning resources to support certified professionals during their SAFe journey


Professional Development Units (PDUs) and Scrum Education Units (SEUs)
Attendees may be eligible to apply for 15 PDUs toward their continuing education requirements with the Project Management Institute (PMI) for PMP, PgMP, and PMI-ACP certifications.
Attendees may be eligible to apply for SEUs under Category C, toward earning or renewing their CSP through Scrum Alliance.
Instructor:
Samer Hawwa, MSc, SPC, PMI-ACP, PSM II, PSPO
Senior Agile Coach | SAFe® Coach & Advisor
Samer Hawwa is an experienced agile transformation consultant with deep lean-agile expertise and an extensive history of working with multinational enterprise customers. As a SAFe® Coach & Advisor, Samer helps organizations plan, prepare, and execute successful SAFe® transformation, leading and coaching all levels of an organization through a Lean-Agile transformation at scale by training, coaching, facilitating, and mentoring. Samer is an experienced Leading SAFe® trainer for Executives, Managers and Leaders. Samer experience in SAFe implementation and agile transformation at scale brings great insights to his training.

Clients Feedback:
"Great coach, Samer help me to pass the leading SAFe. A pragmatic approach, focus on people with a lot of real life example, this is the key for Samer. Samer can definitively help on your Agile transformation."
"I had the pleasure of receiving Scrum and Leading SAFe training from Samer. He provided great insight into these diverse agile practices with real life examples. It was instrumental in my understanding of SAFe.
"I had the pleasure to work with Samer on my Agile projects. He is an inspiring coach who takes the time to understand the needs of stakeholders and finds the best examples to explain complex concepts. Samer was also my trainer for the Leading SAFe course. Following that session, many of us got certified; thanks to him. I would strongly recommend Samer to any company transitioning to Agility or SAFe and looking for an experienced Agile coach."
"Samer is very knowledgeable, dynamic and encourages his trainees to always proceed with the next steps towards their Agile career development."
"I had the opportunity to have Samer as a Coach and helped me become a SAFe certified agilist. He also helped face some challenges I had as a ScrumMaster with my teams."
"I am grateful to have taken his Scaled Agile Framework SAFe class. It has helped me gain a profound understanding of how to manage large IT implementations for large companies, governments, and multi-sector innovation projects."
"I had the pleasure of attending the Leading SAFe course organized and given by Samer. I really appreciated the approach Samer took, the interactions and the workshops done in class. He has great presentation skills, gives examples from real life experiences and facilitates interaction in a great way."
"It was a great pleasure to participate in one of Samer Hawwa's training classes as part of the preparation towards my SAFe Agilist (SA) certification. Samer is a great coach and he uses a personalized and pragmatic approach in his class, he has great presentation skills and leverages interactive exercices to facilitate the understanding of SAFe notions."
"Samer is an awesome SAFe instructor. He has a methodology which makes easy to understand. I've got my SAFe certification (93%scored)"
"Samer is a great SAFe-Agile coach with excellent knowledge, experience and skills. I had the opportunity to attend his training on leading SAFe (Scaled Agile) and it was very informative, dynamic and rewarding. I will definitely apply these new Agile concept at work."
7285 Views - 08/12/2019 Last update
Courtyard Marriott Downtown Ottawa
350 Dalhousie St, Ottawa, Ontario, CA
---
Are you an event organizer?
Create events for free. They will be immediately recommended to interested users.
Create event
Nearby hotels and apartments
350 Dalhousie St, Ottawa, Ontario, CA
---
---
Courtyard Marriott Downtown Ottawa
350 Dalhousie St, Ottawa, Ontario, CA
Event from
eventbrite.com
---
---
Are you an event organizer?
Create events for free. They will be immediately recommended to interested users.
Create event
Ottawa

›