Laughter Yoga Leader Certification - 2020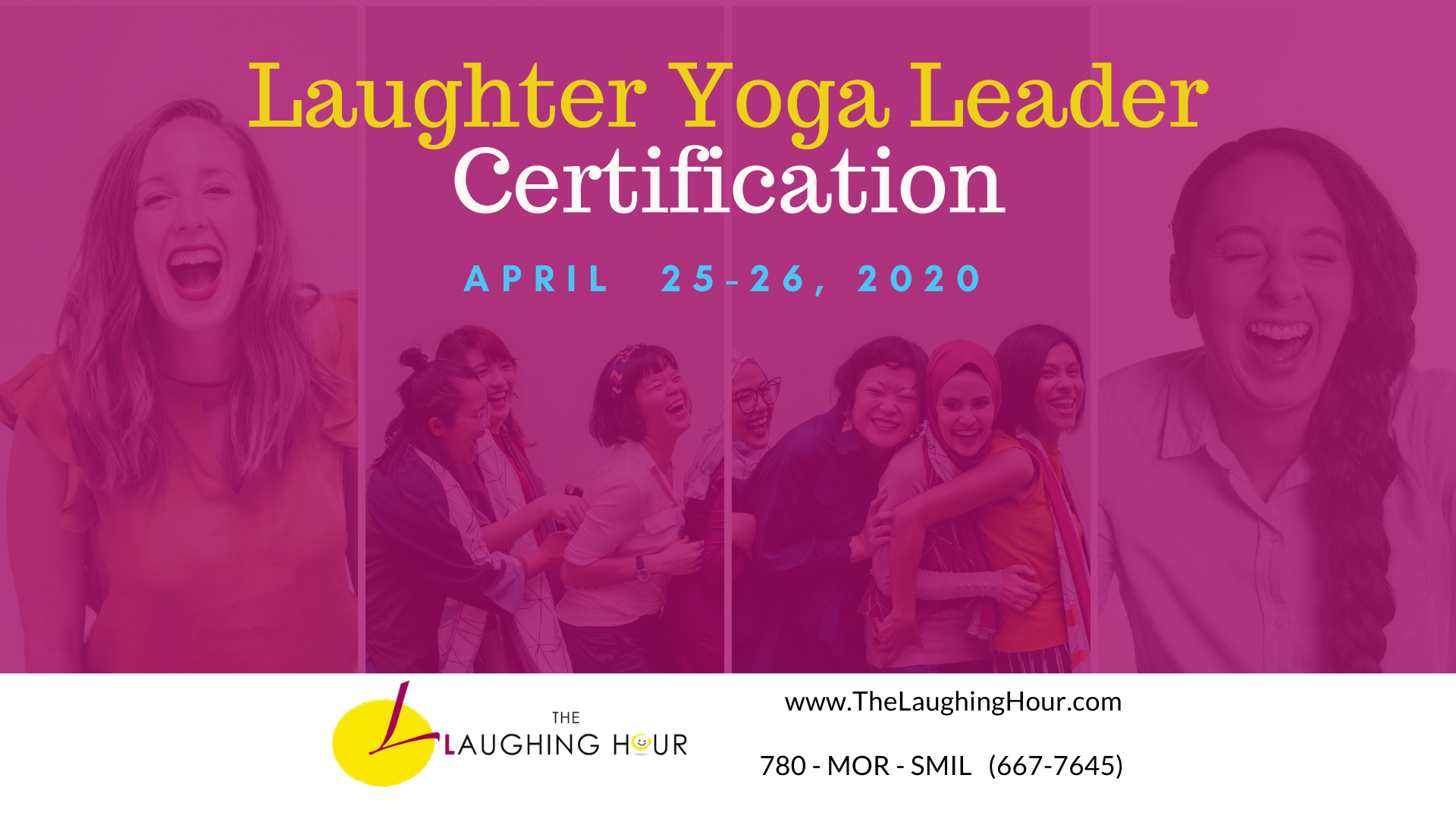 Image from eventbrite.com
From Tue 30 June 2020 to Wed 1 July 2020
From Tuesday 30 June 2020 to Wednesday 1 July 2020
---
**Original Date: April 2020**
**Postponed to later date due to Covid19. Date to be confirmed.**
**Email info@TheLaughingHour.com to be added on the contact list once the date has been set.**

Laughter Yoga Leader Certification
Edmonton (APRIL 25-26 )

Hosted by The Laughing Hour
Bring more Laughter to your life!


If you are interested in personal growth...
If you love to spread joy...
If you are a recreational director, a yoga teacher, a school teacher, or you work in a seniors home...
Or if you love to laugh... THIS IS FOR YOU !
Become a Certified Laughter Yoga Leader and help spread laughter in schools, social clubs, yoga and fitness studios, senior care facilities, and in the workplace.


_______________________________
What is Laughter Yoga
Laughter yoga is quite different from "traditional yoga" as there are no yoga poses. The best way to imagine what a laughter yoga session looks like is by viewing this interview CTV News offered The Laughing Hour: https://edmonton.ctvnews.ca/videoclipId=1530038
This 2-day certification regroups link-minded individuals looking for a way to bring more laughter in the world. What you can expect from this weekend is both theoretical content and practical content where we get to practice facilitating a laughter yoga session in a safe space with each other before each going out on our own. This guarantees a lot of laughter and fun ! :)
*The Edmonton address is to be confirmed closer to the date
** Limited spots
_______________________________
What you will learn
How to facilitate a Laughter Yoga session
The benefits of laughter
The growth of laughter practices for health purposes
How to start a Laughter Yoga Club
The history of Laughter Yoga
How to monetize your services with laughter yoga
Various laughter exercises to do on your own or with a group (you will leave with a list of possible exercises)
What is being done around the world with laughter yoga
And much more


_______________________________
Benefits of Laughter Yoga:
Releases stress
Increases productivity and academic performance
Creates a positive environment within and without
Enhances creativity
Boost wellness and self-confidence
Facilitates better blood circulation
Great for the immune system
Promotes healthy emotional development
Temporary pain relief
Softens attitudes towards life challenges
and the list goes on and on and on


_______________________________
Investment
2 Full Days, Saturday and Sunday from 9-5
$365.00 CAD which includes:

Laughter Yoga Leader certificate (printed)
Snacks, Coffee, and Tea
The latest training Manual (with everything you need to know): Laughter Yoga International University
6-month FREE access to Laughter Yoga Prozone (a membership website with access to what is being done around the world in terms of laughter)
Two optional group video conference calls to follow-up on your progress after the training including a Q&A period (1 month after, and 2 months after)
A ceremony to receive your certificate where your friends and family members are invited (Sunday, April 26th in the afternoon)
A lifetime of sharing laughter with those around you
Please take note that:
A 50$ non-refundable deposit is required to secure your spot.
Limited spots are available to ensure everyone receives adecate training
To process the entire payment (or to pay the remaining amount after your 50$ deposit), please e-transfer the amount to info@TheLaughingHour.com

_______________________________
What to bring
Yoga mat or blanket
Your lunch (snacks will be provided)
Water bottle
Comfortable clothes (layers are better)
Your willingness to laugh and have a great time :)
_______________________________
About Trainer
Maude Bombardier, Laughter Yoga Teacher
A driven optimist on a mission to sparkle joy everywhere she goes, Maude Bombardier is the founder of The Laughing Hour. Launched in 2018, her company brings laughter yoga mostly in the corporate setting. She has also facilitated laughter yoga sessions in schools, seniors homes, and yoga studios.
She has traveled from Vancouver to Montreal to offer sessions, from Calgary to Peace River within Alberta, and has been asked to be a keynote speaker at various events sharing her story about why she chooses to spread laughter through laughter yoga. Her company has been featured on CTV News, CBC Radio, Radio-Canada, City TV News Edmonton, along with podcasts in both Canada and the USA.
Maude's passion for promoting well-being goes beyond The Laughing Hour. This entrepreneur graduated with a degree in Psychology at Bishop's University after studying for two years in Early Childhood and Elementary Education at Concordia University. She had a French happiness radio show that aired weekly in Edmonton where she talked about various scientific studies suggesting how to flourish happiness in your own life.
​
A strong believer in giving back, Maude sits on the board of directors of a French sports federation in Alberta, and volunteers at Pilgrims Hospice, an end-of-life facility that brings compassionate care to their patients and their caregivers.

She does not pretend she's a happiness expert, but rather an eternal student that loves sharing and learning on the subject of laughter, well-being, and a balanced life.
PS. Maude is pronounced like "Beast Mode" or "Happy Mode". :)
---
---
WEBSITE: www.TheLaughingHour.com
FACEBOOK: www.Facebook.com/TheLaughingHour
INSTAGRAM: @The_LaughingHour OR @Maude.Bombardier
EMAIL: info@TheLaughingHour.com
---
---
169 Views - 02/07/2020 Last update
---
Are you an event organizer?
Create events for free. They will be immediately recommended to interested users.
Create event
Nearby hotels and apartments
edmonton, ab, ca
---
---
Event from
eventbrite.com
---
---
Are you an event organizer?
Create events for free. They will be immediately recommended to interested users.
Create event
Edmonton

›