IBM Cloud Incubator Workshop: Lead, Follow or Get Out of the Way
Wednesday 12 June 2019 1:00 PM Wednesday 6 November 2019 1:30 PM
Save
Saved
Last update 29/05/2019
51
The IBM Cloud Incubator accelerates revenue and growth objectives of IBM Cloud-aligned partners by employing the power of IBM to accomplish joint business objectives.
This program is for you if you are looking to:
Accelerate revenue growth

Speed customer acquisition

Augment your solution with IBM Cloud and other key offerings
At this highly productive 2-day workshop you'll team with IBM experts to optimize your go-to-market strategy and get the full impact of the IBM ecosystem of sellers, partners and experts to create and execute:
development road maps

product launches, and

customer acquisition efforts.
In this working session you will :
Create joint go-to-market plans

Develop target customer acquisition efforts

Expand your organization's ecosystem to further your business objectives
Workshop Agenda: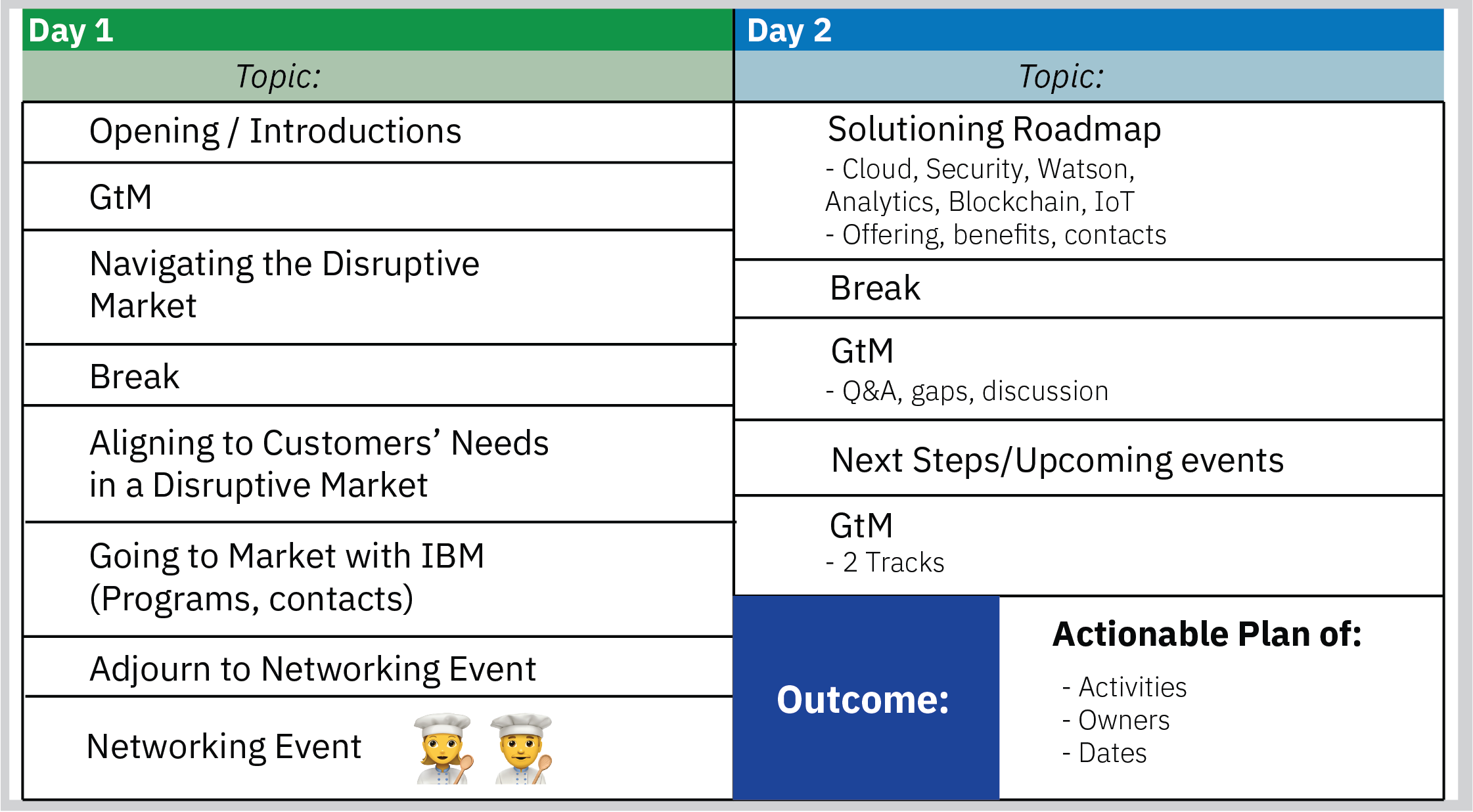 Dates & Cities:
6/12-13 – San Francisco, CA
7/23-24 - Dallas, TX
7/30-31 – New York, NY
9/17-18 – Toronto, ON
10/15-16 – New York, NY
10/29-30 - Washington DC
11/5-6 – San Francisco, CA
What do partners say about the workshop?
- 96% of partners say the workshop helps them understand how to work with IBM to drive growth.
- 97% of partners say they will implement skills from the workshop within 6 months
Partner Testimony Video: https://www.youtube.com/watchv=jA-RzuWfYVc
Who should attend?
Partners who are looking to go to market with IBM and are:
Building cloud solutions

Porting solutions to cloud

Adding cloud to their offering

Managing services via cloud

Providing cloud services

Enhancing their IBM cloud offering with security, AI, analytics, etc.
Attendees should be anyone on your team who impact the sales and
go-to-market success of your cloud offering, including:
Executive sponsors

Sales leaders

Marketers

Your key internal influencers
Why should you get involved?
This unique, high-touch go-to-market program gives you priority access to IBM Cloud sales, marketing, technical, and industry subject matter experts, as well as exclusive sales tools and resources. Upon completion of the regional workshop, you'll get access to extensive pool of exclusive, on-going content, accessible to you and your team. You'll also have the opportunity to get involved in additional programs.
Nearby hotels and apartments
Lake Shore Boulevard West, Toronto, Ontario, Canada
Lake Shore Boulevard West, Toronto, Ontario, Canada
Event from
eventbrite.com