German Sparkle Party: Glitz & Glam
COVID-19: many events have been canceled or postponed, please check with the organizer the event status.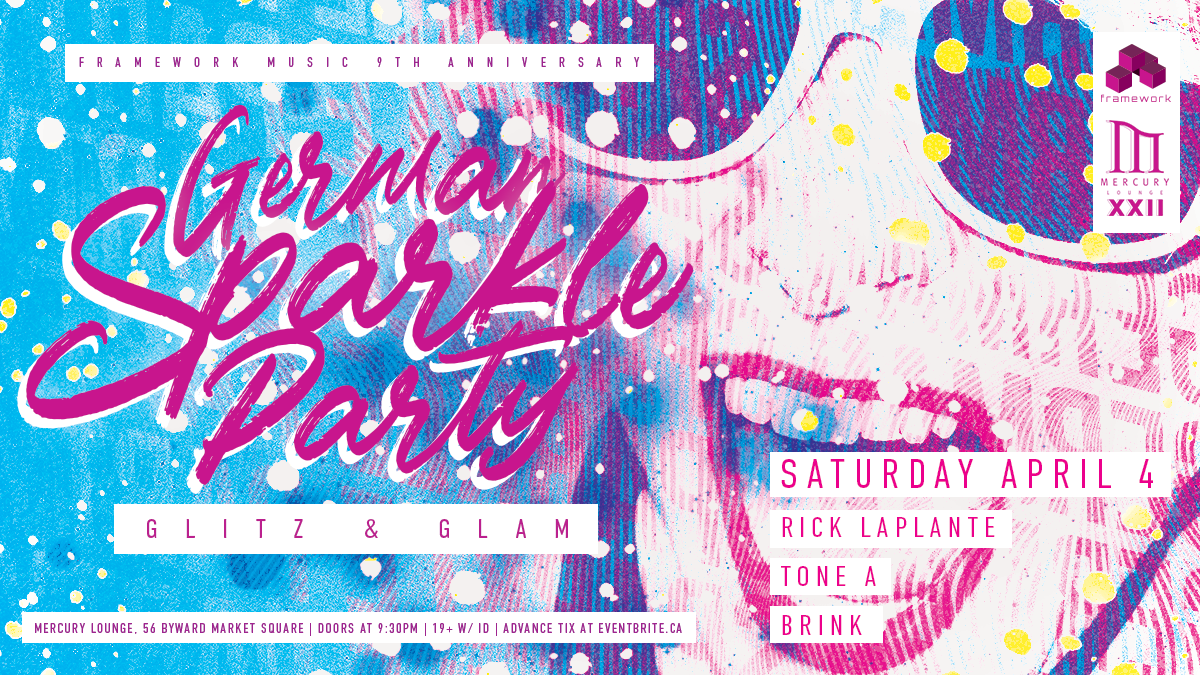 Image from eventbrite.com
From Sat 4 April 2020 to Sun 5 April 2020
From Saturday 4 April 2020 to Sunday 5 April 2020
---
Framework Music's 9th Anniversary Extravaganza...

GERMAN SPARKLE PARTY!

This year's theme is a bit of an homage to the 70's... "Glitz & Glam!"

glitz (ɡlɪts)

noun

ostentatious showiness; gaudiness or glitter

glam (glæm)

adjective

Flamboyant, extravagantly flashy glamour; Relating to glam rock.

We go over the top with sparkly, flashy, glittery deco for this event. If you went to any of our previous German Sparkle Parties, you know we like to give you plenty of eye candy! But this night is not only about a visual feast... we've got serious treats for your feets in the way of some top-notch music lined up for you as well!

For our 9th Anniversary celebration we decided to, for the first time ever at a German sparkle Party, have your Framework Music resident DJs provide the soundtrack for the night. We'll be back with a special international headliner and an Ottawa favourite for next year's 10th Anniversary.

DJs:

RICK LAPLANTE

BRINK

TONE A

Projection Mapping Visuals by MATT CAMERON!

Creative Design by MIRANDA MCMAHON

Saturday, April 4th, 2020 | Mercury Lounge - 56 Byward Market Square | 19+w/ ID | Doors at 9:30pm

===========================

TICKETS:

1) T-REX = $16 (ends Feb 29 or when sold out)

2) GARY GLITTER = $17 (ends March 15 or when sold out)

3) ZIGGY STARDUST = $17.80 (ends April 4 or when sold out)

Door: $20

We're saving LOTS OF TICKETS AT THE DOOR on the night of the event. Doors at 9:30pm!

===========================

Do you like to dancey-dance? Do you like to party-party?

Framework Music is turning 9 years old!! The German Sparkle Party theme is inspired by a worldwide sensation music video of the same name by "The Something Experience". This is our chance every year to be silly and outrageous, let loose and have fun.

WATCH THE VIDEO:

http://www.youtube.com/watchv=f-jN3vH26NQ

SO, WHAT IS IT?

A German Sparkle Party (GSP) is a fun and frolicsome celebration of all things shiny, blinky, glowy and dazzly, set to a soundtrack of the best underground house and techno the city has to offer. Trust us... it's the PERFECT bright and light-hearted way to celebrate the arrival of spring after the dark winter months that seem to drag on forever in the national capital region.

AND, WHAT DO I WEAR?

SPARKLE PARTY COSTUMES, fun and bright outfits are HIGHLY ENCOURAGED! This year's theme is "Glitz & Glam".

GLITZ: All the glittering and sparkling extravagance of Hollywood fashion, filled with metallics, sequins... the more ostentatious the better! Just let your imagination run wild!

GLAM: David Bowie was a pioneer of this fashion trend; glam rock men and women embraced metallics, ruffles, satin blouses, bold colours, tight pants, platform shoes, unique makeup and dyed hair.

Watch the German Sparkle Party video linked above to get some great ideas for your outfit - you'll be inspired along with us to rock sparkly accessories and makeup, rubber boots and of course your party pants!

GLITTER TATTOOS & FACE PAINTING from Glitter Tattoos by sparklingexpressions! A little something for those guests who want to add that one missing element to their sparkle costume and really take it to the next level!

* * We will provide all glitter tattoos and face painting FREE OF CHARGE for EARLY ARRIVALS (timeframe TBD * *

Afterwards, tattoos and face paint design are still available for the extra low price of only $5 each! So make sure to arrive soon after our doors open at 9:30pm to let Framework and Sparkling Expressions help you SPARKLE YOURSELF! * *

FREE ACCESSORIES!

Do you feel you need some more sparkle in your step, more flash in your Friday night? As always, we'll set up our ever-popular SPARKLE STATION in the loft, allowing the woefully unprepared to get into the theme with some complimentary sparkle accessories.
1144 Views - 06/04/2020 Last update
Mercury Lounge
56 Byward Market Square, Ottawa, ON, CA
---
Are you an event organizer?
Create events for free. They will be immediately recommended to interested users.
Create event
Nearby hotels and apartments
56 Byward Market Square, Ottawa, ON, CA
---
---
Mercury Lounge
56 Byward Market Square, Ottawa, ON, CA
Event from
eventbrite.com
---
---
Are you an event organizer?
Create events for free. They will be immediately recommended to interested users.
Create event
Ottawa

›