FULL SUN 5Rhythms EcstaticDance, Solstice Ceremony &SoundBath Fundraiser
Saturday 16 June 2018 7:30 PM Saturday 16 June 2018 10:30 PM
Save
Saved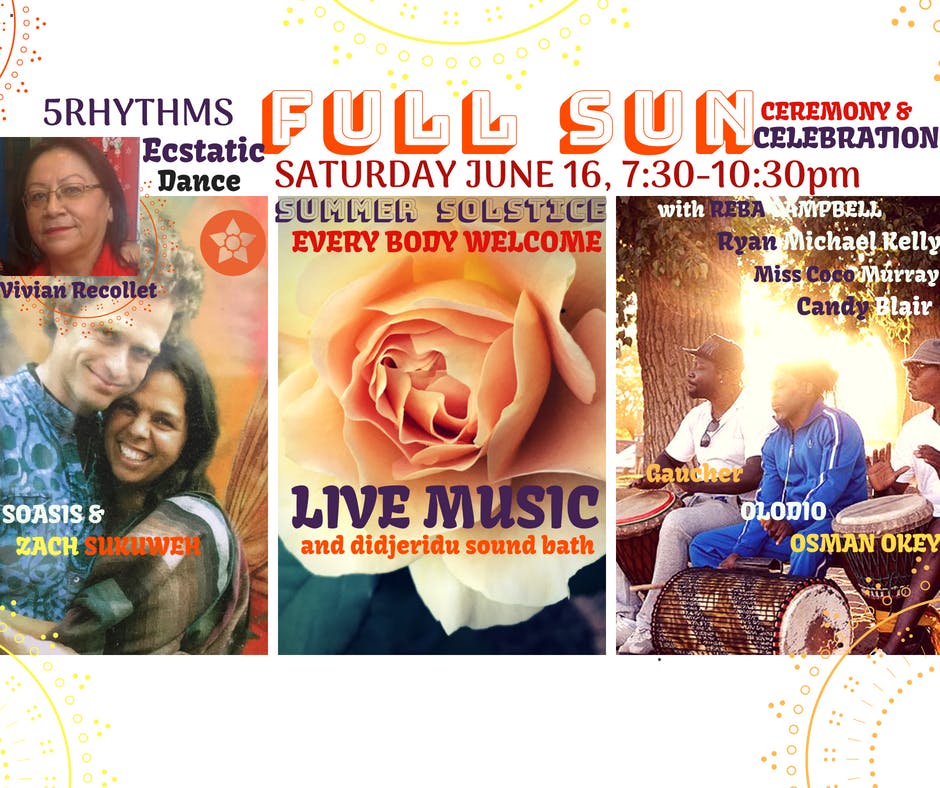 Last update 17/06/2018
58595
FULL SUN is a ceremony and celebration in honour of Summer Solstice and Father's Day.                                                                           We hope you can join us for an evening that will open with a teaching and ceremony that speaks to the blossining energy of this time and as an honouring and healing of the masculine with Knowledge Keeper, Vivian Recollet. Following, Soasis will guide a celebratory 5Rhythms ecstatic dance to the live traditional African rhtyhms and improvisational musical creations on the drums, didjeridu, hang drum and vocals of Gaucher ,Olodio, Osman Okey and Zach Sukuweh. We will be joined on the dance floor by Miss Coco Murray who will inspire us and share some African dance moves. Reba Campbell will offer her vocal magesty to the mix, and Ryan Michael Kelly will inspire us with his freestyle conscious hip hop. We will close the evening with a dose of sonic tonic, a didjeridu and crystal bowl sound bath. There will be a sacred fire during our time together, as a space to reflect and offer the sacred medicine plants. We hope you'll join us and come feel your soul shine... 
This unique event is an ivitation to bring us together, to experience the power of tradtional practices offered by community members deeply rooted in these practices and cultures, and improviational creative expression and cultural creation in celebration of Summer Solstice and Father's Day. EVERYONE IS WELCOME. 
Smudge and Traditional Ceremony with Vivian Recollet, Turtle clan Wikwemikong First Nation, Knowledge Keeper and Helper 
Invitation and Intention
FULL SUN is a creative space and time to express ourselves fully. This is a peak time for the earth and all living beings. Everything is brought into the light. We will dance to connect to our authentic selves, to connect with what wants to be let go, and release what longer serves us, thus making space for inspiration and creativity to flourish. We will dance to connect with those around us in the community of dancers brought together for this special moment, and we will celebrate the unique beauty that comes through each and every dance in all the varied colours and moods that make us human. In this sapce we can learn from having a direct experience of our diversity, our humanity. For this Summer Solstice and Father's day, for all that is sacred, all that is life, our celebration is dedicated to this endeavour.
"Don't be afraid to show your light.. If it ends up being too much for people.. tell them to wear sunglasses!" Gabrielle Roth
Acknowledgments
We're honoured to be offering this event in Toronto on the traditional territory of the Huron-Wendat and Petun First Nations, The Seneca and the Mississaugas of the Credit River.

May we acknowledge that it is an honour to be alive in these times. My ancestors, your ancestors lived and loved, worked and wondered, struggled and sung us in to being. There is a beautiful Zulu song....
Sin nje nje nje ngemi tandazo,Oo mama bagadula bakudala babethandaza that in English translates:

"We are who we are because of the prayers of our ancestors, Listen and you can hear the elders praying"
When we remember this, we can acknowledge that we are the flowering of all that has come before us, and that we are the gardeners responsible for cultivating the healthy soil in which future generations may flourish. 
Each of us is one with the great web of creation and as we dance, as we surrender, the self disappears and dissolves into the great mystery. When we connect in this space, we may know and experience ourselves as both healing and healer, lover and beloved. We re-memeber our sacredness and the sacredness of all that is, through a direct experience of ecstasy and the divine. The dance is our prayer.
The Flow of the Evening
7:30 Doors open and we welcome you to enter and orient yourself to the space
7:45- 8:15  Smudge and Traditional Ceremony with Vivian Recollet, Turtle clan Wikwemikong First Nation, Knowledge Keeper and Helper 
8:30 - 10:00 5Rhtyhms ecstatic dance to Live Music 
10:00-10:30 Didjeridu and crystal bowl sound bath and closing 
Things to know and how to prepare: 
 Bring a water bottle and wear anything you can move in and makes you feel great. It's a celebration of the sacred!
No experience is necessary, and all fitness levels are welcome.
As part of creating this sacred space, this is a drug and alcohol free event. 

We thank you in advance for your silence on the dance floor. There is space to talk if needed outside of the auditorium where the event takes place.
We appreciate your advance ticket purchases. It helps us to prepeare when we know who is  coming, and dream this into being with you. 
Children are most welcome and free of charge under 18 years of age, and parents please prepare your younger ones for the ceremony by most importantly reminding them about silence on the dance floor. 
$21.51 general admission
$25 at the door and a pay what you can option for people who need assistance
This event is a fundraiser and 50% of your ticket price will go to both IndigenEYEZ, www.indigeneyez.com. and Poh Canada, www.powerofhope.ca. 
Sister organizations dedicated to using the arts and the Creative Community Model to empowering youth.
IndigenEYEZ is about transforming communities. Our mission is to inspire an intergenerational legacy of well-being among First Nations people in BC and beyond. We blend land-based learning with the arts and best practices in community-building. Our approach—the Creative Community Model—is being used around the world. It has been refined over the past two decades by PYE Global (www.PYEGlobal.org), an organization that generously shares its knowledge with many partners. IndigenEYEZ has adapted this approach especially for First Nations.
Power of Hope supports the emotional well-being of young people. Through transformational empowerment camps that use arts-based activities and foster inclusion and community – Youth are uplifted and supported to express their authentic selves and connect to their potential.

"Laughter, song, and dance create emotional and spiritual connection; they remind us of the one thing that truly matters when we are searching for comfort, celebration, inspiration, or healing: We are not alone."— Brené Brown
About the 5Rhythms
"5Rhythms is a dynamic movement practice—a practice of being in your body—that ignites creativity, connection, and community.While a seemingly simple process, the 5Rhythms practice facilitates deep and unending explorations, moving the dancer beyond self-imposed limitations and isolation into new depths of creativity and connection.
The 5 Rhythms: Flowing/earth, staccato/fire, chaos/water, lyrical/air and stillness/ether  -- Each rhythm is interpreted by individuals in a uniquely personal way, opening them to a new sense of freedom and possibility that is both surprising and healing, exhilarating as well as deeply restorative. It is, in essence, "exercise for the right brain."
Within the group context we create connection and community and hone our instincts and our intuitions. We are made up of all walks of life – every culture, religion, race, gender, age and sexual preference are welcome.
5Rhythms transcends dance. The movement is the medicine, the meditation and the metaphor. Together we peel back layers, lay masks down, and dance till we disappear…Only to rediscover ourselves through it all."
from www.5Rhythms.com
"If the world is to be healed through human efforts, I am convinced it will be by ordinary people, people whose love for this life is even greater than their fear. People who can open to the web of life that called us into being".   Joanna Macy
"The fastest, cleanest, most joyful way to break out of your own box is by dancing. I'm not talking about doing the stand-and-sway. I'm talking about dancing so deep, so hard, so full of the beat that you are nothing but the dance and the beat and the sweat and the heat." Gabrielle Roth
music
concerts
culture
sports
hip hop
family
Nearby hotels and apartments
Native Canadian Centre of Toronto
16 Spadina Ave., Toronto, ON, Canada
Native Canadian Centre of Toronto
16 Spadina Ave., Toronto, ON, Canada