POSTPONED - Embodied Bliss: A Tantric Cacao Journey of the Chakras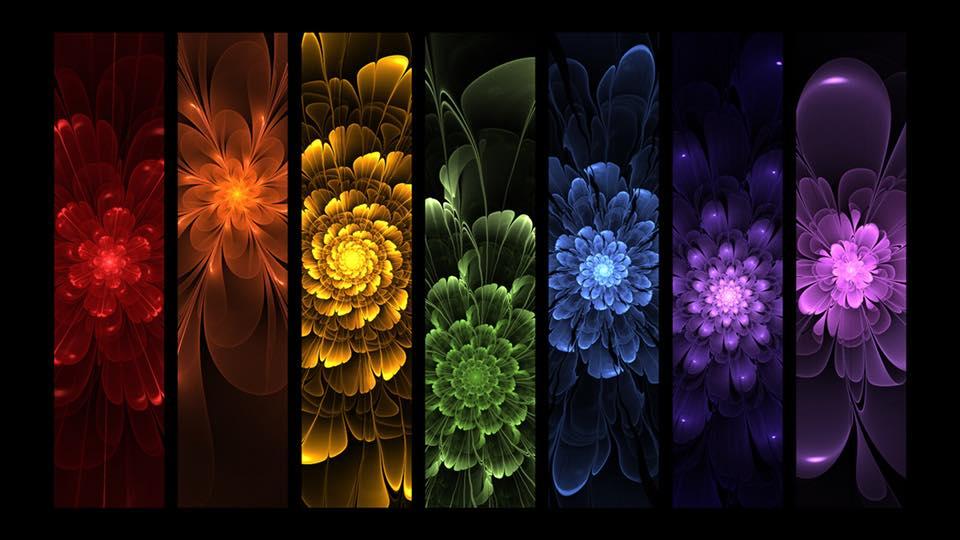 Image from eventbrite.com
---
*** UPDATE - RE: COVID-19 ***
With the growing concerns around COVID-19, along with the health mandates issued by the Alberta government, the remaining Embodied Bliss ceremonies in this series will be postponed until it is safe for us to gather together again in this way.
While I know that these ceremonies offer incredible health benefits to you, at this time it is clear that physical distancing is a prudent course of action to take in order to prevent further spread of this virus, and to help reduce the strain it causes on our health system. The set up of these ceremonies, and the practices included in them, would not allow for the 2 meters of physical distance that is required right now.
Postponing these events is an act of love and solidarity. While we celebrate connection, we do need to prioritize the health and safety of everyone within our community as well.
I have decided to leave the option to purchase tickets open to everyone, for when we are able to hold the next one! Because we WILL be gathering again, even if it doesn't feel like it right now.
You can continue to support me and my work by purchasing a ticket, or a pack of 3 tickets, to use at later dates here:
https://embodied-bliss.eventbrite.com
If you purchase a ticket (or have purchased a ticket), you will automatically be offered a first priority spot at any smaller gatherings I hope to offer (when it is safe to do so), or you will have the option to use your ticket at a future Embodied Bliss class instead.
Thank you for your support, during this extremely challenging time.
I miss you, I miss our community, and I can't wait for the moment when we can gather and share a hug again.
With love,
Angela Bladon
---
---
EMBODIED BLISS:
Join us for this opportunity to honour and care for yourself, through a Cacao Ceremony and a guided Tantric journey. This is a space for personal exploration, authentic self expression and deep connection with self and others.
Come to feel more alive and present in your body, to expand, to heal, and to create more space for what you want in life - all while being seen, heard, felt, and embraced by our incredible community. ♥️
~✶ We come together in celebration of our embodied human experience (root), our creative potential (sacral), our personal power (solar plexus), our deep capacity to love (heart), our ability to self express and to speak our truth (throat), our inner knowing and intuition (third eye), and our oneness with all that is (crown). ✶~
•~✶~• What will the evenings look like? •~✶~•
✶ Each evening will start with a welcome circle and a Cacao Ceremony: A beautiful heart-opening ritual that can offer us enhanced access to our energetic body and with it new dimensions of sensation, beauty, wonder, love, and the exquisite pleasure of bliss. You will be offered a ceremonial dose of raw organic cacao in warm liquid form. We will drink it together at the beginning of the workshop, during the welcome circle.
✶ Then you will be guided in a variety of non-sexual Tantric practices: including voice, movement/dance, meditation, sound, touch, and breath - these may be done solo, in dyads, or through group exercises. Each exercise is designed to activate the energy centres and raise the vibrational frequency within every cell of your body. Through this journey, your energy becomes a spiritual catalyst for accessing truly exceptional states of being - offering you a deeper appreciation and understanding of self, and of others.
✶ At the end of our time together, the evening will be brought to completion with a short closing circle.
This is a drug & alcohol free event.
There will be no nudity or sexual activity.

All Are Welcome! You can come by yourself, with friends, or with a partner. It is wonderful for singles and couples. No experience is required!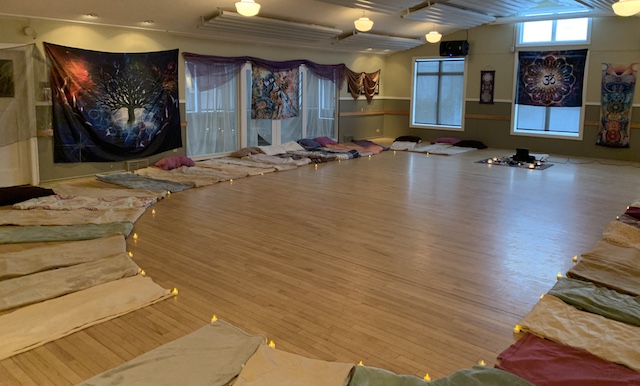 ---
Every month we will journey through a different chakra together:
Month 1: Mūlādhāra - Stability: September 28, 2019
~ SOUL'D OUT! Embodied Bliss : Tantric Cacao Journey into the Root
Month 2: Svādhiṣṭhāna - Pleasure: October 19, 2019
~ Embodied Bliss : Tantric Cacao Journey of Pleasure!
Month 3: Maṇipūra - Empowerment: November 23, 2019
~ Embodied Bliss : Tantric Cacao Journey of Empowerment
Month 4: Anāhata - Love: January 25, 2020
~ SOLD OUT - Embodied Bliss : Tantric Cacao Journey into Love
Month 5: Viśuddha - Expression: February 29, 2020
~ Embodied Bliss : Tantric Cacao Journey of Expression
Month 6: Ājñā - Intuition: April 18, 2020
~ Embodied Bliss : Tantric Cacao Journey of Intuition
Month 7: Sahasrāra - Unity: May 30, 2020
~✶ Each event is a journey on its own, and you are welcome to join us at any point in the series - for a single month, multiple months, or all of the months! ✶~
~~~~~~~~~~~~~~~~~~~~~~~~~~~~~~~~~~~~~
~~ DETAILS ~~
TIME: Saturday Evenings - Doors open at 6:30pm, please sign in at the front table The doors are closed and the ceremony starts at 7:00pm sharp. The journey comes to a close at 10:00pm.
ARRIVE ON TIME: The Cacao Ceremony begins at 7pm. This is an extremely important aspect of the experience and creates a safe container for all participants. It is essential that everyone be on time.
LOCATION: The event is happening at Scarboro Community Centre, 1727 14 Ave SW, Calgary, AB. The doors and a large parking lot are located on the South side, beside the tennis courts - which is accessible via 15th Avenue. Please use the parking lot, as we don't want to take up the residential parking spaces on the street.
WHAT TO WEAR: Comfortable, non-binding, clothing. Layers will offer you the most freedom. This will be a shoe-free environment.
---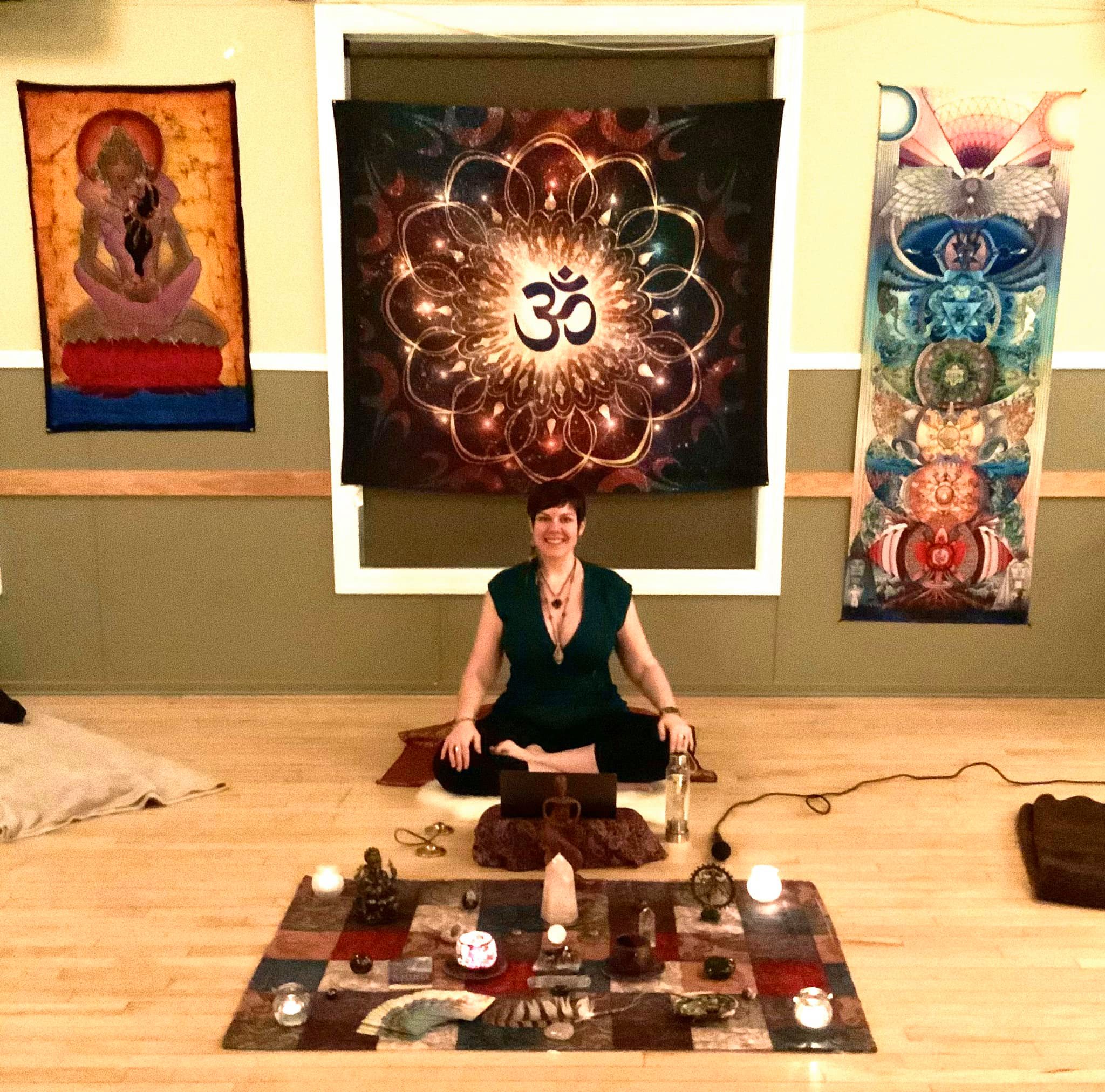 ~✶~ "WHAT YOU SEEK IS SEEKING YOU." ~✶~
If you are reading this now, you are being called! Come join us! Shake off the shackles that have bound you to a limited sense and expression of self. Discover and celebrate the dynamic creative power within your sacred, sexy, and boundless being. Will you answer the call?
✶ CONSCIOUS INVESTMENT ✶
$40 Early Bird - First 5 tickets each month
$45 Regular
$50 Cash at the door (tickets at the door are not guaranteed)
$120 Pack of 3 (save $15)
Please note: Limited Space available, and we often reach full capacity - get your ticket early! ♥
Save your spot in our circle here:
https://embodied-bliss.eventbrite.com
To save on fees you can send E-transfer/Paypal ($45):
✶ E-transfer: angela.bladon@gmail.com
✶ Paypal: https://www.paypal.me/AngelaBladon (send as friend/family, or add 3% to cover the fee)
Please add a comment to the e-transfer stating your name, the date of the event you plan to attend, and your email address (I will send you a confirmation email with event details).
If you want to pay cash at the door, please message me in advance so I know to prepare some cacao for you.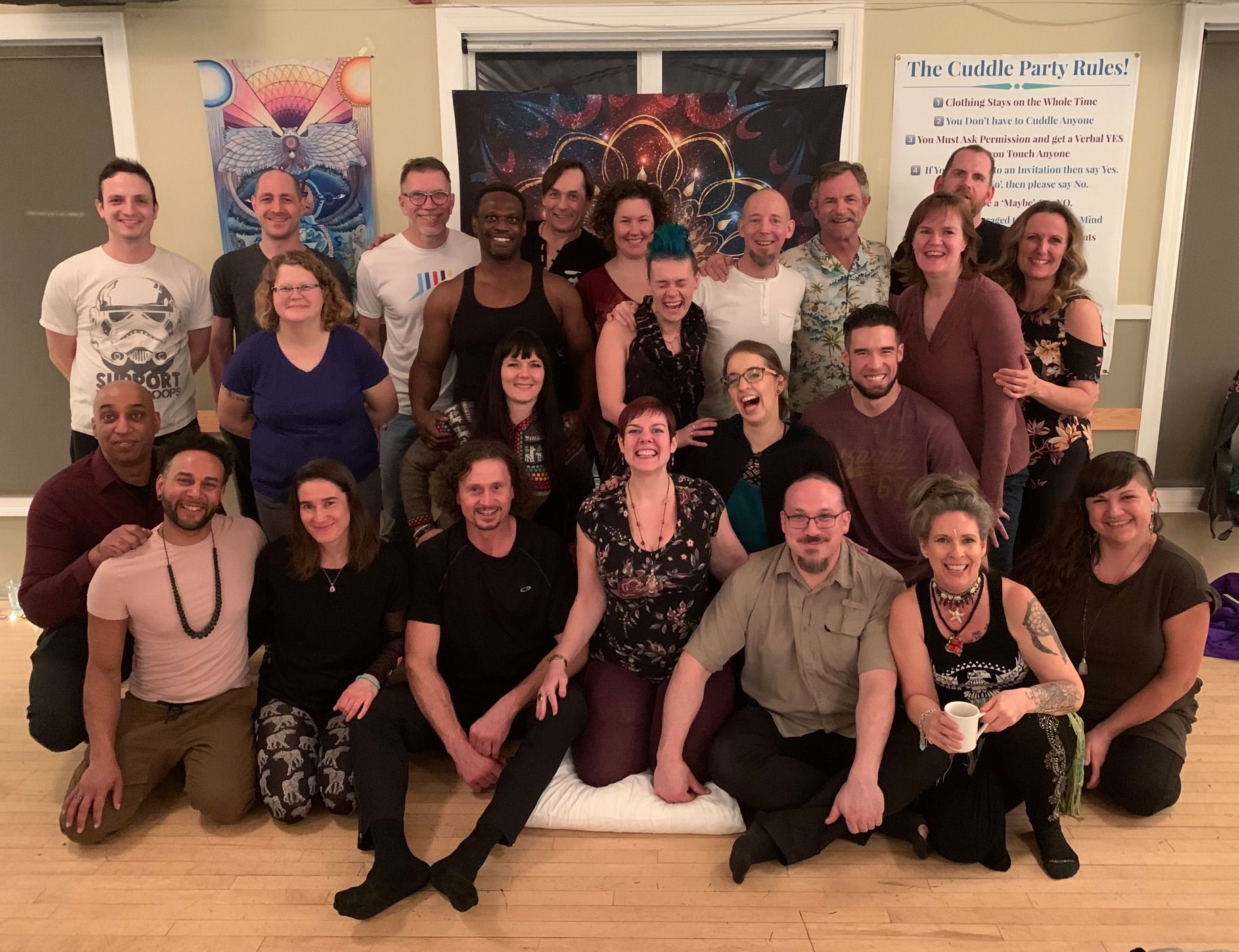 ---
•~✶~• What is Cacao? •~✶~•
Do you love chocolate? Well, chocolate loves you too! Cacao is a beautiful and gentle heart opener that has been used for centuries to access euphoric states, release emotions, and unlock transformational shifts. Cacao was first used as a health elixir and ceremonial medicine as far back as 1900 BC by the tribes of Central America.
It contains over 300 health-giving nutrients, along with Anandamide (known as the bliss molecule for its capacity to elicit feelings of euphoria), and Theobromine (from Theo-broma, which literally translates as God-Food) which potentiates the release of dopamine - the 'pleasure' hormone. Cacao also contains Phenethylamine, which is known to help relieve stress and depression and is released in the body during emotional euphoria, creating heightened sensation and empathy.
The sheer ecstasy felt from cacao can be described as nothing less than a divine experience. Ultimately, cacao can help deepen your connection to your heart, and expand your capacity to love and be loved. In this class you will be offered a ceremonial dose of raw organic cacao in warm liquid form. We will drink it together at the beginning of the workshop, during the welcome circle.
•~✶~• What is Tantra? •~✶~•
Tantra is a way of living. It is a set of tools, practices and perspectives that you can apply to all areas of life. The Tantric path is a spiritual journey that worships and honours all aspects of being: A unity of polarities, a practice of non-duality. Tantra is a path of deep awareness and mindful living that recognizes pleasure as the gateway to our true essence and power. Those who feel called to practice Tantric living are those who choose to do relationships and life in a new, more conscious, way.
~~~~~~~~~~~~~~~~~~~~~~~~~~~~~~~~~~~~~
~✶~ IMPORTANT NOTES ~✶~
During the welcome circle, we will establish intention, guidelines and boundaries so that every person feels fully honoured and supported in moving only as fast and as far as their own sense of safety permits. No one is required to do anything they don't want to do. Personal boundaries are honoured and respected. Each person is encouraged to only participate at the level that feels most nourishing to them. You are absolutely welcome to participate in the class and the ceremony without drinking the cacao. You will be given this option before signing a waiver.
It is important that you CONSULT WITH YOUR DOCTOR about drinking highly concentrated Cacao if you have any medical conditions - especially ones relating to your heart/cardiovascular system, mental health, or if you are pregnant/breast feeding. Please do this before attending the event, so you can make an informed decision about whether or not to drink the cacao during the ceremony.
This is a drug & alcohol free event.
The event won't include any nudity or sexual activity.
~~~~~~~~~~~~~~~~~~~~~~~~~~~~~~~~~~~~~
~✶~ FAQ ~✶~
WHAT IF I DON'T WANT TO DO AN EXERCISE?
Thank you for taking care of yourself. The exercises are an invitation. No one is required to do anything they don't want to do. Personal boundaries are honoured and respected. Each person is encouraged to only participate at the level that feels most nourishing to them.
DO YOU ACCEPT PAYMENT AT THE DOOR?
We will accept cash at the door ($50) but in order to guarantee your spot you'll need to register in advance. This is because we need to ensure that there will be enough cacao for everyone who wants some.
WHAT HAPPENS IF I CANCEL, DON'T SHOW UP, ARRIVE LATE, OR LEAVE THE EVENT EARLY?
Please be advised that just like any event ticket purchase, there are NO refunds or credits of any kind if you choose not to attend, lose your spot due to arriving late, or leave the event early. All registrations are final.
~~~~~~~~~~~~~~~~~~~~~~~~~~~~~~~~~~~~~

~✶~ About the Facilitator ~✶~
Angela Bladon is an Empowerment Practitioner: A Life & Relationship Coach, Community Builder, Tantra Facilitator and mom of 3 children from Calgary, Alberta. She offers guidance and support to people who want to live fully and love deeply from a place of pleasure, power, and ease. Angela builds conscious loving communities, and is known for her ability to hold space for authenticity and vulnerability.
Angela's educational background is in Psychology and Philosophy. She has over a decade of experience in Mental Health, Social Work, and Crisis Counselling. Angela has also been trained and mentored by expert/master level Relationship Coaches, Sex Educators, Energy Practitioners, and Tantra Teachers from all over the world.
As a leader in the Calgary Tantra community, Angela has spent the last 5 years inspiring and empowering people by teaching skills, tools, and insights that make room for healing, connection, and growth. She does this in her everyday life, through the transformative experiential group workshops and events she facilitates, and in the one-on-one sessions she offers to individuals and couples.
Angela offers Cuddle Party workshops, Embodied Bliss Tantric Cacao Journeys, Tantric Temple Pujas, Tantric Speed Dating, Meet, Connect & Mingle community gatherings, Coaching sessions, Therapeutic Cuddle sessions, Energy work, and high vibrational jewelry.
To schedule a free 30 minute exploration session with Angela:
http://numinouscreations.setmore.com
Stay connected with Angela through her Facebook page: Numinous Creations
See all upcoming events here:
https://www.facebook.com/NuminousCreations/events
Meetup Pages:
* https://www.meetup.com/Calgary-Cuddle-Party
* https://www.meetup.com/Calgary-Connections
* https://www.meetup.com/Journey-Into-Tantra
~~~~~~~~~~~~~~~~~~~~~~~~~~~~~~~~~~~~~
~✶~ Testimonials about Embodied Bliss ~✶~
"This was the first time I had ever gone to a cacao ceremony and had some incredible revelations and breakthroughs on both physical and emotional planes. Angela does a great job of facilitating and creating a safe and relaxing space and journey."
"Angela is an incredibly giving person. She is a consummate professional, deeply caring, and genuinely interested in your success. I recommend you take every class you can from her."
"I have attended two of Angela's embodied bliss classes for both the root chakra and sacral chakra. I had an incredible experience particularly with the sacral chakra ceremony. I felt energies move in ways that I have never experienced before. It has profoundly affected my life. My anxiety levels have dramatically decreased and I am finding a significantly deeper connection with myself and others. It has also increased my personal awareness and confidence and connection with my own Divine Feminine nature. I highly recommend anyone who is interested in this kind of the path to attend these ceremonies as they could have a profound impact on your life in a very positive way.
Angela is a gifted facilitator who embodies and practices what she teaches and is amazing at holding space for others in their transformational process." ~ Candice
"Angela did an amazing job with her Embodied bliss cacao ceremony. The energy in the space was beautiful, making it very easy to go deep and connect; not only with others but with myself. It was a very healing night. I felt heard, loved, and supported, which made being vulnerable easy and I was able to release.
"Angela you are a powerful leader. Thank-you for sharing your loving energy with us"
"Angela has a very warm, welcoming, and inclusive presence. Via the work of her and her team, they are able to create a warm and loving space. This space allows great transformation and beauty to flourish. ~ Carmen
"good music, good environment, you have wonderful energy - very accepting, caring, compassionate"
"Angela is a gentle and supportive facilitator. The space that was created and held allowed me to feel safe in expressing my vulnerability, which in turn allowed for a significant shift in energy."
"Sooo impressed with Angela as a facilitator and space holder... so very genuine and heartfelt and magical!!"
"Angela is such a beautiful spirit. She has opened my eyes to see the beauty in everyone"
"Great energy when guiding the meditations. You gave the right amount of energy at the appropriate time - great job! A unique experience for me - thank you"
"Very powerful & connecting. I definitely will be back"
"Beautiful held space!"
"I loved sharing with everyone and just letting everything out"
"I received every benefit that I was suppose to receive…I feel the euphoria. Thank you!"
"So much positive energy, a healing experience, I left feeling very peaceful"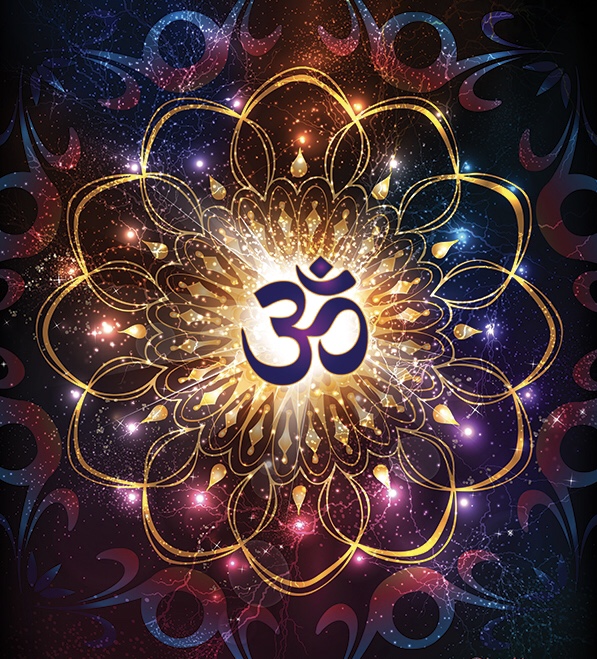 499 Views - 31/05/2020 Last update
Scarboro Community Hall
1737 14 Avenue Southwest, Calgary, AB, CA
---
Are you an event organizer?
Create events for free. They will be immediately recommended to interested users.
Create event
Nearby hotels and apartments
1737 14 Avenue Southwest, Calgary, AB, CA
---
---
Scarboro Community Hall
1737 14 Avenue Southwest, Calgary, AB, CA
Event from
eventbrite.com
---
---
Are you an event organizer?
Create events for free. They will be immediately recommended to interested users.
Create event
Calgary

›