Ecstatic Dance with Andrew Allsgood
COVID-19: many events have been canceled or postponed, please check with the organizer the event status.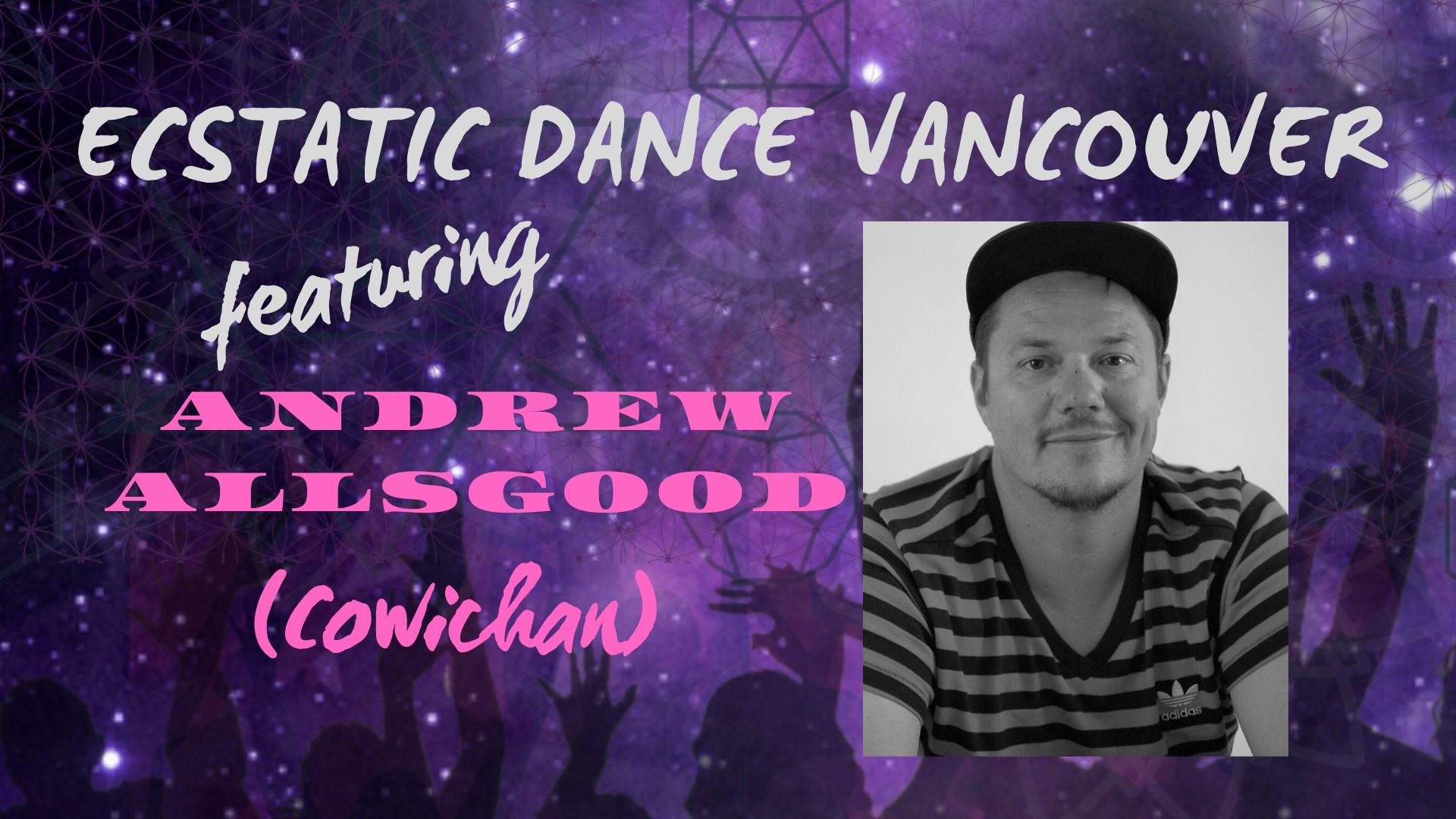 Image from eventbrite.com
---
Start your weekend with a special 2.5 hour set with Andrew Allsgood. His diverse sound will gently weave you in, energetically shake you out, and affectionately let you go. Lose yourself...your community is here to catch you.
DETAILS:
9:45am – Doors open
10am-12:20pm – Dance
12:20pm – Closing circle
Sliding scale $15-$30. We accept cash and credit card at the door. You can also purchase your entry in advance via Eventbrite below. If cost is a barrier, please contact organizers.
Newcomers are welcome! No prior experience necessary.
ABOUT ANDREW ALLSGOOD:
Andrew has been moving dancers with his selections of music for over two decades. A lover of music and movement he understands how to build a vibe from the ground up and take the dancers he's lucky to play for on a rhythmic journey of emotive, forward-thinking sounds. A 5 Rhythms disciple and an easy Dance Temple convert, Andrew cherishes the chance to play music & move with like-minded souls all over the west coast.
https://soundcloud.com/andrew-allsgood
https://m.soundcloud.com/andrew-allsgood/blissful-thinking
ACCESSIBILITY:
Unfortunately the Cambrian Hall is NOT wheelchair accessible as it is a heritage building. Ecstatic Dance Vancouver continues to search for a more permanent and accessible venue.
HOUSEKEEPING:
** DANCING **
Ecstatic Dance has been created as a safe container whether we're dancing alone or with others. Ecstatic Dance is contact friendly, but keep in mind we all have different levels of comfort when it comes to being approached and touched. Please be mindful and make sure the way you approach other dancers is resonant with them. If somebody offers you a shared dance and you are not interested, simply give them a bow with hands at your heart to say "no thank you".
** TALKING **
The dance floor is a no-talking zone. This is again done to remove any distractions and to allow for dropping in more fully. If you need to have a conversation, however brief, please step out into the foyer or go outside.
If you witness a conversation happening, you are welcome to gently remind people of this request (with a gesture).
** CELL PHONE USE **
We have a 'no cell phone use' policy in the dance space.
If you need to use your device, please do so in the foyer or outside.
** KIDS **
Kids under 12 are free!
AND -- Parents are asked to kindly monitor their little ones, especially during the closing circle. If it's quiet, and your kids aren't - please help guide them into relative silence. Otherwise please take them outside the quiet space so as not to distract others.
**SHIRTS ON PLEASE**
Please keep your shirt on on the dance floor, regardless of your gender (we've had a fair bit of feedback around this of late and have decided out of fairness to ask everyone to keep their shirts on)
**SPONSORS**
We are grateful to our amazing sponsors who help keep us hydrated and fuelled. Should you so desire, please be ready to enjoy some Hippy Snacks, Guayaki Yerba Mate, and some Bucha Brew from our lovely sponsors.
HERE'S MORE OF WHAT ECSTATIC DANCE OFFERS:
• Practice freedom of expression through movement, while respecting and being aware of those around you.
• Tune into an eclectic selection of musical flavours from a revolving lineup of fantastic facilitators.
• Inspire and explore new ways to move your body.
• Learn to enter into a state of trance without the use of substances (no drugs or alcohol please).
• Non denominational closing (can be in the form of a prayer, meditation or circle)
• Minimal facilitation. You are free to move as you wish.
IN CLOSING:
Take care of yourself, others and the space.
Bring a water bottle.
Breathe.
Wear comfortable clothing for movement.
Be prepared to sweat.
2082 Views - 05/04/2020 Last update
The Cambrian Hall
215 E 17th Ave, Vancouver, BC , Vancouver, BC, CA
---
Are you an event organizer?
Create events for free. They will be immediately recommended to interested users.
Create event
Nearby hotels and apartments
215 E 17th Ave, Vancouver, BC , Vancouver, BC, CA
---
---
The Cambrian Hall
215 E 17th Ave, Vancouver, BC , Vancouver, BC, CA
Event from
eventbrite.com
---
---
Are you an event organizer?
Create events for free. They will be immediately recommended to interested users.
Create event