Ecstatic Dance
COVID-19: many events have been canceled or postponed, please check with the organizer the event status.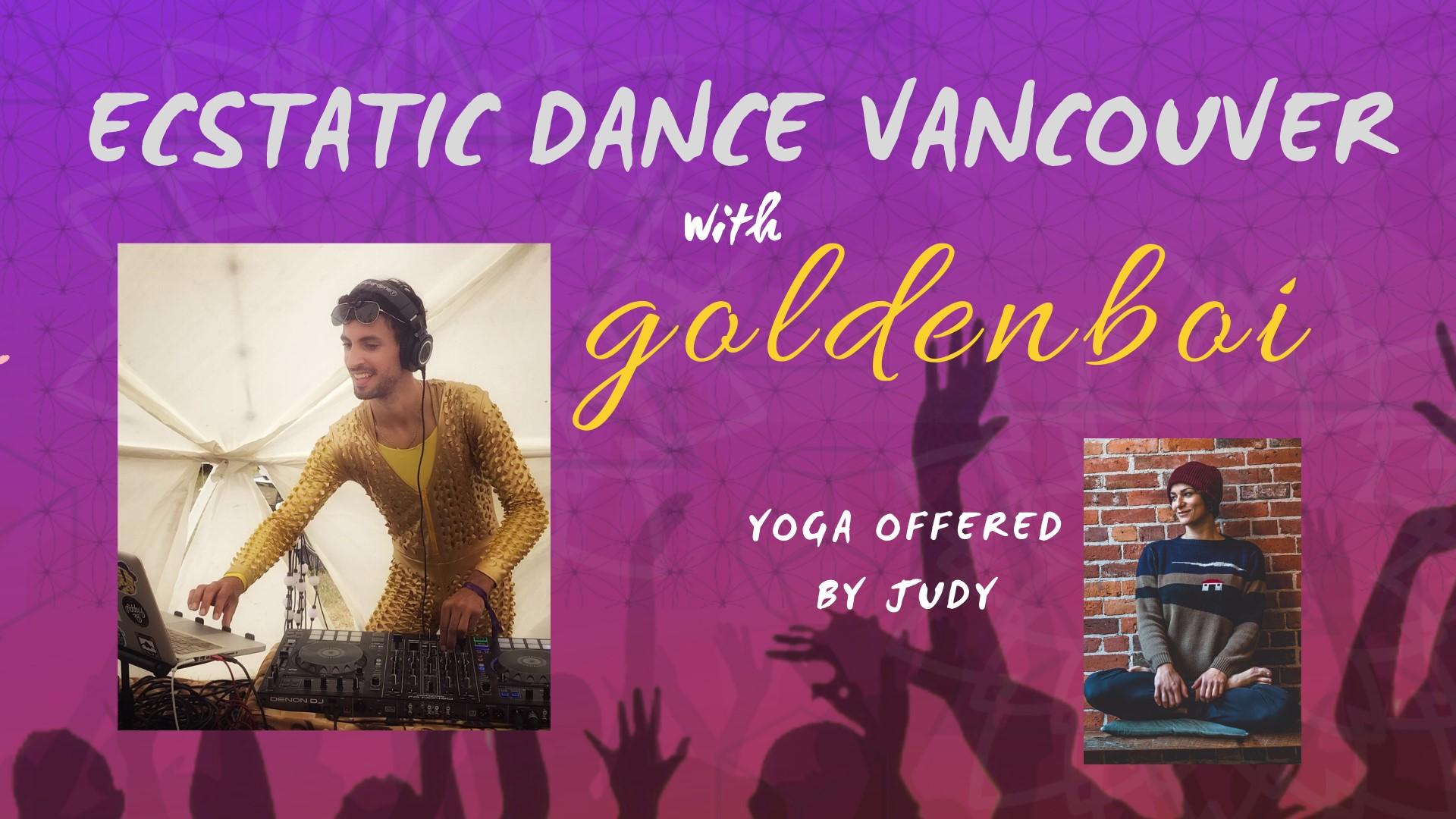 Image from eventbrite.com
Saturday 22 February 2020
---
Ecstatic Dance Vancouver invites you to fill your cup with juicy, funk filled beats and soul-shaking basslines.

Ecstatic Dance Vancouver invites you to fill your cup with juicy, funk-filled beats and soul-shaking basslines. If you have a hankerin' to move your feet, shake your hips and nod your head then this is the place for you!
The Ecstatic Dance community is a world wide movement of dance enthusiasts who create spaces to freely move to great music and connect authentically with other dance-loving kin.
DETAILS:
8:45am – Doors open
9-10am – Yoga with Judy
10:15-11:50am – Ecstatic Dance with goldenboi
11:50am – Closing circle
**If you come for yoga please arrive in time to be settled for 9am start. If you are only coming for dance, please be mindful of the yogis finishing up as you arrive.
Sliding scale $15-$30. We accept cash and credit card at the door. You can also purchase your entry in advance via Eventbrite below. If cost is a barrier, please contact organizers.
Newcomers are welcome! No prior experience necessary.
ABOUT GOLDENBOI:
Based out of Victoria, British Columbia, goldenboi, aka Geoff Laurence, has quickly established himself as both a dynamic performer and versatile facilitator. Skilled in the art of somatic movement and healing through relational ways of being, goldenboi weaves together luscious soundscapes that open the heart, deepen the breath, and return the body to centre. Inspired by a wide array of musical influences from dancehall to dubstep, groove to global underground, and hip-hop to house, the goldenboi experiences aim to leave everyone feeling like they have something to dance to, weaved in an arching progression. Expect intelligent lyrics, intentional rhythms, and a soul-clapping good time.
Outside of the Ecstatic Dance community, Geoff is one of Victoria's co-founders of the PLUR Collective, a socially-conscious group of artists inspired to host events & parties for a cause. Best known for hosting the infamous "Pants Off Dance Off" parties in support of HIV/HCV positive youth, and "CatHAUS" which supports newcomers and refugees, Geoff moonlights as both intentional organizer and playful prowler, DJ boizNcatz, laying down deep & groovy beats that move people to action.
Join goldenboi in exploring the richness in flow. With sound as the medicine, and community as the container, there is no limit to the ecstatic presence we can access through shared & embodied movement.
ABOUT JUDY:
Judy was first attracted to yoga for the physical aspects. She quickly discovered that this practice offers so much more. This beautiful journey has no final destination. Judy considers herself blessed to learn from the incredible teachers in Vancouver and to pass on the knowledge of this practice. She completed her 200hr with Mike Nichols, mentored with Christine Price Clark and credits Risto Duggan for completely transforming her chaturanga.
ACCESSIBILITY:
Unfortunately the Cambrian Hall is NOT wheelchair accessible as it is a heritage building. Ecstatic Dance Vancouver continues to search for a more permanent and accessible venue.
HOUSEKEEPING:
**SHIRTS ON PLEASE**
Please keep your shirt on on the dance floor, regardless of your gender (we've had a fair bit of feedback around this of late and have decided out of fairness to ask everyone to keep their shirts on)
** CELL PHONE USE **
We have a 'no cell phone use' policy in the dance space.
If you need to use your device, please do so in the foyer or outside.
** KIDS **
Kids under 12 are free!
AND -- Parents are asked to kindly monitor their little ones, especially during the closing circle. If it's quiet, and your kids aren't - please help guide them into relative silence. Otherwise please take them outside the quiet space so as not to distract others.
** TALKING **
The dance floor is a no-talking zone. This is again done to remove any distractions and to allow for dropping in more fully. If you need to have a conversation, however brief, please step out into the foyer or go outside.
If you witness a conversation happening, you are welcome to gently remind people of this request (with a gesture).
** DANCING **
Enjoy your own personal dance or spark up creative movement with others. If you wish to dance with someone, look for eye contact or the body language of an invitation. At any time, you or the person you are dancing with, may choose to end the encounter by moving away, or bowing with hands in prayer.
**SPONSORS**
We are grateful to our amazing sponsors who help keep us hydrated and fuelled. Should you so desire, please be ready to enjoy some Hippy Snacks, and some Bucha Brew from our lovely sponsors.
HERE'S MORE OF WHAT ECSTATIC DANCE OFFERS:
• Practice freedom of expression through movement, while respecting and being aware of those around you.
• Tune into an eclectic selection of musical flavors from a revolving lineup of fantastic facilitators.
• Inspire and explore new ways to move your body.
• Learn to enter into a state of trance without the use of substances (no drugs or alcohol please).
• Non denominational closing (can be in the form of a prayer, meditation or circle)
• Minimal facilitation. You are free to move as you wish.
IN CLOSING:
Take care of yourself, others and the space.
Bring a water bottle.
Breathe.
Wear comfortable clothing for movement.
Be prepared to sweat.
If you are attending yoga, please bring your own mat.
1160 Views - 23/02/2020 Last update
e 17th ave 215
the cambrian hall, vancouver, bc, ca
---
Are you an event organizer?
Create events for free. They will be immediately recommended to interested users.
Create event
Nearby hotels and apartments
681 Main Street, Buffalo, 14203, NY, United States
---
---
e 17th ave 215
the cambrian hall, vancouver, bc, ca
Event from
eventbrite.com
---
---
Are you an event organizer?
Create events for free. They will be immediately recommended to interested users.
Create event