CXO Rendezvous with Mr. Rizwan Khalfan, Chief Digital Officer, TD Bank
Tuesday 2 April 2019 5:30 PM Tuesday 2 April 2019 7:30 PM
Save
Saved
Last update 03/04/2019
497
DESCRIPTION
CXO Rendezvous is a monthly series that is intended to connect the professional community, listen to inspiring talks from industry leaders, experienced entrepreneurs, visionaries, and innovators.
Join us for our next CXO Rendezvous: Rizwan Khalfan, Chief Digital Officer, TD Bank
Rizwan Khalfan is a global leader with diverse experience across multiple facets of the banking industry. He will share his views on digital and payments activities, and TD's role in creating more intuitive, personalized, and integrated experiences for customers and employees.
AGENDA
5:30 - 6:00 p.m.: Registration and light refreshment
6:00 - 7:30 p.m.: Presentation and Q&A
ABOUT RIZWAN KHALFAN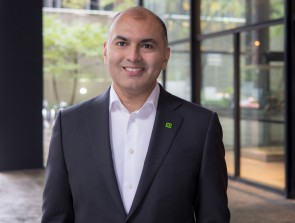 Rizwan Khalfan is TD's Executive Vice President & Chief Digital and Payments Officer. His mandate includes partnering with business units across the organization to strategically invest in transformational digital capabilities, overseeing the evolution of the payments ecosystem, and collaborating with innovators, fintechs and start-ups. Before joining TD in 2002, Rizwan worked for Citigroup, overseeing their Operations and Technology in Europe. A CFA charterholder, Rizwan is a graduate of the University of Toronto. He is married with three children, and actively involved in his community, serving on the Board of his children's school.
Nearby hotels and apartments
IBM
120 Bloor Street East, Toronto, ON, Canada
120 Bloor Street East, Toronto, ON, Canada
Event from
eventbrite.ca