The Spirit of Africa Night *Mandingo Experience*
Saturday 28 September 2019 7:30 PM Sunday 29 September 2019 2:00 AM
Save
Saved
Last update 25/08/2019
547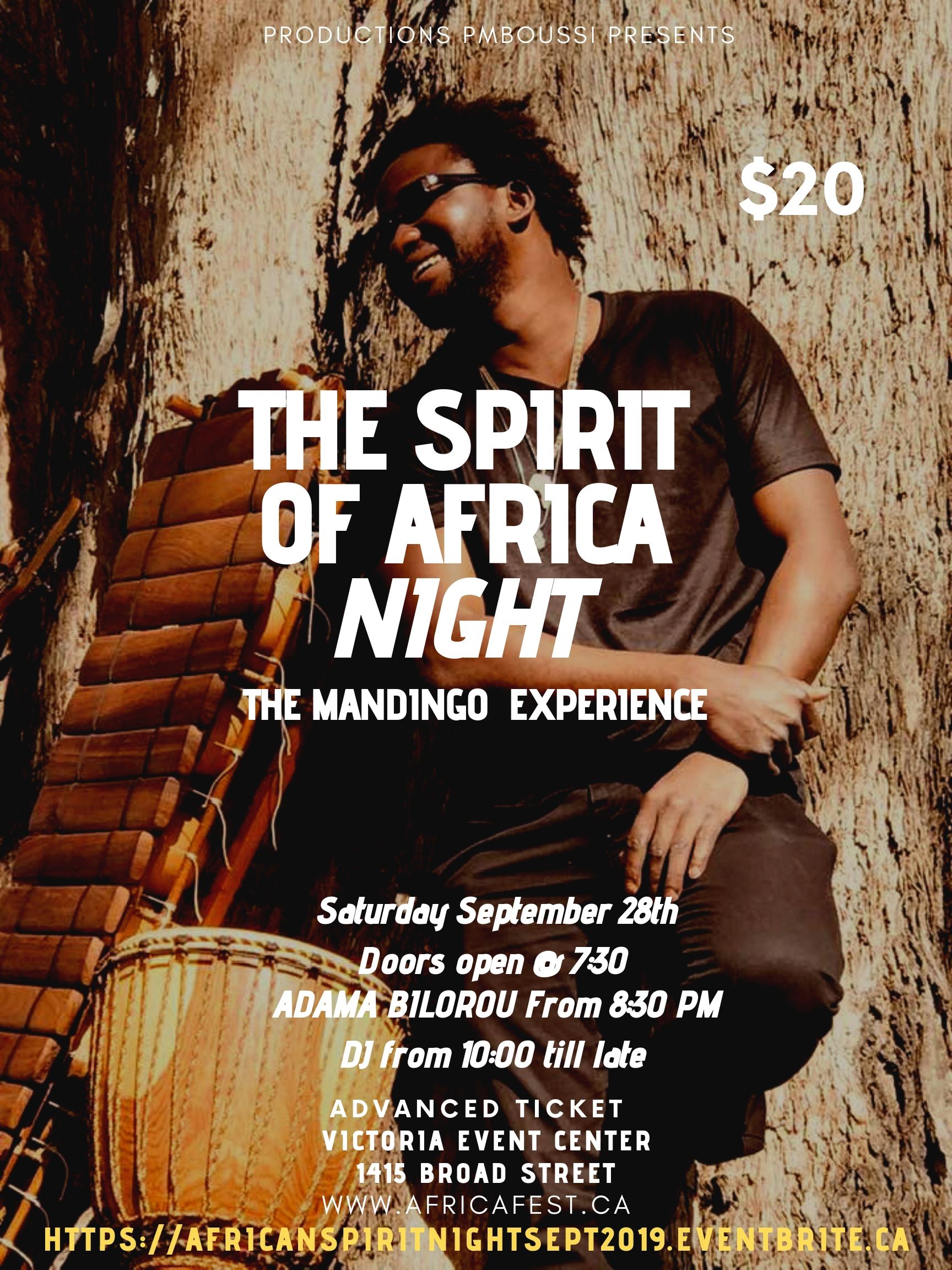 MANDINGO EXPERIENCE till 10 pm
Join us for an evening of music, food tasting, fashion and dance celebration as we promote the best of the African Heritage in Canada!
An evening Gala where Culture meets Fashion
----------------------------------------------------------------
Live performance: MANDINGO EXPERIENCE
Originally from Burkina Faso, Adama composes and performs an explosive melange of musical genres inspired by his native culture, and infused with sounds from Europe and beyond. He has performed with Carlos Santana, Manu Dibango, Marcus Miller, and many more artists from around the world, and has led workshops across Europe, Africa, Asia and North America.
*******************************
Have you ever heard the sound of the Kora?
We have a special treat with the visit of a Master of several traditional West African instruments, including the Kora.
Kora players have traditionally come from "jali" families who are traditional historians, genealogists and storytellers who pass their skills on to their descendants.

***************************
AFTER PARTY FROM 10 PM
The African Spirit Night, our classic monthly Dinner & Dance party with our Afro Beats favorite DJ VINNIE BUGATTI https://www.facebook.com/vincent.y.johnson.5 and GUEST featuring the best in new and vintage African and Afro-Latin dance music !
**********************************
DOORS OPEN: 7 PM
Online Ticket: $20.00
Dinner: $35 Ticket will be available at the door for $40.00 on the day of the event. (BY RESERVATION ONLY)
After Show party from 10:00- $10
CASH BAR.
Tickets are now on sale at https://africanspiritnightsept2019.eventbrite.ca
***************
DRESS CODE: Elegant Traditional attire or just DRESS TO IMPRESS.
Whatever you decide to do, Africa Spirit Night September 2019 will be the highlight of your Fall events calendar.
Let's Celebrate!
africafest, issamba , yyjevents, africandinner, africanmusic, victoriabc,
INFO: vaccsociety@gmail.com
Nearby hotels and apartments
Victoria Event Center
1415 Broad Street, Victoria, BC, Canada
1415 Broad Street, Victoria, BC, Canada
Event from
eventbrite.ca