The Confident Voice Workshop Series
COVID-19: many events have been canceled or postponed, please check with the organizer the event status.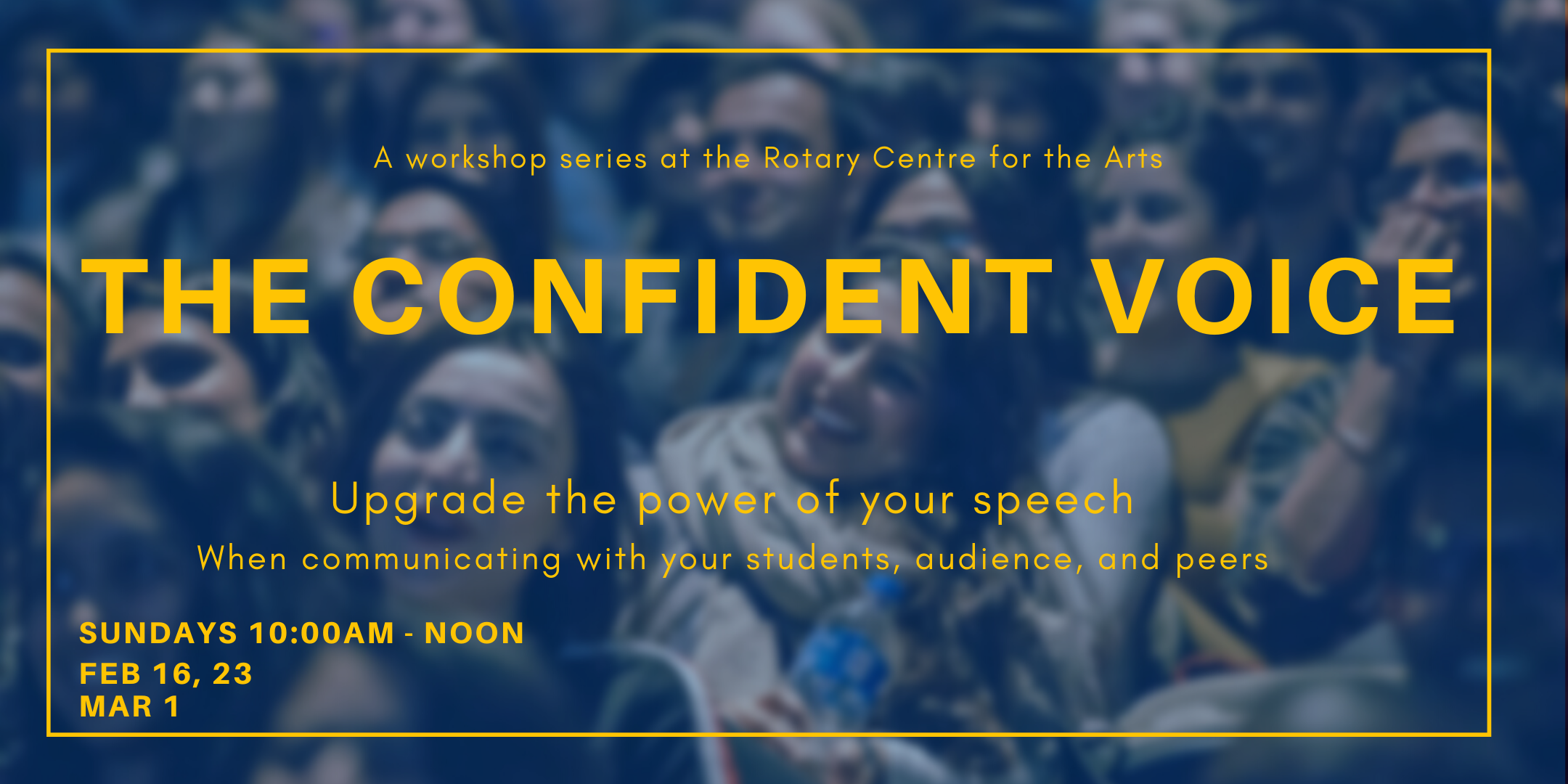 Image from eventbrite.com
---
The first vocal expansion workshop series in Kelowna designed to bring you confidence in your voice, and discover the power that you have to speak so others will listen.
If you are an instructor or coach, or someone who communicates for a living, you want to deliver your ideas and teachings powerfully, smoothly, and with impact. This is your chance to learn how speakers, actors and performers utilize their voices to affect the greatest change in their audience, and how you too can speak with confidence and ease.
Prepare to move yourself, shout, speak and laugh with confidence on these dates:
Feb 16th – The confident voice
Feb 23rd – Effective Speech secrets
March 1st – The power of truth
Workshop hours: 10:00 am – 12:00pm in the Sun FM Studio at the Rotary Centre for the Arts
Investment: $45 per workshop - $99 for all 3
*first timers save $15
Learn how to apply the principles of powerful speech in your profession, and in your daily life through this workshop series. Vocal work can reap great rewards over time. This workshop series is especially designed to span three days over three weeks, so the benefits accrue from one week's foundations to the next. **You may decide to only participate in one if time does not permit you to attend all three, and you will still achieve expansion and increase in confidence, but for real transformation to stick, it is highly recommended to attend the workshops in sequence. ***
In this series you will learn
Practical Techniques to expand your voice and it's resonance so your videos, presentations and business communications have more impact
-The little known facts of how the voice works which ensure people hear you and your value
-The tools to give your voice the power of your ideas so you can feel more confident
-Powerful vocal expansion exercises which will leave you feeling confident, and your voice open & activated
Workshop 1: The Confident Voice - February 16 10:00am - Noon
Release fears of 'saying the wrong thing'
Unleash the strength of your voice
Bring yourself confidence on demand
Begin to enjoy the sound of your voice
Workshop 2: Effective Speech Secrets - February 23rd 10:00am - Noon
3 P's of vocal effectiveness to get the attention of your audience
How to make your presentations and your communication memorable and valuable
How to speak clearly and reach the back of the room, and the attention of your listener
What habits undermine the things you say
Workshop 3: The Power of Truth - March 1st 10:00am - Noon
How to ensure your audience is connecting with you
How to speak with authority and authenticity
Tools to help you say what you mean
What keeps your audience engaged and listening
How to stand out from the crowd and speak with your authentic sound
If you've never learned how to use your voice, chances are you've built up habits of speech and communication which undermine your worth and undersell the ideas & feelings you have to share. This can ultimately leave you feeling like you've left much unsaid, or as if you said something you didn't really mean.
This is your chance to embody your voice so you can speak what you really mean and to leave a mark on those who hear you. This workshop series will help you optimize the delivery of your words so your message leaves your audience transformed, whether that's one person or a thousand.
This is the beginning of your journey to feel more embodied and confident in your voice
2257 Views - 24/02/2020 Last update
Rotary Centre for the Arts
421 Cawston Avenue, Kelowna, BC, CA
---
Are you an event organizer?
Create events for free. They will be immediately recommended to interested users.
Create event
Nearby hotels and apartments
421 Cawston Avenue, Kelowna, BC, CA
---
---
Rotary Centre for the Arts
421 Cawston Avenue, Kelowna, BC, CA
Event from
eventbrite.com
---
---
Are you an event organizer?
Create events for free. They will be immediately recommended to interested users.
Create event
Kelowna

›