Un concert pour la Syrie 2018
Sunday 11 March 2018 4:00 PM Sunday 11 March 2018 5:30 PM
Save (1)
Saved (2)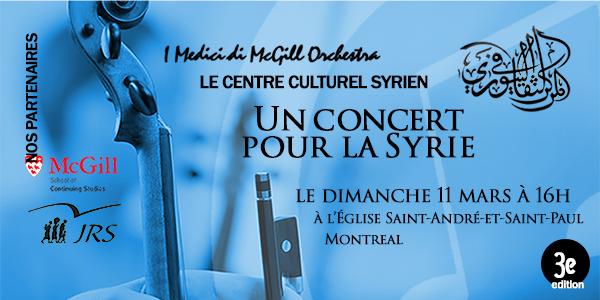 Last update 10/02/2018
51077
C'est avec enthousiasme qu'on vous annonce que le traditionnel concert-bénéfice pour la Syrie aura lieu le dimanche 11 mars à 16h, avec la participation de l'Orchestre I Medici di McGill, à l'Église Saint-André-et-Saint-Paul au 3415, rue Redpath à Montréal (entrée pour le public sur la rue Sherbrooke).
Au programme :
La Symphonie no 104 dite « Symphonie de Londres » de Joseph Haydn

La Sixième symphonie de Franz Schubert
Votre participation représente un soutien important pour notre organisme sans but lucratif qui déploie à l'heure actuelle tous ses efforts pour contribuer à soulager le sort des personnes déplacées à l'intérieur de la Syrie et ceux qui sont touchés par la situation en Syrie.
Nous espérons pouvoir, encore cette année, apporter une aide financière par l'entremise de JRS (Jesuit Refugee Service) un organisme de bienfaisance qui œuvre en Syrie et reconnu par le gouvernement canadien ainsi que par notre partenariat avec  l'École d'éducation permanente de McGill comme bénéficiaire de fonds dans la création de bourses d'études destinées aux réfugiés et aux immigrants syriens résidant au Canada.
Cette année, le concert-bénéfice sera suivi d'un cocktail, une réception privée vous permettant de réseauter dans une ambiance festive!
Pour en savoir davantage à propos de ce concert-bénéfice et sur le Centre culturel syrien à Montréal, veuillez consulter notre site web  www.centreculturelsyrien.org ou nous écrire à info@centreculturelsyrien.org
--
It is with great enthusiasm that we announce the traditional benefit concert for Syria on Sunday March 11, at 4 pm, with the participation of the I Medici di McGill, at The Church of St. Andrew and St. Paul at 3415 Redpath Street in Montreal (entrance for public on Sherbrooke Street).
Programme:
F. Joseph Haydn: Symphony No 104, London

Franz Schubert: Symphony no 6 in C
Your participation is an important support for our non-profit organization, which is currently making every effort to help alleviate the plight of internally displaced persons in Syria and those affected by the situation in Syria.
We hope, this year again, to be able to provide financial support to Syrians through our partners JRS (Jesuit Refugee Service), a charity has presence in Syria and is recognized by the Canadian government, and the McGill School of Continuing Education providing scholarships for Syrian refugees and immigrants in Canada.
This year, the benefit concert will be followed by a cocktail, a private reception to network in a festive atmosphere!
To learn more about this benefit concert or the Syrian Cultural Center of Montreal, please visit our website at www.centreculturelsyrien.org or email us at info@centreculturelsyrien.org 
music
concerts
food
nightlife
charity
Nearby hotels and apartments
The Church of St. Andrew & St. Paul
3415 Redpath Street, Montreal, Quebec, Canada
The Church of St. Andrew & St. Paul
3415 Redpath Street, Montreal, Quebec, Canada