POSTPONED: Community Options' 7th Annual Spring into Inclusion Conference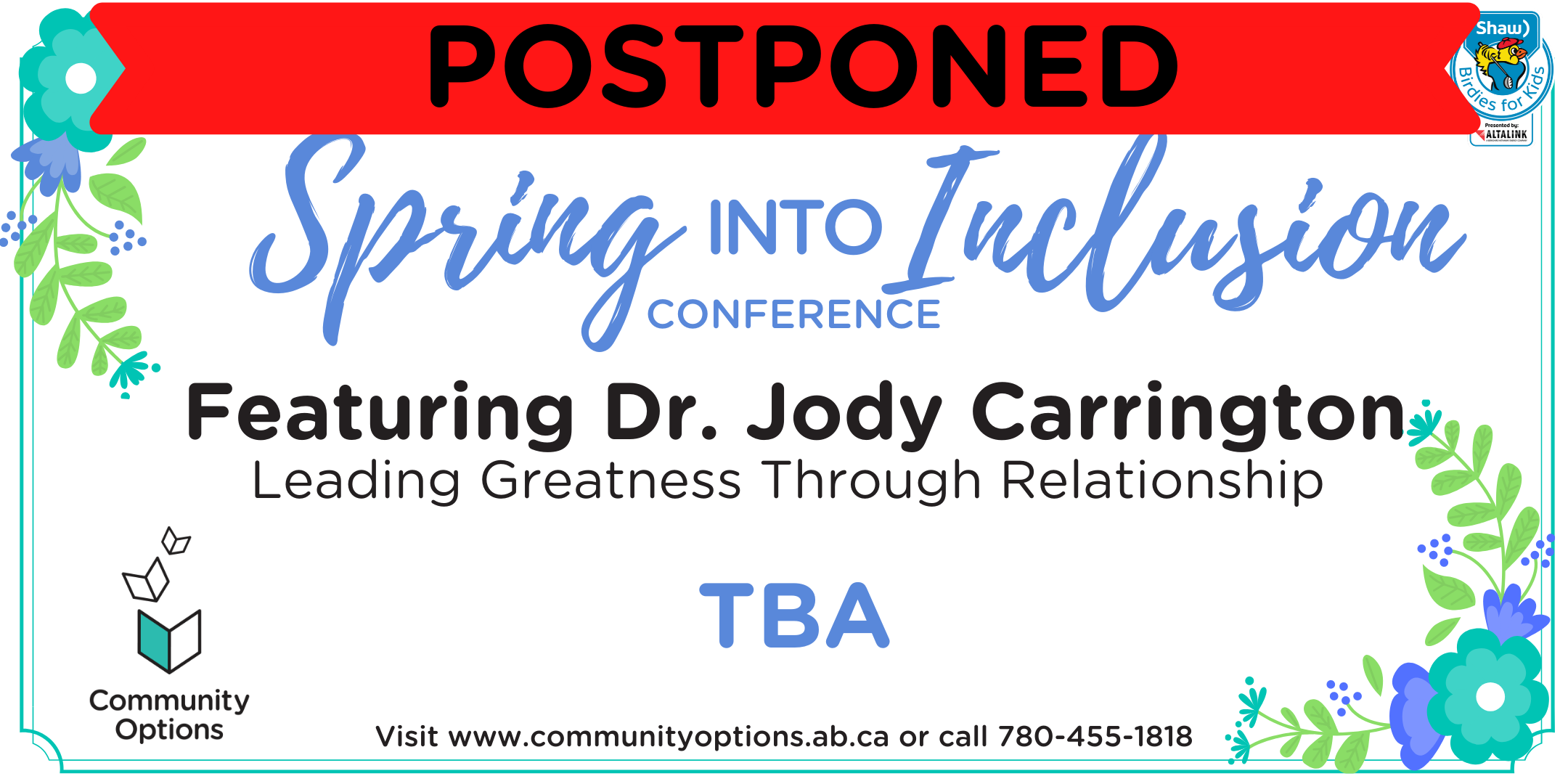 Image from eventbrite.com
---
Dr. Jody Carrington
Over the past 15 years, Dr. Jody Carrington has assessed, treated, educated and empowered some of our most vulnerable and precious souls on the planet. She is a child psychologist by trade, but Jody rarely treats kids. The answer lies, she believes, in the people who hold them. Especially when kids have experienced trauma, that's when they need big people the most. Some of her favourites include educators, parents, first responders, and foster parents. Jody has shifted the way they think and feel about the holy work that they do.
Before Jody started her own practice and speaking across the country, she worked at the Alberta Children's Hospital on the inpatient and day treatment units where she held families with some of the difficult stories. They taught her the most important lesson: we are wired to do hard things. We can handle those hard things so much easier when we remember this: we are wired for connection.
This all started when Jody received her Bachelor of Arts with Distinction from the University of Alberta. She completed a year-long internship with the Royal Canadian Mounted Police during that time, and worked along side families struggling with chronic illness at the Ronald McDonald House. She received her Master's degree in Psychology at the University of Regina and completed her PhD there as well, before completing her residency in Nova Scotia.
Her first book, Kids These Days: A Game Plan for (Re)Connecting with those we Teach, Lead & Love, came out in 2019 and sold 20,000 copies in just three months. It is now on Amazon's Best Sellers List.
Leading Greatness Through Relationship
As Jody developed her own company and talked about the importance of relationships across all other aspects of life, she's come to understand that system leaders are some of the most powerful people on the planet. And good leaders understand the importance of relationships first. It has also become clear to her that while good leaders are rare, they can be made. The steps to create a connected, relationship-based team are shockingly simple to do (on paper), but require remarkable courage in action. They require brave leaders who aren't scared to step into discomfort, to excavate the unsaid, and who understand that trust is built in the small moments. We know, without a doubt, that people with a common goal are exponentially more committed and productive; how we get them there makes all the difference.
Relationship is the heart of it all for Jody. She can talk about this for an hour or for an entire day. No matter what stage or what relationship we're talking, it all comes down to this: connection. It is in these connections with others that the most important question on the planet is answered: "Am I worth it?".
The biggest challenge facing each of us these days is that we've never been more disconnected, making it harder than ever to determine if we really, truly matter in this world. By exploring the most recent research on attachment and emotional regulation, Jody sharse what's most critical in, first, helping our children learn how to manage emotions and, later, what that looks like in our friendships, marriages, and most importantly, in ourselves.
Special Guest: Jessica Pigeau
Jessica Pigeau is an alumni of the University of Alberta with a Master of Arts in French literature. She was diagnosed with autism as a teenager and now works as a writer and comedian. Jessica will join us in a discussion on the principles at the heart of a holistic approach to social integration and what effective, meaningful inclusion looks and feels like.
Registration begins Monday, February 3, 2020Date: April 18, 2020
Time: 8:30am - 4:00pm
3977 Views - 07/06/2020 Last update
ARCA Banquet Facility
14525 127 Street Northwest, Edmonton, AB, CA
---
Are you an event organizer?
Create events for free. They will be immediately recommended to interested users.
Create event
Nearby hotels and apartments
14525 127 Street Northwest, Edmonton, AB, CA
---
---
ARCA Banquet Facility
14525 127 Street Northwest, Edmonton, AB, CA
Event from
eventbrite.com
---
---
Are you an event organizer?
Create events for free. They will be immediately recommended to interested users.
Create event