Comedy and Tragedy: A Comedy Night with Blind Tiger
COVID-19: many events have been canceled or postponed, please check with the organizer the event status.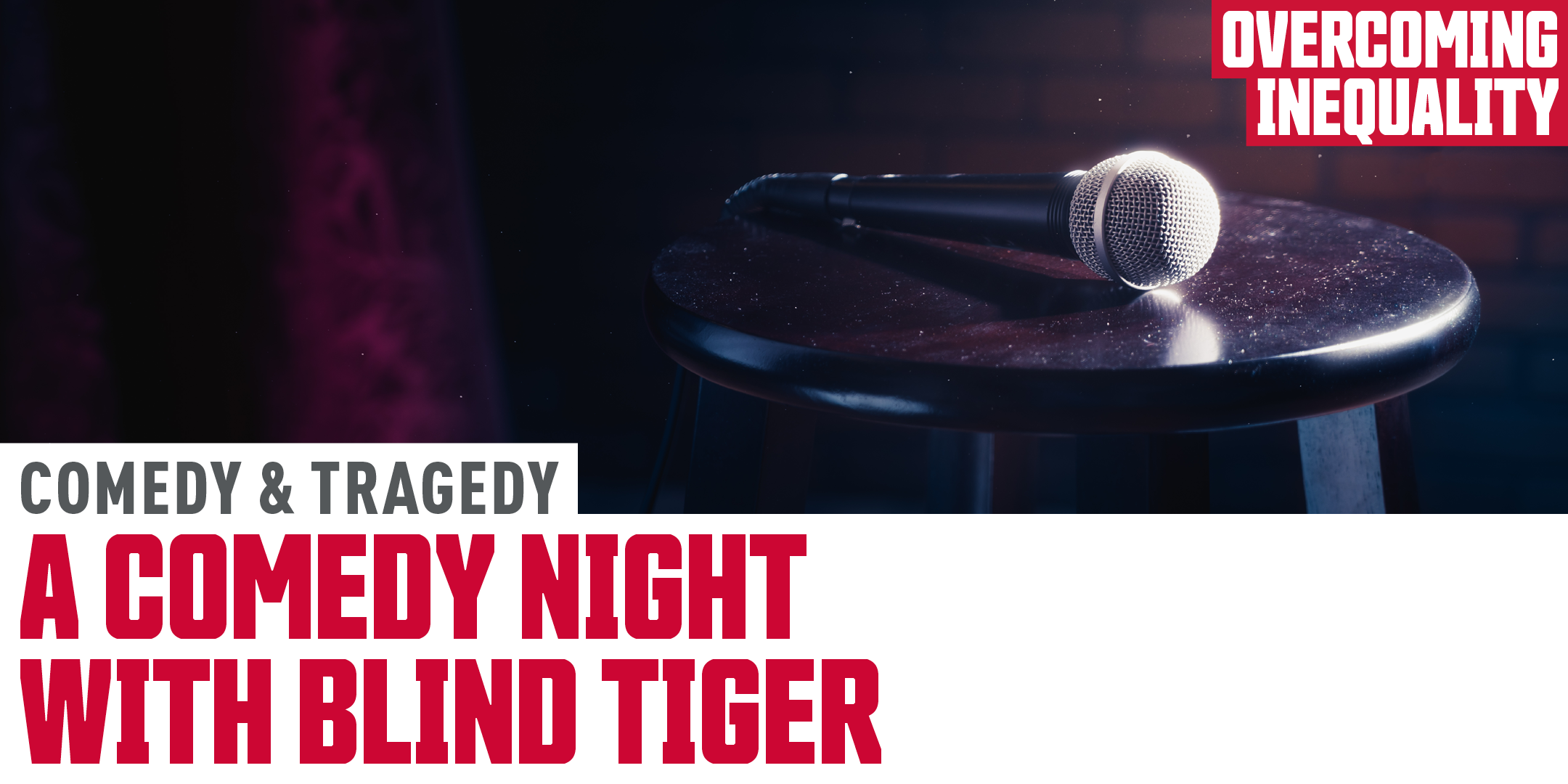 Image from eventbrite.com
---
Comedy always holds hands with tragedy.
Join us for an evening of stand up, sketch, music, and improv curated by Blind Tiger Comedy as part of SFU Public Square's 2020 Community Summit, Overcoming Inequality.
Because comedy comes from our stories and experiences, Blind Tiger has brought together a group of artists who will share where inequality has shown up in their lives, amazing stories and scenarios that will definitely make you laugh, and might make you cry.
If you're interested in this, you may also want to attend the day-long workshops on comedy, creative writing, or arts expression. Get your tickets here.
FEATURING:
Blind Tiger Comedy
Blind Tiger Comedy is a comedy school founded by internationally-recognized improv groups The Sunday Service and Hip.Bang! The faculty includes members of those two groups, as well as several other experienced instructors. Blind Tiger runs improv and sketch comedy classes in Vancouver, and aims to create as safe a space as possible for creativity and collaboration. The school engages in identity-focused programming (POC night, Women-Trans-Femme classes), as well as offers financial need and diversity scholarships. Blind Tiger offers classes all year round, as well as produces student shows most Wednesday nights at Little Mountain Gallery.
Two People with Disabilities
Two People With Disabilities is an improv duo focused on increasing disability representation in comedy. Using real stories from their personal experiences with visual impairment and chronic pain, Sean and Rebecca demonstrate how to navigate day-to-day interactions with non-disabled people.
Ese Atawo
Ese Atawo is a Nigerian-Canadian actor and comedian. Raised in Toronto, Ese began her love for live performance through local theatre companies and festivals (Canada's largest ten-minute play festival, InspiraTO Festival; Vagina Monologues; A Memory, A Monologue, A Rant, and A Prayer; Any One of Us). Alongside Ese's involvement in theatre, she began studying improv through Second City Toronto where she completed all six levels as well as Second City's Conservatory program. Ese relocated to Vancouver to expand her training in improv at Instant Theatre, eventually became a cast member and frequent player. Her involvement in improv has enabled her to be a part of a successful improv troupes Nasty Women and Your Moms as well as being involved in comedy events and festivals throughout Vancouver and abroad. In addition to all of that, you can find Ese teaching improv at Vancouver comedy schools, Blind Tiger Comedy, and Instant Theatre, making a commitment in bolstering and creating a safe space for new and upcoming performers of diverse ethnic backgrounds.
Maarten Bayliss
Maarten is a comedian and musician who has worked with various improv and sketch groups. He has performed at The Del Close Marathon, The Vancouver International Improv Festival, Montreal Sketchfest, and locally at The Sunday Service, The Hero Show, and Paul Anthony's Talent Time.
Ryan Beil
Ryan Beil is an actor and comedian based in Vancouver, BC. Best known for a run of commercials for A&W restaurants, his legendary improv troupe the Sunday Service and a decade long career as an actor of note on stage and screen. When he's not performing he's watching baseball. He is also the co-founder of the comedy school Blind Tiger and curates a live venue called Little Mountain Gallery.
Ronald Dario
Ronald Dario is a sketch comedian and improviser from Vancouver and an instructor at Blind Tiger Comedy. Ronald runs an all Asian-Canadian show called "Yellow Fever" with Tin Lorica and Matty Vu. Ronald has performed at JFL NorthWest, the UCB Theatre's Del Close Marathon (New York), the Vancouver International Improv Festival, and the Vancouver Sketch Comedy Festival. He also regularly performs at local shows like The Hero Show, Sidekicks, and Weird Al Karaoke.
Fatima Dhowre
With her charming smile and wit, Fatima Dhowre has quickly established her place in Vancouver's thriving comedy scene. Fatima's been featured in Just For Laughs, Winnipeg Comedy Festival, JFL NorthWest, Sirius XM's Next Top Comics , CBC's The Debaters and Laugh Out Loud.
Allie Entwistle
Allie is an improviser and sketch comedian living in Vancouver. She is one half of the Vancouver Comedy Award winning improv and sketch power-duo Brunch, and one tenth of the all-female super group Nasty Women. Recently, she's performed at JFL Northwest, Improvaganza, Toronto Sketchfest, and with Vancouver Improv Festival's International Ensemble. Allie is the Artistic Producer at Improvcamp, a summer camp for teens who love improv and has over a decade's experience working with youth of all ages. She is a faculty member of Blind Tiger Comedy.
Savannah Erasmus
Savannah Erasmus is a nehiyaw-iskwew sohkihtakosiw (Cree woman with a strong voice) from Kikino, AB. She is a self-described glamorous comedian, indigenous storyteller, and producer who co-hosts the monthly poverty and comedy show Millennial Line! Hiy-hiy (thank you)!
Tine Lorica
Tin is an emerging queer Filipinx stand-up comedian and poet residing in Vancouver, BC. They co-host/produce a monthly comedy and poetry showcase called Millennial Line, which regularly features diverse and queer-forward lineups. In early 2019, Tin was nominated as Breakout Artist of the Year by the Vancouver Comedy Awards.
Aaron Read
Aaron Read is an improvisor, musician, and visual artist working out of Vancouver. He has been performing weekly with The Sunday Service since 2008 and has loved every minute of it (for real)! Previous experience includes being a founding member of Canadian Comedy Award nominated AKA Improv and a main stage player at Vancouver TheatreSportsTM. A few notable moments in Aaron's career include winning best improv troupe in Canada with The Sunday Service in 2012, a nomination in 2007 for best improv troupe with AKA improv, and performing alongside the likes of Bob Odenkirk (Mr. Show), and Paul F. Tompkins (Mr. Show). With over 12 years of improv experience including training from Alistair Cook (Instant Theatre), David Razowsky (Second City) and Lee White (Crumbs) Aaron has cemented himself as a creative and collaborative force in the improv world.
Amy Shostak
Amy Shostak (she/her) is an improvisor and theatre artist living in Vancouver, Canada. She started improvising with Edmonton's Rapid Fire Theatre in 2002, and she served as the company's Artistic Director for six years. Amy now lives in Vancouver, teaching improvisation with Blind Tiger Comedy, directing a monthly Maestro show, and performing weekly with Little Mountain Improv. She is Festival Director of The Vancouver Improv Festival, which takes place every fall. She also is a Lead Artist in the Arts + Health Project at Carnegie Community Centre, alongside Jeff Gladstone, collaborating with seniors and Elders to explore improvisation. Improv has taken Amy many places. She is so pleased to have been able to perform at festivals around the globe; FERIIR on Reunion Island, Monkeyfest in Bogota, Improvention in Canberra, The Lost in Translation Festival in Milan, and many more. She tours regularly with her improv duos Rå Power, with Joleen Ballendine, and Amy&Tom with Tom Hill.
In addition to improvising, Amy writes and performs sketch comedy in her Canadian Comedy Award- nominated sketch duo Gossamer Obsessions with Paul Blinov. Amy is also passionate about dialogue and civic engagement; in Edmonton, she served as co-chair of Make Something Edmonton, and she recently completed her certificate in Dialogue & Civic Engagement from SFU.
---
Registration Disclaimer:
As this event is free, and free events routinely have a high number of no-shows, it is our policy to overbook. Seating is limited and will be available to registered attendees on a first-come, first-served basis. We will, however, do our best to accommodate everyone.
---
Venue Accessibility
312 Main is located at the corner of Main and Cordova. Please enter from the Cordova Street entrance. There will be volunteers to greet you at the door. Our event will take place on the third floor.
Getting there
312 Main can be reached via the R5, 4, 7, 22, 19, 14, and 16 bus routes.
Parking
312 Main does not have on-site parking, but there is metered parking in the neighbourhood and there are covered parking garages on 306 Cordova Street, 144 Cordova Street and 437 East Hasting.
Wheelchair Accessibility
312 Main is a wheelchair accessible venue.
Gender-Neutral Washrooms
There are wheelchair accessible, gender neutral washrooms with individual stalls.
If you have any questions, concerns, or comments regarding this event's accessibility, feel free to connect with us at psqevent@sfu.ca or 778-782-9442. To book childminding or any language interpretation/activation please email us by March 25.
We respectfully acknowledge that this event takes place on the Unceded, Traditional, Ancestral Territories of the Sḵwx̱wú7mesh, səl̓ilw̓ətaʔɬ, and xʷməθkʷəy̓əm First Nations.
---
This event is part of SFU Public Square's 2020 Community Summit Overcoming Inequality. For information about the other events we have running between April 1 - 9, go here.
Do you find events like these interesting? Stay informed about SFU Public Square's upcoming events by signing up for our newsletter here.
Supporters:
Media Partners:

1251 Views - 05/04/2020 Last update
312 Main | Gathering Space
312 Main Street , Vancouver, BC, CA
---
Are you an event organizer?
Create events for free. They will be immediately recommended to interested users.
Create event
Nearby hotels and apartments
312 Main Street , Vancouver, BC, CA
---
---
312 Main | Gathering Space
312 Main Street , Vancouver, BC, CA
Event from
eventbrite.com
---
---
Are you an event organizer?
Create events for free. They will be immediately recommended to interested users.
Create event
West End

›