CBAP Certification Training Course Toronto, ON | CBAP Exam Prep & Boot Camp - Weekdays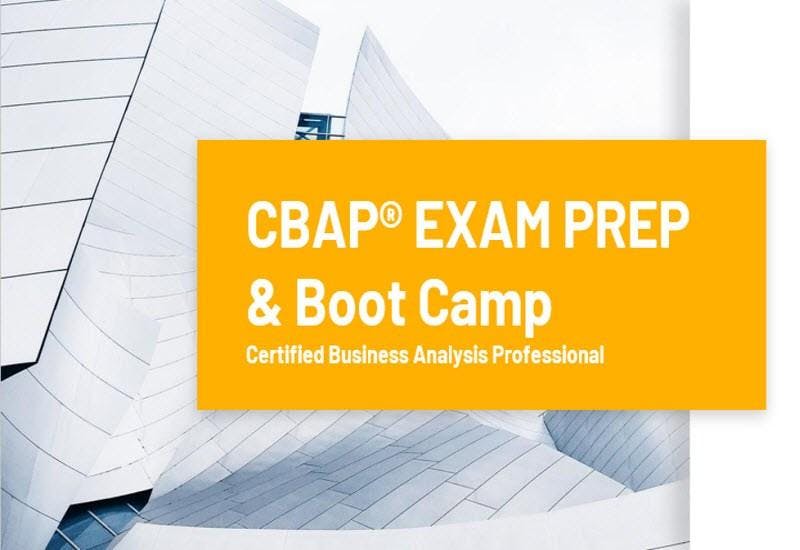 Image from eventbrite.ca
From Mon 22 July 2019 to Thu 25 July 2019
From Monday 22 July 2019 to Thursday 25 July 2019
---
For more details and registration, please visit the CBAP Exam Prep Course Page
Prepare for the Certified Business Analysis Professional™ (CBAP®) & (CCBA®) certification examinations with our Training Course & Boot Camp. The CBAP® and CCBA®designation are marks of distinction for intermediate and advanced-level practitioners, recognizing their demonstration of the knowledge and skills necessary for effectiveness and a professional level of competence in business analysis principles and practices.
This CBAP / CCBA Training Course is designed to assist you in your preparation for the certification. It focuses attention on key concepts and the six knowledge areas of the Business Analysis Body of Knowledge BABOK® Guide v3 for the greatest preparation efficiency and effectiveness.
CBAP Exam Prep Course Information
Training Type: Classroom Training.
Location : Downtown Toronto ( 1 Yonge St, Suite 1801- Executive Boardroom ). The training is also offered at other locations including Mississauga, Scarborough, Ottawa & Montreal. Please contact to discuss an alternate course location.
Fee : $950 plus tax
Duration: 4 days ( 10 AM – 5 PM)
Options: Weekdays ( Monday – Thu) OR Weekends ( 2 Weekends )
Number of students per session: Our CBAP Exam Prep class sizes are typically 4-6 students per session. Our CBAP classes are intentionally kept small in order to foster more interaction between the instructor and students. We limit classes to a maximum of six (6) students unless we are teaching a private group or organization.
Special Offers: Sign up with a friend and save 5% each – With 2 friends :10% – 3 friends: 15%
Corporate Training: Contact us for special offers : Daily Training fee or per trainee options
CBAP Course Topics
1- Introduction To BABOK® Guide
What is the Business Analysis Body of Knowledge?
What is Business Analysis?
Who is a Business Analyst?
Structure of the BABOK® Guide
Knowledge Areas
Tasks
Techniques
Underlying Competencies
Other Sources of Business Analysis Information
2- Business Analysis Key Concepts
The Business Analysis Core Concept Model™
Key Terms
Requirements Classification Schema
Stakeholders
Requirements and Designs
3- Business Analysis Planning And Monitoring
Plan Business Analysis Approach
Plan Stakeholder Engagement
Plan Business Analysis Governance
Plan Business Analysis Information Management
Identify Business Analysis Performance Improvements
4- Elicitation And Collaboration
Prepare for Elicitation
Conduct Elicitation Activity
Confirm Elicitation Results
Communicate Business Analysis Information
Manage Stakeholder Collaboration
5- Requirements Life Cycle Management
Trace Requirements
Maintain Requirements
Prioritize Requirements
Assess Requirements Changes
Approve Requirements
6- Strategy Analysis
Analyze Current State
Define Future State
Assess Risks
Define Change Strategy
7- Requirements Analysis And Design Definition
Specify and Model Requirements
Verify Requirements
Validate Requirements
Define Requirements Architecture
Define Design Options
Analyze Potential Value and Recommend Solution
8- Solution Evaluation
Measure Solution Performance
Analyze Performance Measures
Assess Solution Limitations
Assess Enterprise Limitations
Recommend Actions to Increase Solution Value
9- Underlying Competencies
Analytical Thinking and Problem Solving
Behavioral Characteristics
Business Knowledge
Communication Skills
Interaction Skills
Tools and Technology
10- Techniques
01 Acceptance and Evaluation Criteria
02 Backlog Management
03 Balanced Scorecard
04 Benchmarking and Market Analysis
05 Brainstorming
06 Business Capability Analysis
07 Business Cases
08 Business Model Canvas
09 Business Rules Analysis
10 Collaborative Games
11 Concept Modelling
12 Data Dictionary
13 Data Flow Diagrams
14 Data Mining
15 Data Modelling
16 Decision Analysis
17 Decision Modelling
18 Document Analysis
19 Estimation
20 Financial Analysis
21 Focus Groups
22 Functional Decomposition
23 Glossary
24 Interface Analysis
25 Interviews
26 Item Tracking
27 Lessons Learned
28 Metrics and Key Performance Indicators (KPIs)
29 Mind Mapping
30 Non-Functional Requirements Analysis
31 Observation
32Organizational Modelling
33 Prioritization e
34 Process Analysis
35 Process Modelling
36 Prototyping
37 Reviews
38 Risk Analysis and Management
39 Roles and Permissions Matrix
40 Root Cause Analysis
41 Scope Modelling
42 Sequence Diagrams
43 Stakeholder List, Map, or Personas
44 State Modelling
45 Survey or Questionnaire
46 SWOT Analysis
47 Use Cases and Scenarios
48 User Stories
49 Vendor Assessment
50 Workshops
11- Perspectives
The Agile Perspective
The Business Intelligence Perspective
The Information Technology Perspective
The Business Architecture Perspective
The Business Process Management Perspective
CBAP Practice Tests & Sample Exam Questions
You will get Unlimited practice to 500+ exceptionally realistic CBAP exam questions for 6 months. All the questions correspond to the latest version of the exam and the Business Analysis Body of Knowledge BABOK® Guide v3.
CBAP Exam Practice Tests & Sample Exam Questions
Who Should take this course
Intermediate to advanced-level business analyst


Business systems analyst


Systems analyst


Project manager or team leader


Systems architect or designer


IT manager/director


Scrum master


CBAB / CCBA Exam Requirements
Applicants are expected to review the CBAP® Handbook for complete information on application criteria, fees, and details on how to apply.
Our Business Analysis Courses:
CBAP Exam Practice Tests & Sample Exam Questions
Fundamentals of Business Analysis Course: Self-Paced Learning
PMI-PBA Certification Exam Prep : Classroom Training
PMI-PBA Exam Prep : Self-Paced Learning
PMI-PBA Exam Practice Tests & Questions
CBAP Certification Training Course: Classroom Training Toronto
15877 Views - 26/07/2019 Last update
culture
art
education
business
courses
sports
PMVISION Training
1 Yonge St, Suite 1801, Toronto, Ontario, Canada
---
Are you an event organizer?
Create events for free. They will be immediately recommended to interested users.
Create event
Nearby hotels and apartments
1 Yonge St, Suite 1801, Toronto, Ontario, Canada
---
---
PMVISION Training
1 Yonge St, Suite 1801, Toronto, Ontario, Canada
Event from
eventbrite.ca
---
---
Are you an event organizer?
Create events for free. They will be immediately recommended to interested users.
Create event
Toronto

›