BRA Day Montreal - MUHC
Wednesday 18 October 2017 4:30 PM Wednesday 18 October 2017 8:00 PM
Save (1)
Saved (2)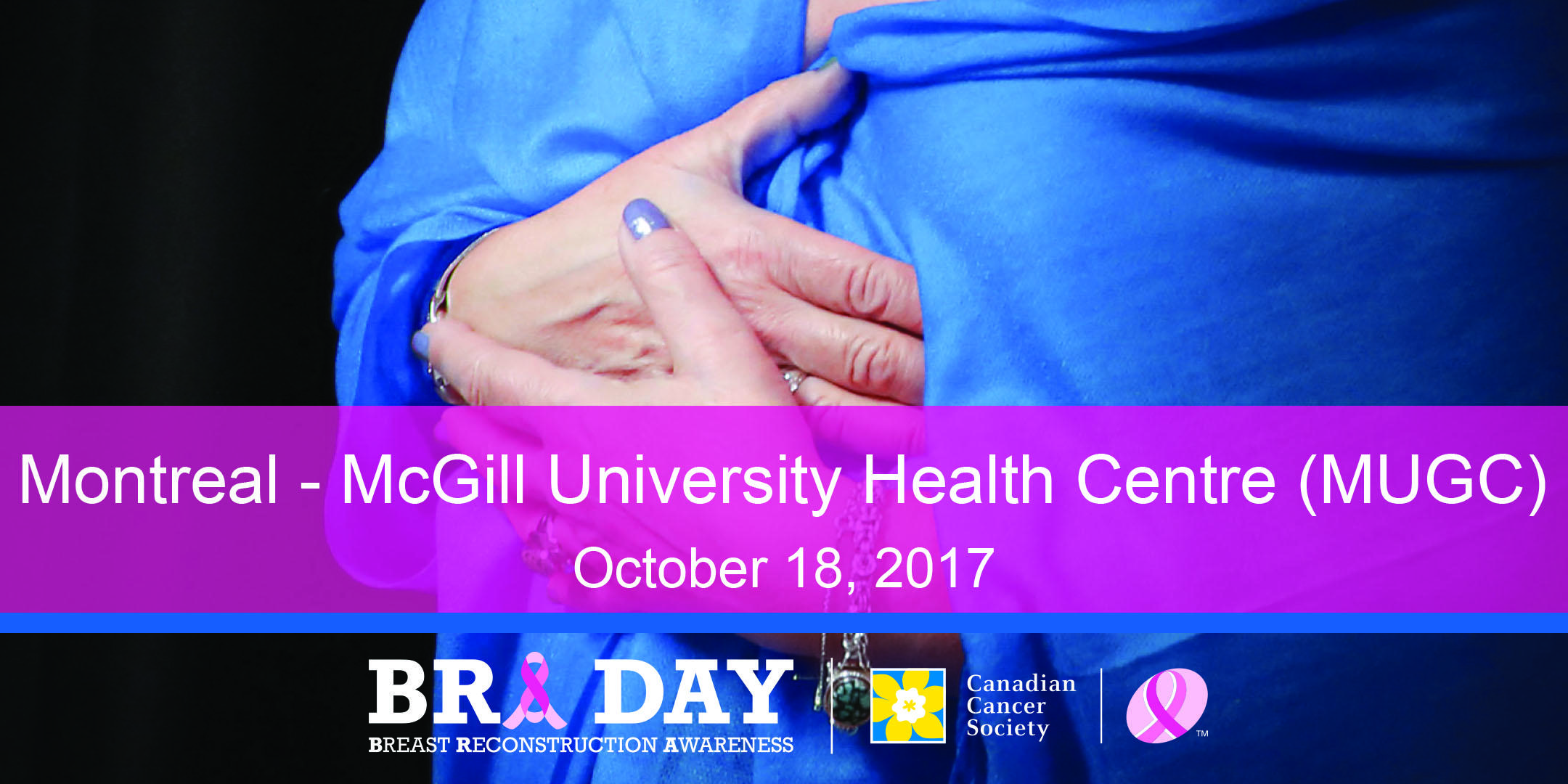 Last update 19/10/2017
351263
Breast Reconstruction Awareness day at the MUHC
Free Parking!
An evening of information for those considering breast reconstruction surgery – join us for an in-depth discussion on options available to you at the MUHC.
This MUHC educational event will bring together an expert medical panel made up of plastic surgeons, general surgeons, geneticist and patients to outline the breast reconstruction options available to you at the MUHC. Our expertise is here to help you! This will be an opportunity to get answers to many questions and learn what new techniques are available to help you make the right choice for your health. If you have received a diagnosis or not – information is key!
This is a free and open event – all are welcome.
Following the panel and question and answer period all are invited to attend a reception with sushi from Sushi Shop, cupcakes and cake-pops from Mr. Cupcake as well as beverages (coffee, tea etc) from Presse Cafe –
There will also be doing a drawing for two floral arrangements from Florateria as well as a gift basket from Johnson & Johnson and each guest will receive a coupon for a free ClearPoint medical Bra.
All guests will also receive a gift bag from the Division of Plastic Surgery which will include a MUHC water bottle, MUHC pen and pad, literature on breast reconstruction from our national sponsors Allergan and Mentor as well as an individually wrapped cake-pop and much more!
With any questions related to this event, please contact:
Contact Name: Angela Alston          
Contact Email: plastic.surgery@muhc.mcgill.ca
If you registered and are unable to attend, please inform the event organizer listed above.
courses
sweets
basketball
Nearby hotels and apartments
Research Institute of the McGill University Health Centre
1001 Decarie Blvd, Montreal, QB, Canada
Research Institute of the McGill University Health Centre
1001 Decarie Blvd, Montreal, QB, Canada