BPW Canada National Convention 2018
Friday 10 August 2018 12:00 PM Sunday 12 August 2018 12:00 PM
Save
Saved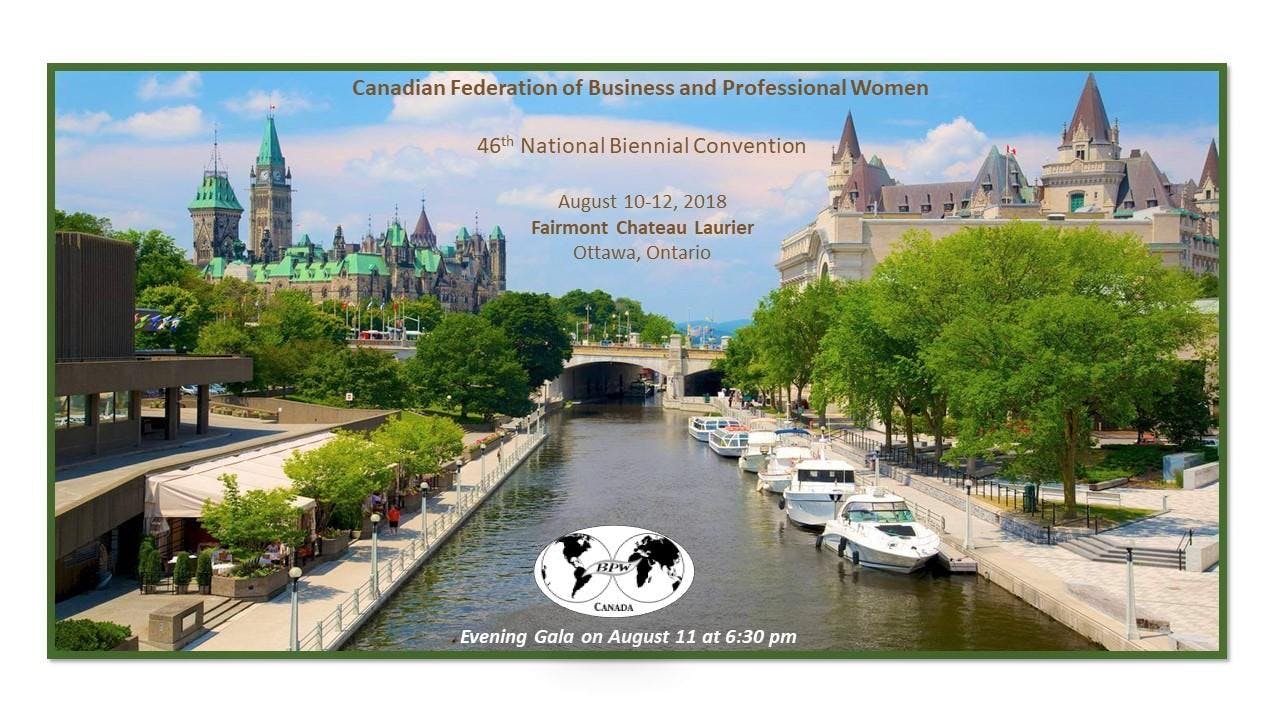 Last update 13/08/2018
2224
BPW Canada is celebrating the 70th Anniversary of the Universal Declaration of Human Rights and showcasing its commitment to advance the Sustainable Development Goals during its 46th Biennial Convention in our nation's capital, Ottawa. 

 In addition to the business portion of the Convention, an exciting program is being finalized which includes:
High Profile Speakers such as Chief Commissioner Marie-Claude Landry from the Canadian Human Rights Commission, Professor Claudette Commanda, Elder in Residence from University of Ottawa and Minister Counsellor Else Kveinen from the Royal Norweigan Embassy to mark the 70th Anniversary of the Universal Declaration of Human Rights during Friday Opening Ceremony.   Mayor Jim Watson will deliver welcome remarks at the Opening Ceremony.  Senator Lillian Eva Dyck, First Female First Nations Senator of Canada will address the attendees at the Saturday SDG Gala.  BPW Canada's 2017 Centennial Award Recipient, Carleton University's Centre for Women in Politics and Public Leadership, will be represented by Clare Beckton.  Councillor Marianne Wilkinson will deliver welcome remarks at the SDG Gala.
Opening ceremony on Friday evening at 6:30 pm will be held off-site at a Canadian Heritage Landmark nearby and begin with vocalist Sabaya Farjon.
Evening SDG Gala with Canadian Soprano Nadia Petrella on Saturday evening at 6:30 pm will be held at the Fairmont Chateau Laurier with BPW International Representatives from the Caribbean, Egypt and Nepal as well as leaders from government, business and civil society.

Pre-convention group tours of Parliament Hill on Friday (12 noon & 2 pm - East Block tours in two smaller groups; 1:30 pm Centre Block tour altogether; Space is limited and so we will book on a first come first served basis).  Registrants will have a light snack right across Parliament Hill before or after the scheduled tours.
Post-convention tours (not included in your registration fees):
(1) Rideau Canal UNESCO World heritage site;  
http
://
rideaucanalcruises.ca
/en/schedule-and-rates
(2) Museum of History with the Franklin Exhibition;  
https
://
www.historymuseum.ca
/franklin/
(3)
National Gallery of Canada with Indigenous Gallery
;  
https
://
www.gallery.ca
/visit/hours-and-admission/buy-tickets
(4) Bank of
Canada Museum
.  
https
://
www.bankofcanadamuseum.ca
/visit/your-visit/
Core Business sessions will run Saturday, August 11 (8 am to 5 pm) and Sunday August 12 (8 am to 12 Noon).
Early Bird Registration ends on July 1st and includes all events such as the opening ceremony and gala.
FAQs
How can I contact the organizer?
Please email BPW with any questions about the 2018 National Convention at convention@bpwcanada.com
What is on the agenda for the Convention?
Convention documents will be posted closer to the event and can be accessed on the BPW Canada website by logging into the Member's Area. 
What else can I do while in Ottawa?
Visit www.ottawatourism.ca to learn more about things to see and do in our nations capital. 
Where can I stay during the convention?
Please book your room online at  https://aws.passkey.com/event/49599474/owner/5915/home You may also book by calling 1 800 441 1414 at the Fairmont Chateau Laurier before July 10 for a discounted room reservation rate of $249/night.  Please identify yourself as a Member of "The Canadian Federation of Business and Professional Women".  Check in is at 3 pm and check out is at  noon.
How much will it cost to get to the hotel from the airport?
Transportation to the hotel can cost $30-$40 each way by Taxi.  If you are arriving as a group of 3-5, the Ottawa airport shuttle can be arranged at $20-$25 per person.  You can call them at 613 327 9060 or email them directly at shuttlejetservices@gmail.com or you can book online at http://www.shuttlejetservices.com/chateau-laurier-hotel-ottawa-taxi-shuttle-limousine.html
Where can I park during the convention?
Valet Parking is available to all registered hotel guests at $45/day.  Alternative off-site self parking at reduced rates is available at http://www.fairmont.com/laurier-ottawa/promotions/alternate-parking/
culture
nightlife
business
education
politics
Museum
Nearby hotels and apartments
Fairmont Château Laurier
1 Rideau Street, Ottawa, Ontario, Canada
1 Rideau Street, Ottawa, Ontario, Canada