Boss Babe Exclusive Women In Business Training And Networking Event
COVID-19: many events have been canceled or postponed, please check with the organizer the event status.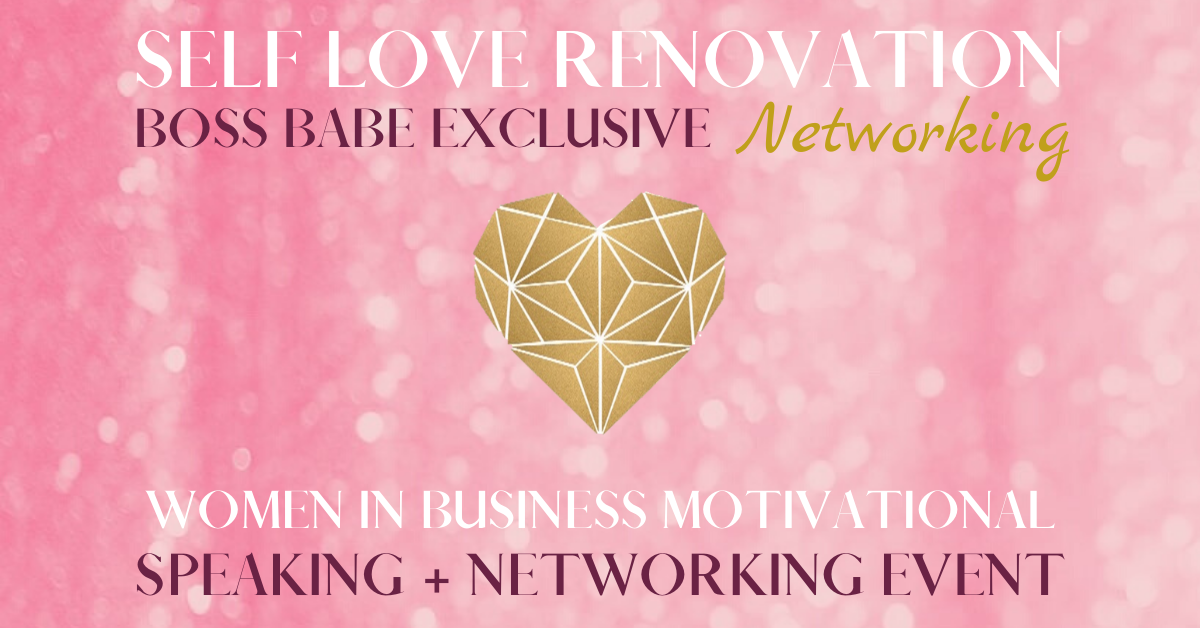 Image from eventbrite.com
---
Self Love Renovation's Boss Babe Exclusive
Women in Business Training + Networking Event
Come boss up your life ! Join us with your passion filled with a room full of purpose !
What is Self Love Renovation?
Self Love Renovation Women Empowerment movement is...
To support women in becoming intuitive heart centered present strong and limitless beings...
To remind and remember you hold no limits or conditions and are wildly capable of all you desire...
Encouraging you to rise above the fears, worries and doubts that say you cannot and every single day confidently and intentionally proving you can...
Creating the ability to have the courage to remove old conditioning and beliefs taking off the "safety net"
To be honorably your authentic self with trust to unapologetically share your truth releasing all validation except one's own...
Taking action to define one's own destiny presently and intentionally...
What is the Self Love Renovation Woman Empowerment Movement?
These events were created to bring together mind like women that are ready to take the power of their own destiny. Here we come together to reflect & reset the mind through loving yourself authentically just as you are. Through self love & positive intention anything is possible! Once we release our past conditioning & belief systems the ability to become limitless is created. Supportive and knowledgeable information that will help us all grow to our highest potential without fear or self doubt is shared here. It allows encouragement in becoming mindful of our authentic self & creating the ability to live our best life. Celebrating gratitude & kindness to embrace a deeper relationship of empowerment & self love! We create the opportunity to create our passions into our purpose!
What is a Boss Babe Exclusive Networking event?
This is a monthly evening event hosted by Self Love Renovation to bring together w omen in business to network, learn and grow.
This event is hosted on the fourth Saturday of every month between 6-10pm.
The Boss Babes was created to get a chance to connect with mind like women
and empower the ability to grow our vision as a tribe! This event will create an opportunity for local boss babes to meet each other creating the ability to do so many different things!
-Expand our network and promote our passion
-Create new collaborations, connects and community
-Discuss feedback regarding other boss babe's methods for success
Each month we feature 6 women in business that have the opportunity to display their passion to the community. We Also have two featured guest speakers that share their experience within the community and personal advice to help each other continue to flourish and grow. Each month we include different methods and topics for social media marketing training segments to complete this evening.
Boss Babe Exclusive Networking Extras!
Hot beverages and Refreshments
Swag bags + Door prizes
We host a social media handle loop with all guests!
***Hot food and wine available for purchase***
What is a social media loop?
We create a template that includes all guest's Facebook and Instagram handles(names). The day of the event each guest receives this in their event package, we then like and follow everyone on the list. By doing so we create the opportunity to create an increase of engaged social media followers at no cost!
Where is this event located?
The Joyful Café
Located downstairs at The Village Lifestyle Centre
4039 Brentwood Road Calgary NW
What is the Investment?
$40
Payment methods available
The website: www.selfloverenovation.com
Via E-transfer: selfloverenovation@gmail.com
How does being a featured vendor work?
Featured vendors receive a 4-foot table to display their passion as well as experience the full event.
Investment is $40(same as a guest) plus a door prize
Once you have registered for the event you will need to introduce yourself with a picture to the Facebook event and share the event once before the event with your community.
How does being a guest speaker work?
Guest Speakers receive a 30 minute time slot we request 20 minutes valuable content aligned with the community and 10 minutes personal exposure of your product or services you have to offer. You have the opportunity to provide brochures and or business cards for the guests packages. You will also still have the opportunity to experience the whole evening of events.
Investment is the same as a guest: $40
How to Become a Featured Vendor or Guest Speaker?
Please contact us!
1542 Views - 24/05/2020 Last update
the village
4039 Brentwood Road Northwest, Calgary, AB, CA
---
Are you an event organizer?
Create events for free. They will be immediately recommended to interested users.
Create event
Nearby hotels and apartments
4039 Brentwood Road Northwest, Calgary, AB, CA
---
---
the village
4039 Brentwood Road Northwest, Calgary, AB, CA
Event from
eventbrite.com
---
---
Are you an event organizer?
Create events for free. They will be immediately recommended to interested users.
Create event
Calgary

›