Autism Ontario - Whitby - Family Gymnastics Evening/Activité de gymnastique en famille
Saturday 25 August 2018 10:30 AM Saturday 25 August 2018 12:00 PM
Save
Saved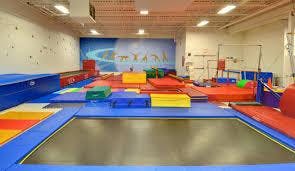 Last update 26/08/2018
54
Join us for an evening of gymnastics.

There are

NO SHOES

allowed in the

gym

or in the

lobby

.  You may wear socks or bare feet (please feel free to bring your slippers as well). We recommend that children do not wear any jewelry to avoid injury or it getting damaged.
Please note: our clocks are 5 minutes behind to allow for late comers and smooth transitions.

Joignez-vous à nous pour une activité de gymnastique.
IL EST INTERDIT DE PORTER DES CHAUSSURES dans le gymnase ou dans le hall d'entrée. Vous pouvez porter des bas ou des pantoufles, ou rester pieds nus. Il est préférable que les enfants n'aient pas de bijoux sur eux pour éviter tout risque de blessure ou pour ne pas les endommager.
Supervision of children/youth at this Social Learning Opportunity is the sole responsibility of parents/guardians and caregivers; childcare will not be provided.  Caregivers must remain present.
Due to allergies and sensitivities, please refrain from wearing perfume, cologne, aftershave, or scented products such as hairspray or lotion.
It is recommended that you (the participant) consult with your physician prior to the start of any physical activity.  By registering for or participating in an Autism Ontario program or event, the participant agrees that the participant is and will be voluntarily participating in these activities and the participant assumes all risks of injury or death, which might result from these activities.
***
Comme certaines personnes souffrent d'allergies et d'intolérances diverses, nous vous demandons de ne pas utiliser de parfum, d'eau de Cologne, de lotion après rasage ni de produits parfumés comme les fixatifs ou les lotions pour le corps.
Nous recommandons à tous les participants de consulter leur médecin avant le début de toute activité physique. En s'inscrivant ou en participant à un programme ou à une activité d'Autisme Ontario, les participants reconnaissent que leur participation aux activités proposées s'effectue sur une base volontaire et qu'ils sont prêts à assumer tous les risques de blessure ou de décès pouvant résulter de ces activités.
Nearby hotels and apartments
Planet Gymnastics
105 Industrial Drive, Whitby, ON, Canada
105 Industrial Drive, Whitby, ON, Canada