The Authentic Connection Movement 2018
Friday 22 June 2018 12:00 PM Friday 22 June 2018 5:30 PM
Save
Saved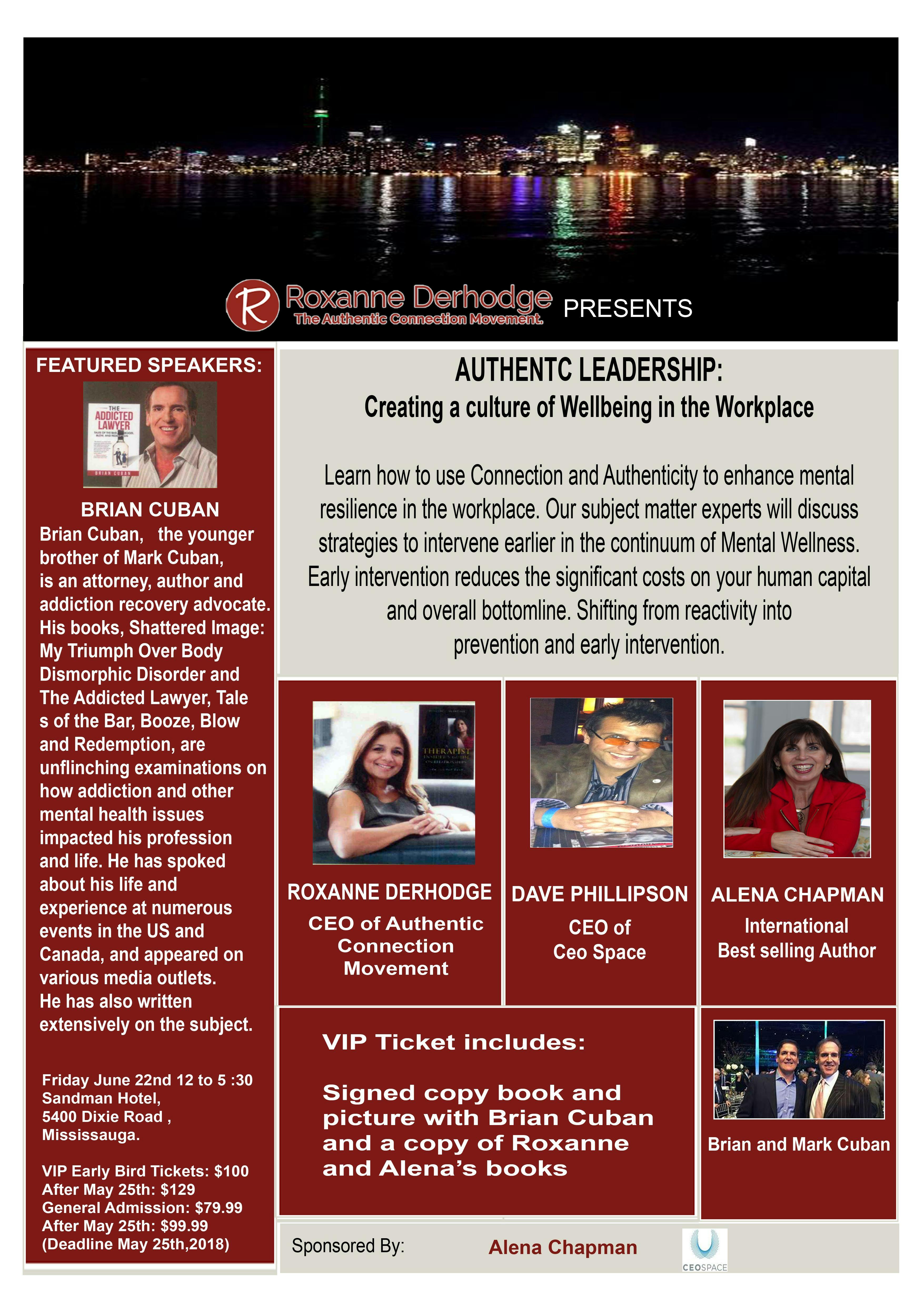 Last update 23/06/2018
218434
Authentic Leadership:
Creating a culture of Wellbeing in the Workplace
Learn how to use Connection and Authenticity to enhance mental residence in the workplace. Our subject matter experts will discuss strategies to intervene earlier in the continuum of Mental Wellness.
Early intervention reduces the significant cost of your human capital and over bottomline. Shifting from reactivity into prevention and early intervention.
Event Specialist:
Roxanne Derhodge: CEO of Athentic Movement -Psychotherapist, Mental Heath and Wellness Expert
Dave Phillipson - Director Of Global Development
Alena Chapman: International Best Selling Author 
Feature Speaker: Brian Cuban
Brian Cuban, the younger brother of Mark Cuban, is an attorney, author and addiction recovery advocate. His books, Shattered Image - My Triumph Over Body Dysmorphic Disorder and The Addicted Lawyer - Tales of the Bar, Booze, Blow and Redemption, are unflinching examinations on how addiction and other mental health issues impacted his profession and life.  He has spoked about his  life and experience at numbers of  events in the USA and Canada, including appearing on various media outlets. He has also written extensively on the subject.
Friday June 22 2018
Sandman Hotel 
5400 Dixie Road, Mississauga 
Ontario, Canada
VIP Early Bird Tickets
$100.00 ((Deadline May 25, 2018)
After May 25th $129.00
General Admission: $79.99
After May 25th: $99.99
(Deadline May 25, 2018)
Company Booths and Company Tables Available : Please contact Roxanne@Roxannederhodge.com
culture
trade shows
expos
Nearby hotels and apartments
5400 Dixie Rd
5400 Dixie Road, Mississauga, ON, Canada
5400 Dixie Road, Mississauga, ON, Canada