The Art of Feminine Leadership with Jami Young
COVID-19: many events have been canceled or postponed, please check with the organizer the event status.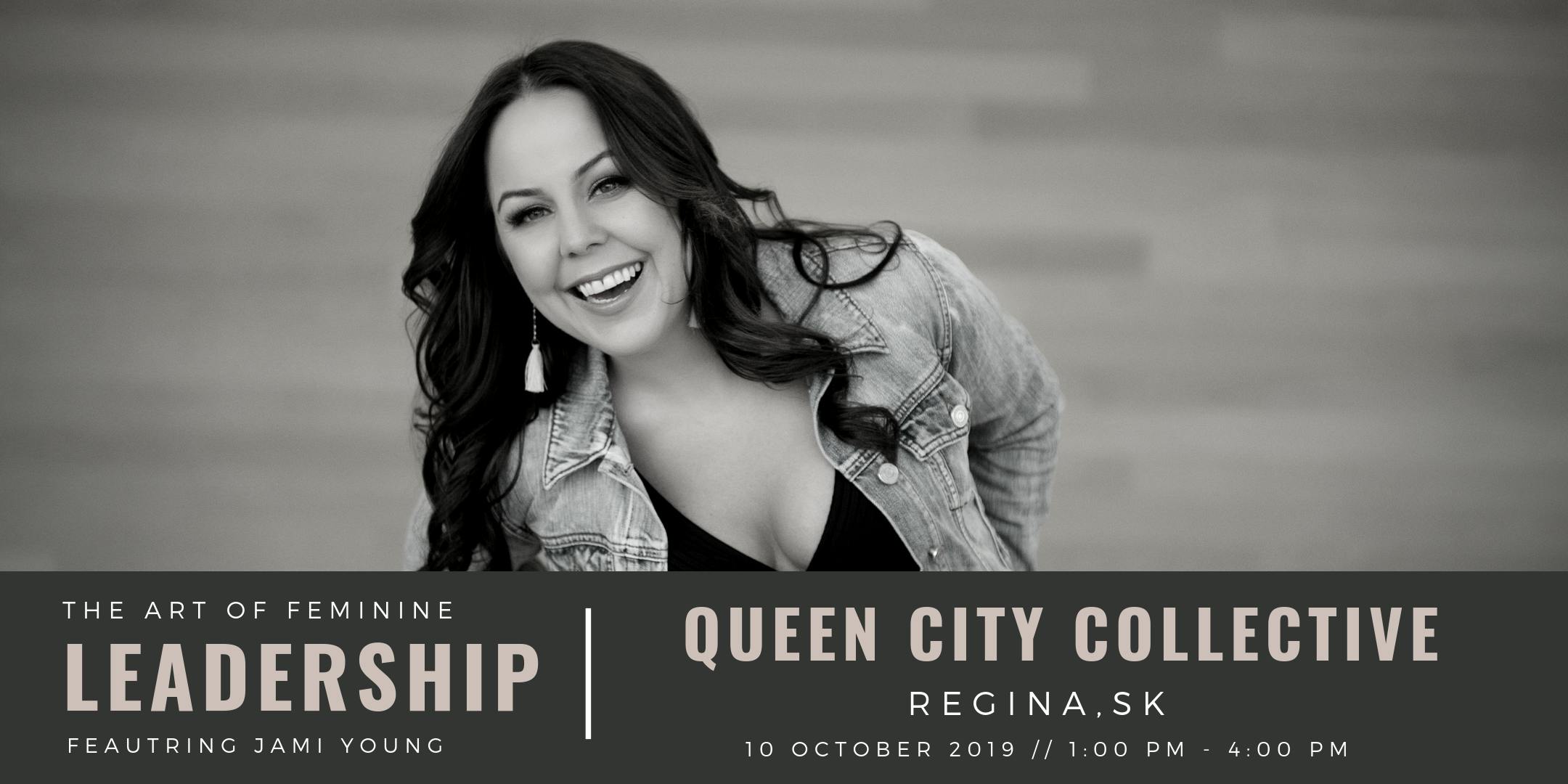 Image from eventbrite.com
---
For today's enlightened, ambitious, and high-achieving women, success means so much more than breaking barriers, rising to the top, and reaching our highest professional aspirations. As we strive to realize our big goals and bold dreams, we're also seeking freedom and personal fulfillment. And while we aim for greatness in our work and organizations, we're also committed to making a difference in the lives of those we lead, love, and serve.

In this energizing, inspiring, and interactive session, attendees will:

// Learn the four essential questions that every woman should be able to answer with confidence and conviction
// Explore the six fundamental shifts that embolden us to lead with more joy, presence, and conscious consistency

// Examine the factors and forces that can keep us small, stuck, and unsatisfied in our lives, work, and relationships
OTHER IMPORTANT DETAILS:
// Early commitment pricing is in effect until Wednesday, September 25.
// The last day to register for the Art of Feminine Leadership is Tuesday, October 8.
// On the day of the workshop, kindly arrive 10 minutes early in order to allow yourself time to settle in. We will begin promptly at 1:00 pm and the doors will be closed.
// You may wish to bring water or another beverage of your choice.
// You are encouraged to dress for comfort and ease.
// Please be sure to bring a pen and a journal in order to capture all of your ahah's.
*PLEASE NOTE: No refunds will be available for this event unless cancelled by organizer.
---
WHAT OTHER WOMEN HAVE SAID ABOUT WORKING WITH JAMI:
"My work with Jami Young has brought more value to my personal and professional life than any other single piece of formal or informal education I have invested in to date.
Jami introduced me to concepts, tools and language in a unique style that enabled me to rapidly deepen and widen my personal leadership skills. With Jami's coaching, I was able to truly understand, articulate and use my natural strengths to discover my true place of service. Jami's compassionate and insightful support has inspired me to show up, play big and celebrate. Without Jami, I would not have found the fiercely needed confidence and clarity to bravely pursue professional work that deeply resonates with me.
I will remain eternally grateful to Jami for the accessible and diverse ways that she offers her services and for bravely shining her light for me."
Lana Wickstrom, Separation Specialist
---
"Jami turns leadership mentoring on its head by (gently) forcing clients to look inward before venturing outward. She creates a safe space for the contemplation that this type of work requires and assists clients in identifying their core desires, purpose, and power.
Jami offers kind and supportive guidance to through and past roadblocks, and has been the root of so many success stories of women who went for that promotion, found their true passion, started that business, built that network and gained financial and professional freedom. Her teachings can apply to any woman at any stage in any career by providing real skills to help women accept, respect and revere themselves like they never have before".
Kelly Bode, Lawyer and Business Owner
---
"My work with Jami began almost three years ago with my main question of, 'What is next for me?' After spending many years feeling unsettled in my decision to be at stay at home mom, I came to discover that there is no where I'd rather be. There was much to discover about myself and though Rise by Design, I was able to get into layers of myself that I previously was unable to. In Feminine Leadershift, it became increasingly clear that I didn't believe in myself and my decisions. This made me question every decision and wonder, 'Am I on the right path?' Since I was uncomfortable in my own skin, every time I saw someone I admired living their best life and pursuing their dreams, I was seething with jealously and comparison. Since I have discovered this tendency in myself, I have been able to be a cheerleader for those friends and as a result, my relationships have improved ten fold making myself and those around me much happier. Through the feedback and support of the incredible women I shared time with over the past 2 plus years, I discovered that I am in fact being true to myself and I am now confidently thriving on my own path. Thank you Jami Young, the most beautifully articulate person I've ever met!
Christine Dragan
---
"Jami is one of the most honest facilitators I've had the pleasure of learning from. I never once felt uncomfortable sharing my point of view - she understands her participants, has empathy for their journey in life and is passionate about making them greater leaders in their communities."
Krista Martens, Entrepreneur and President of BPW Saskatoon
---
"As a professional woman closing in on 50, I found myself feeling very alone. Even though I was always surrounded by loving family, friends and colleagues, my joy for living was hidden under a thick layer of fear. Fear of acknowledging what was underneath the throbbing pain in my heart. I had a deep fear of not knowing how to be a whole woman. As I embraced the lessons and exercises Jami put forward to us, I began to feel safe and I was able to release the fear, and I blossomed. During our communion she gives us permission to celebrate our feminine power, beauty, intellect and individuality. She gives us a safe place to dig as deep as we can go so we can heal our wounds. She gives us space to be ourselves, right where we are at, and then uses her innate wisdom to challenge us to rise further. Through her thoughtful and engaging curriculum, she challenges us to be whole for ourselves, our families and our beloved friends, and to be a contributing individual in our communities."
Karen Bardi, Entrepreneur
---
ABOUT JAMI YOUNG:
Driven by the belief that all women have the capacity to create extraordinary lives, communities, businesses, and organizations, Jami Young is on a mission to make women's leadership development and training more accessible across the globe.
In her work as a Women's Leadership and Empowerment Coach, Jami guides female entrepreneurs, executives, and change-makers to boldly step into their desires, embrace their authenticity, and fiercely redefine success on their own terms. Through her online platform (www.jamiyoung.com) and live events, Jami calls women to rise into greater leadership by claiming their personal power, activating their unique brilliance, and unleashing the wisdom of their voices.
Jami is the creator of Rise by Design and The Feminine LeaderShift - innovative training programs for emerging and expanding women leaders. She is an award-winning community-builder and her work on leadership, business, and personal growth has been featured across a variety of media outlets.
In addition to being nominated for YWCA Women of Distinction awards in both 2015 and 2018, Jami was recognized as one of CBC's Future 40 and was also the recipient of the Athena Young Professional Leadership Award. For her volunteer efforts and philanthropic initiatives across Saskatchewan, Jami received an AFP Honoured Supporter award. Most recently, Jami was named the 2018 recipient of the BPW Canada Leadership Award.
Jami has formal training and credentials in fundraising, change management, and organizational leadership and governance, as well as more than a decade of experience in marketing, communications and resource development in a diversity of sectors including business, health, and the arts. Currently she is a speaker, writer, and teacher, and works with clients through private coaching and conscious business consulting.
PRESS:
Refined Article: https://refinedsk.com/jami-young-on-the-art-of-feminine-leadership/
CTV Interview (August 2018): https://saskatoon.ctvnews.ca/videoclipId=1471963
Hillberg & Berk Feature: https://sparkle.hillbergandberk.com/entrepreneur-mom-womens-leadership-coach-jami-young-helps-women-rise-design/
Refined Lifestyles Feature: https://refinedlifestyles.com/blogs/post/luminosity-2017-a-divine-soul-quenching-evening-with-jami-young
Jami Young Website: https://www.jamiyoung.com
72 Views - 11/10/2019 Last update
Queen City Collective
2054 Broad St 2nd Floor, Regina, SK, CA
---
Are you an event organizer?
Create events for free. They will be immediately recommended to interested users.
Create event
Nearby hotels and apartments
2054 Broad St 2nd Floor, Regina, SK, CA
---
---
Queen City Collective
2054 Broad St 2nd Floor, Regina, SK, CA
Event from
eventbrite.com
---
---
Are you an event organizer?
Create events for free. They will be immediately recommended to interested users.
Create event
Regina

›