Annual Congress on Cardiology, Nursing care & Research perspectives(CSE)AS
Wednesday 16 May 2018 9:00 AM Thursday 17 May 2018 5:00 PM
Save
Saved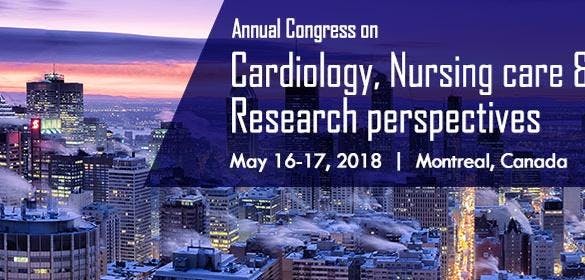 Last update 18/05/2018
2925
About the Conference
Conference Series  takes immense pleasure by cheerfully welcoming you all for the Annual Congress on Cardiology, Nursing care & Research perspectives to be held on May 16-17, 2018 Montreal, Québec, Canada organized by Conference Series which will bring together world-class cardiologists, scientists and professors to discuss strategies for disease remediation for heart in this cardiology conference. Cardiology Conference 2018 is designed to provide diverse and current education that will keep medical professionals abreast of the issues affecting the prevention, diagnosis and treatment of cardiovascular disease. Cardiology Conference 2018 will be organized around the theme "Novel Perspectives on Cardiology and Cardiac Nursing".
Cardiology Conference 2018 is comprised of 14 tracks designed to offer comprehensive sessions that addresses current issues in Pharmaceutical Regulatory Affairs. Conference Series  organizes 300+conferences, 500+workshops such as electrocardiography workshops, cardiology diagnosis workshops, cardio myopathy workshops, cardiology exhibitions and 500+ symposiums on Clinical, Medicine, Science & Technology. 
This conference will provide a comprehensive update on all medical, surgical, interventional, and electrophysiological topics in cardiology. Experts with national and international reputations in various cardio sub-specialties will address the latest guidelines, practice patterns and solutions in cardiovascular medicine. Additionally, attendees will learn about recent trials being practiced that are likely to influence future practices. Interactive sessions will include discussion of current controversies in clinical practice. The areas of cardiology will be covered include: Cardiovascular Disease, Imaging, Heart failure, Women Arrhythmias, Cardiac Prevention & Rehabilitation, Cardiovascular Surgery and Current Research in Cardiology.
Cardiology events are every year across USA, Europe, Asia, Middle East, Australia and UK that support cardiology medical conferences from 1000 more scientific societies and Publishes 500 open access journals which contains over 30000 eminent personalities, reputed scientists as editorial board members. Cardiology Conference 2018 Canada comes under Cardiology medical conferences. 
Cardiology Conference 2018 invites all interested participants to join us for this esteemed event at the exquisite destination Montreal, Canada. For more information: conferenceseries.com
Why to attend??
With people across the globe focused on finding a few solutions concerning Cardiology, Annual Congress on Cardiology, Nursing care & Research perspectives is the best platform to meet the eminent personalities of Cardiology. This scientific stage will allow the researcher to showcase their research work through presentations and have a chance to gain knowledge about the current situation of heart disease treatment and receive name recognition at this 2-day event. This year annual Cardiology Conference will comprises of 14 major sessions designed to offer comprehensive sessions that address current issues in various field of Cardiology. The attendees can find-
Exclusive Sessions and Panel discussions on latest innovations in Cardiovascular Disease and Heart Failure.
Poster presentation on all the highlighted topics of the conferences by the young researchers.
Keynote forums by Prominent Professors, Doctors
Open Innovation Challenges
Discussion on the new techniques and medicines in the field of Cardiology and Related Topics.
Best platform for Global business and Networking opportunities
Meeting of the editors of referred journals, Society and Association members across the Globe
Excellent platform to showcase and share the latest products and formulation ideas in Cardiac field.
Target Audience:
Cardiologists
Cardiac Surgeons
Scientists and Researchers
Medicinal Practitioner
University Professors
Cardiology Societies and their members
Founders and Employees of health-related companies
Medicine and cardiology institutes
Training Institutes
Physicians interested in the latest advances and techniques
Research Scholars and Students  
Pharma Companies
Annual Congress on Cardiology, Nursing care & Research perspectives will exhibit the products and services from commercial and non-commercial organizations like Cardiology related lab equipment manufacturers, Cardiac surgery laboratories, Clinical trial organizations, Business delegates.
Market Analysis
Scope: The Annual Congress on Cardiology have a wide degree comprehensively in managing cardiology understudies, cardiologists, researchers, inquire about researchers, therapeutic experts, driving restorative enterprises to champion proficient and social association with sister associations and effectively agree inside the investigation and safe use of the medication with respect and morals. The vision behind this world congress is to build a worldwide stage for cardiologists, cardiovascular specialists and analysts from widely acclaimed foundations to share and trade new clinical examinations and progressions in dealing with cardiac diseases. The scientific conferences include oral and poster presentations, seminars, and workshops from the professionals working within the field of medicine.
Market Value Globally: The global cardiology market includes interventional and cardiovascular devices. The global interventional cardiology devices market has been expected to grasp $25.16 billion by 2020. On the other hand, the Asia Pacific market is expected to go above $6.4 billion by 2022, growing at a lucrative rate over the forecast period. According to the report, in 2010 cardiovascular surgical devices used in the operating room were worth about $31 billion. By 2015, this market ranged almost $48 billion at a CAGR of 8.7%. By 2017, it is estimated to reach at a market value of $70 billion. The growth is attributed to the presence of large initial opportunities, rising healthcare expense, cardiovascular disease incidence rate and disposable income levels. North America interventional cardiology devices market was the largest with revenue share estimated at over 35.0% in 2013. Europe was the second biggest area in 2014, with rising occurrences of obesity and changing lifestyle habits as- irregularities in diet and evolving number of smokers are responsible for the happening of cardiovascular disease prevalence. 
Please contact the event manager Marilyn (marilyn.b.turner(at)nyeventslist.com ) below for:
- Multiple participant discounts
- Price quotations or visa invitation letters
- Payment by alternate channels (PayPal, check, Western Union, wire transfers etc)
- Event sponsorship
NO REFUNDS ALLOWED ON REGISTRATIONS
Prices may go up any time. Service fees included in pricing.
-----------------------------------------------------------------
This event is brought to you by:
Conferenceseries Ltd. - NewYorkEventsList
http://www.BostonEventsList.com
http://www.SFBayEventsList.com
-----------------------------------------------------------------
SHU180111CEV

culture
business
courses
conventions
Nearby hotels and apartments
Holiday Inn Montreal Aeroport- Airport
6500 Chemin de la Côte-de-Liesse, Montréal, QC, Canada
Holiday Inn Montreal Aeroport- Airport
6500 Chemin de la Côte-de-Liesse, Montréal, QC, Canada