Advancing Care: The Fundamentals of QI in the ED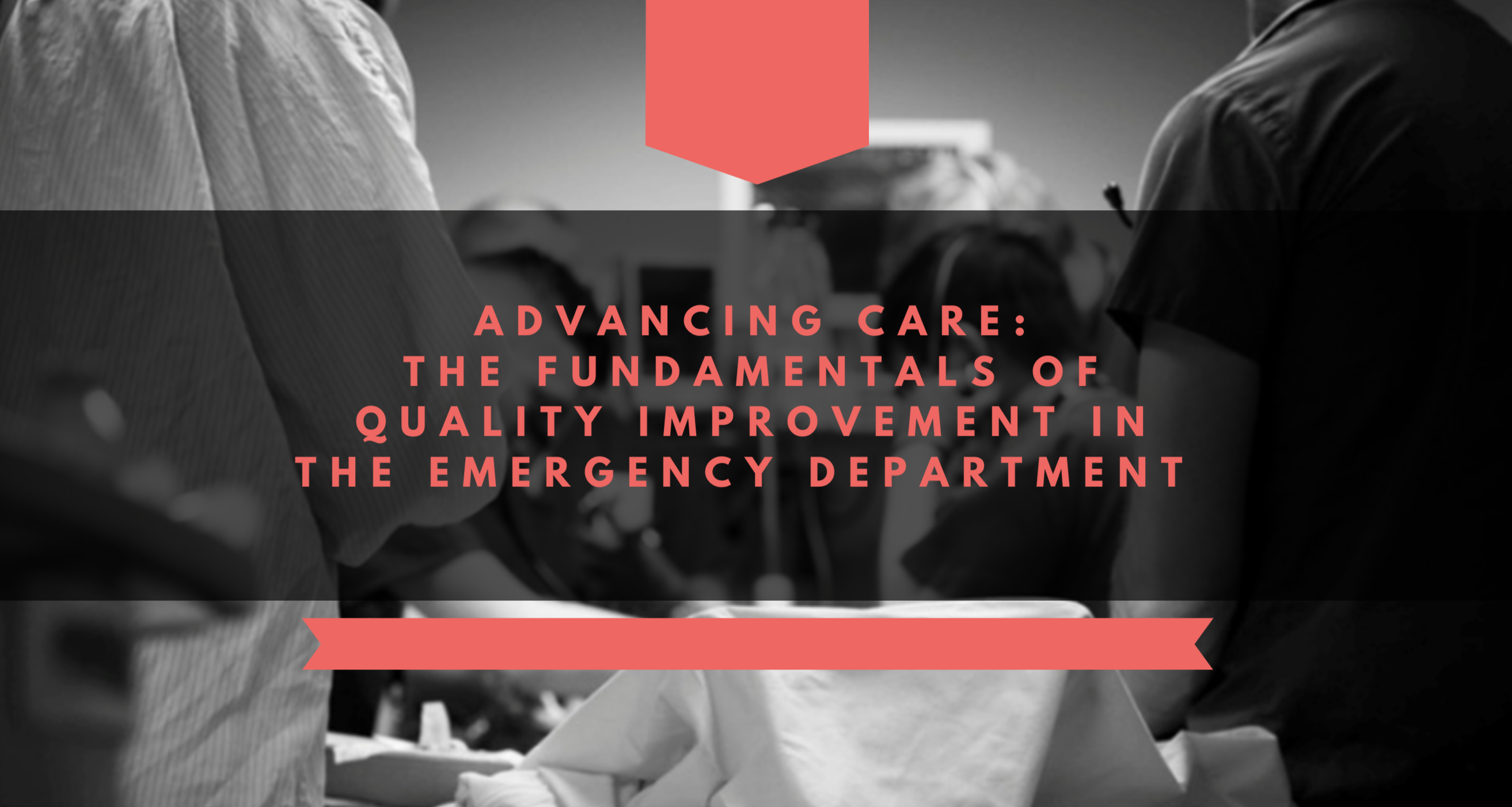 Image from eventbrite.com
---
Are you frustrated with issues in your work environment? Are you wondering where to start to improve care? And how will you even know whether you are successful? If you are looking to answer these questions and more, join us for the second CAEP Quality Improvement Pre-Conference Workshop!
Quality Improvement (QI) is rapidly becoming the preferred method to advance patient care. Whether you are interested in learning more about the science of QI or you are looking for an effective approach to tackle local quality issues, this practical workshop will provide you with the foundation and tools to successfully complete meaningful QI projects. We will go through all the steps of a QI project, including how to select appropriate quality issues to tackle, how to apply process improvement tools, and how to carry out a project using rapid cycle change methodology. In addition, workshop participants will have the opportunity to book individual consultation sessions with experienced course faculty after the workshop to discuss specific questions about their local quality projects. If you want to improve care, don't miss this high-yield practical pre-conference workshop opportunity!
Who should attend:
Any emergency department (ED) staff (e.g., physicians, nurses, or allied health care professionals) or trainees interested in improving patient care. No previous QI training or experience is required, and knowledgeable attendees are likely to still learn a lot! Participants are encouraged to come to the course with local quality issues in mind for discussion. Space is limited and is expected to fill up fast, so reserve your spot soon!
Learning objectives:
Apply QI theory and methodology to examples
Compare and contrast QI and clinical epidemiology methodologies
Review the importance of adequately diagnosing and understanding quality gaps
Effectively match the right intervention to a given quality problem
Apply rapid cycle change methodology (PDSA cycles) and measurement tools to QI projects
Explore ways to make your QI project sustainable and disseminate your work
Workshop Agenda:
08:00 - 08:30 - Introduction to QI science and methodology
08:30 - 09:00 - Review of the Model for Improvement for the ED
09:00 - 10:00 - Practical use of QI process tools and gap analysis
10:00 - 10:15 - Break
10:15 - 10:45 - Rapid-cycle change and PDSA cycles
10:45 - 11:15 - Measuring and evaluating local QI projects
11:15 - 11:45 - How to pick the right QI project & disseminating it
11:45 - 12:00 - Recap
Course Faculty:
Dr. Lucas Chartier
Lucas is the Deputy Medical Director and Director of Quality & Innovation in the ED at the University Health Network (UHN), in Toronto. He completed a Master of Public Health at the Harvard T.C. Chan School of Public Health with a focus in QI and patient safety (QIPS). He has served for the last few years as the Chair of the CAEP QIPS Committee and the Co-Chair of the UHN ED QI Committee. He is an Assistant Professor at the University of Toronto and the Toronto Central LHIN Lead for emergency medicine, and his academic interests include the development of capacity for QIPS in Canada. He has published and presented extensively on the topic, including internationally.
Dr. Samantha Calder-Sprackman
Sam is an emergency physician and QI Specialist for The Ottawa Hospital's ED QI Unit. She completed her Master of Science in QIPS at the University of Toronto. Sam has focused her improvement efforts in the areas of patient satisfaction, rational resource utilization and physician wellness. She has experience teaching QI and mentoring healthcare providers developing QI initiatives. Sam believes that the best way to find joy in work is to get involved in making positive change in the workplace, and is looking forward to help you improve patient care and provider satisfaction in your setting.
620 Views - 01/06/2020 Last update
Shaw Centre
55 Colonel By Drive, Ottawa, ON, CA
---
Are you an event organizer?
Create events for free. They will be immediately recommended to interested users.
Create event
Nearby hotels and apartments
55 Colonel By Drive, Ottawa, ON, CA
---
---
Shaw Centre
55 Colonel By Drive, Ottawa, ON, CA
Event from
eventbrite.com
---
---
Are you an event organizer?
Create events for free. They will be immediately recommended to interested users.
Create event
Ottawa

›